A New Role, Bridging Divides
Category: LVMC Updates
Posted On:
Written By:

Naishadh Buch, PharmD
Despite having impressive credentials that include being Chief of Otolaryngology at Vandenberg Air Force Base's hospital and having a private practice for 36 years, Dr. Michel says his newest job has been challenging for him.
As Director of Medical Staff Affairs, he serves as a physician adviser to the district's administration and a liaison between the medical staff and administration, and from the medical staff to all other departments.
"I'm almost embarrassed to say for all the years I've been with the hospital district, I probably didn't know what 80 percent of the people here did," he admits. "It's given me a healthy respect for what everybody does. It's like a fighter pilot; there are thousands of people who keep that plane in the air. It's like what happens here."
Raymond Down, chairman of the Lompoc Valley Medical Center Board of Directors, noted that Dr. Michel has long been a respected member of the Lompoc Valley's medical community.
"He has served on most medical staff committees, including serving the medical staff and administration as Chief of Staff," Mr. Down said. "The relationship between hospital administration and the medical staff has become more complex over the years, and Dr. Michel brings the perfect balance of physician experience and organizational knowledge, as well as his mellow approach, to a position that will help the hospital function smoothly in this increasingly complex world. We look forward to Dr. Michel working with the board and administration to bring medical staff issues to our attention and providing a clear way to bring our message to the physician community."
As he delves into his new role, Dr. Michel develops a deeper understanding of how the hospital works together as a unit — from Environmental Services to the Lab to surgeons.
"What you don't realize is how important it all is," says Dr. Michel, who earned his medical degree at Duke University Medical School. "One thing I'd like to do is educate my colleagues about what goes on at the hospital. I felt so unprepared for that realization. It's really in everyone's best interest to realize we have a common interest — this is, to take care of the patients."
Since the position began last July, Dr. Michel has been involved in extensive physician recruitment efforts and has facilitated a change in operating room surgery start times to create a more efficient flow of patients.
His medical interest began early in life after a vocational training experience in high school allowed him to spend two weeks at USC Medical Center learning from doctors and seeing surgeries.
"When I got to medical school, I was in awe of everything," he said. "I wanted to be everything, everything I rotated through. It was tough to settle. I thought I'd stay in academics."
He spent two residency years in internal medicine, believing that was his path. But he began to feel as if he was managing people's chronic illnesses and adjusting medications.
"It wasn't for me," he recalls. "I wanted to do something more. That's when I switched to general surgery and ENT."
His specialty became otolaryngology, or the medical and surgical management and treatment of patients with diseases and disorders of the ear, nose, throat (ENT), and related head and neck structures. As such, he's a fellow with the American Academy of Otolaryngology, the American College of Surgeons, the American Academy of Facial Plastic and Reconstructive Surgery, and others.
During the Vietnam War era, he signed on with the U.S. Air Force to keep his residency. He eventually got a letter to report to Vandenberg Air Force Base. He spent two years in the service, operating at the then bustling base hospital.
Once finished with his service, he opened his private practice in Lompoc. That was almost 40 years ago.
Though he's reduced his schedule somewhat, Dr. Michel still keeps a hand in clinical medicine. He laughs that he still has "street cred" with other physicians because he maintains his practice with the new administrative job.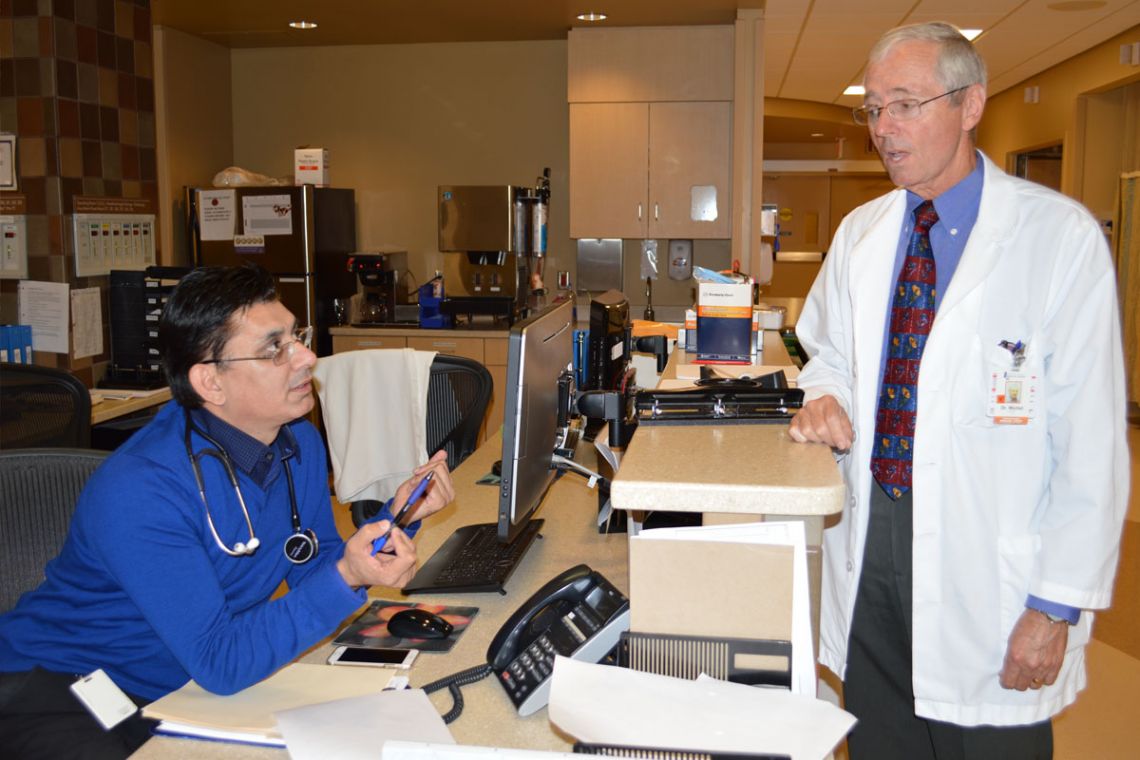 "You have to be able to know what everybody else is going through," he suggests. "The biggest part of it is to try and get everybody together on the same page. It's a struggle. We have to realize we're in it together. We have to row in the same direction. The medical staff is going to maintain its independence. But we need to work together with the hospital."
Dr. Michel added another honor to his resume in mid-December: Lompoc Valley Medical Center Physician of the Year.
Chosen by LVMC staff, the honor came with nomination forms that repeatedly remarked upon Dr. Michel's compassion, caring, calm demeanor, and kindness.
"Dr. Michel is very invested in raising the 'quality bar' at LVMC," one nomination notes. "I appreciate his enthusiasm and interest in learning more about patient safety and quality. He is actively engaged, willing to provide support, and is a great physician champion. His leadership is an asset to our organization and our community. He fully deserves to be the 2015 Doctor of the Year."
Another nomination states that Dr. Michel "epitomizes everything it is to be an excellent example of grace, calmness, confidence; his knowledge and skill are above all others. He is such a treasure to this community."
Dr. Michel is embarrassed and humbled by the award in his typical fashion.
"I recently received the LVMC 2015 Physician of the Year Award," he said in a note of thanks to the staff. "This was completely unexpected. I am deeply thankful to the entire staff of the hospital district for all of their support over my many years here in Lompoc, and I am overwhelmed by this recent honor you have given me."