Paramedic Honored for Aiding Nurse
When an agitated and uncooperative patient began choking a Lompoc Valley Medical Center (LVMC) Emergency triage nurse, Paramedic Sarah Marsango jumped in to help without regard for her own safety.
Sarah, a paramedic with American Medical Response in Buellton, was able to tackle the patient and restrain her to save the nurse, who had been knocked down by the patient. For her actions, Sarah has been honored with the "Meritorious Service Award" from the California Emergency Medical Services Authority.
Sarah was nominated for the honor by LVMC Emergency Department Director Lorraine Jones. The award will be bestowed Dec. 6 at a meeting of the Commission on Emergency Medical Services in San Francisco.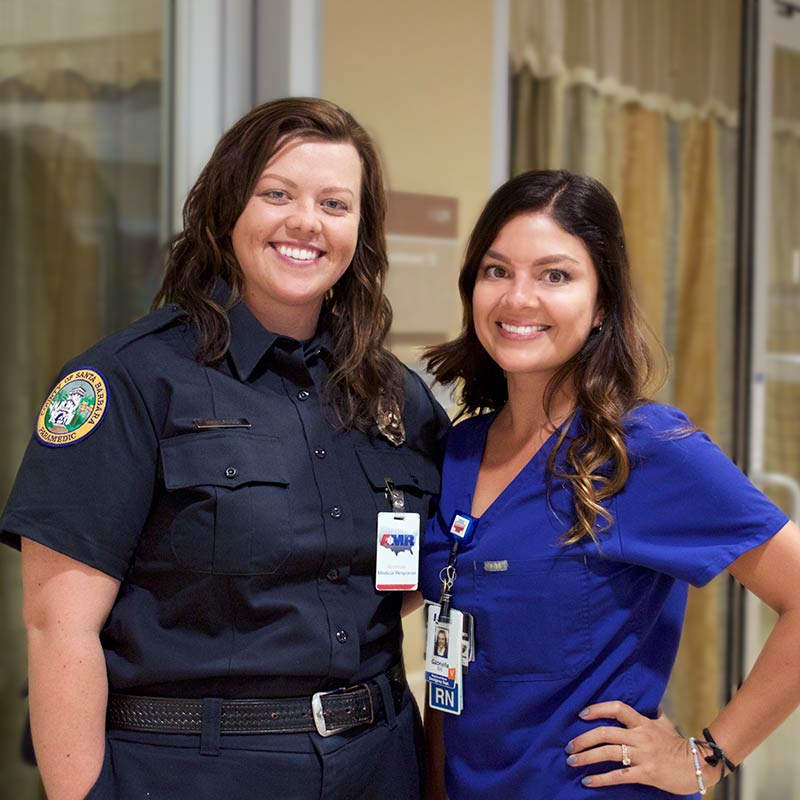 Paramedic with ED Triage Nurse
According to director Jones' nomination, Sarah and her partner had transported a patient to the triage area of the hospital Emergency Department. The patient was acting unusual, restless and agitated. After the patient "flipped off" the EMT, the LVMC nurse told the patient it was inappropriate behavior. The patient repeated the gesture at the nurse, who began to feel threatened.
The patient then suddenly lunged from a sitting position to standing, and grabbed the nurse's ponytail, yanking her head back. The patient then started to strangle the ER nurse with both hands.
"Sarah heard the commotion and ran back to the triage area," according to the nomination. "Sarah was able to grab the patient, who tossed the triage nurse across the room like a rag doll into a table. Sarah was able to take the patient down to the floor and was able to restrain the patient until more staff arrived. The triage nurse was no match for this patient. The injuries sustained by the triage nurse were minimal due to Sarah's quick response and willingness to put herself in harm's way over another."
The nurse, who asked not to be named, said Sarah showed no hesitation in helping. "She jumped in and protected one of her own," the nurse said. "She was so professional about it. It was heroic. It makes you feel safe at work when there are people like that around you."
Sarah recalls that the sudden change in the female patient's behavior was like a flipped switch. "She pushed her (the nurse) up against the wall," Sarah said. "I got her off and brought her to the ground."
An alert was sounded and more staff responded to the triage room. Sarah, a 2003 graduate of Cabrillo High School, has been involved in emergency medical response for 13 years. She joined AMR in 2004 and became a paramedic in 2010.
She said it was just instinctual to respond the way she did. "Some people run in that situation," Sarah said. "It's probably the smarter thing to do. If the nurse hadn't been in trouble, I probably would have backed out." She said she is very humbled by the award, and "super excited."
"It was an unusual circumstance," she admitted. Sarah said she likes the challenge of her job, and that it's perfect for someone who is a "bit of an adrenaline junkie." "I always say I have the best job in the world," she said. "I can't imagine doing anything else."
Director Jones is particularly grateful. While medical staff deal with violence by patients and visitors routinely, this incident rose to another level, she said.
"Sarah didn't even hesitate," Jones said. "She just acted. She didn't stop to think about her own safety. She put herself in harm's way to help another person. And I am so grateful she did." Sarah is one of 24 Californians being honored for heroic acts.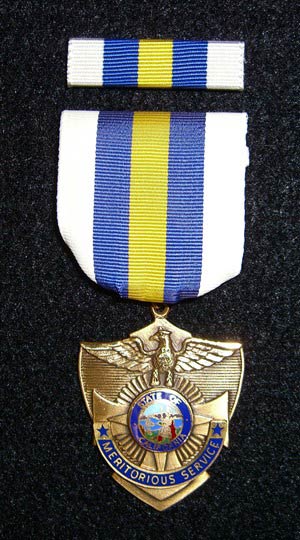 Meritorious Service Award
Initiated in 2007, the annual awards honor and recognize exceptional acts and service by individuals working or volunteering in California's emergency medical system.
EMS personnel are trained to provide stabilizing and lifesaving care. The EMS awards honor and recognize noteworthy or extraordinary acts, and outstanding service while working as EMS certified or licensed personnel, administrators, educators, volunteers or civilians within the EMS system.
"I am pleased to announce a select group of EMS professionals who exhibit excellence and exceptional service," said Dr. Howard Backer, director of the California Emergency Medical Services Authority. "These men and women epitomize the spirit of caring and commitment to quality healthcare that embodies these awards. They deserve official recognition for their contributions in making California's EMS system one of the best in the world."
The award ceremony is sponsored by Kaiser Permanente, Hospital Council of Northern and Central California, Medic Ambulance, Bound Tree Medical, California Professional Firefighters, American Medical Response, California Fire Chiefs Association and California Ambulance Association.