A New Orthopaedist Comes to Town
Lompoc Valley Medical Center: Physician Services welcomes Dr. David Cortese to the facility on Third Street, where he will provide a full range of Orthopaedic services to the community. Dr. Cortese is a fellow of the American Association of Orthopaedic Surgeons, is board certified by the American Board of Orthopaedic Surgery and has additional fellowship training in Sports Medicine, Arthroscopy and Reconstructive Surgery.
Dr. Cortese is no stranger to the Central Coast. After completing his undergraduate and graduate training in Engineering Physics and Optical Science, he moved to Goleta, where he worked at the former Santa Barbara Research Center designing and analyzing optical systems and developing technologies for infrared sensors. He lived and worked in the area for six years and fell in love with the region's climate and relaxed lifestyle. However, he found the research lacked a human component since he worked with machinery in a lab setting.
"I decided to change careers because I wanted something a little more interactive, more personal," he said. "That's what drew me to medicine."
In 1996 at the age of 31, he left the Central Coast and began attending the College of Medicine at UC Irvine. Orthopaedic Surgery became the obvious path for him to merge his background in Physics and Engineering with his desire for the close personal interactions he found in medicine. This path led him across the globe during the next 20 years.
After completing his medical degree, Dr. Cortese pursued an Orthopaedic Surgery residency at the University of New Mexico in Albuquerque. While there, he was offered an opportunity by the U.S. Army Medical Command that provided a stipend during medical training in exchange for a commitment to serve as a military surgeon.
He was commissioned in September 2000 and during the next 17 years was assigned to Madigan Army Medical Center on Joint Base Lewis-McChord near Tacoma, Washington; Tripler Army Medical Center in Honolulu, Hawaii and Evans Army Community Hospital at Fort Carson in Colorado Springs, Colorado. During this time, U.S. military operations in the Middle East increased, so Dr. Cortese was called on to support several missions overseas, including deployments in Kosovo, Afghanistan and Iraq.
While serving in Kosovo as part of the NATO support mission, he would typically treat U.S. and coalition military members injured in training or in non-combat accidents, but recalls treating one young civilian who was injured when he picked up a small piece of unexploded ordinance that then went off in his hand. Dr. Cortese reconstructed the hand, which included amputating one of the fingers. But the boy and his family were so appreciative of the care he received that Dr. Cortese said he knew he had found the profession he was seeking.
While deployed in Afghanistan and Iraq, Dr. Cortese was responsible for treating American soldiers and contractors, but also local allied military forces and civilians who were injured as the result of combat. In those deployments, he primarily treated combat injuries, including those caused by IEDs. Last year, Dr. Cortese deployed to Iraq as part of a small, mobile, Forward Surgical Team in support of U.S. Special Forces involved in the mission against ISIS.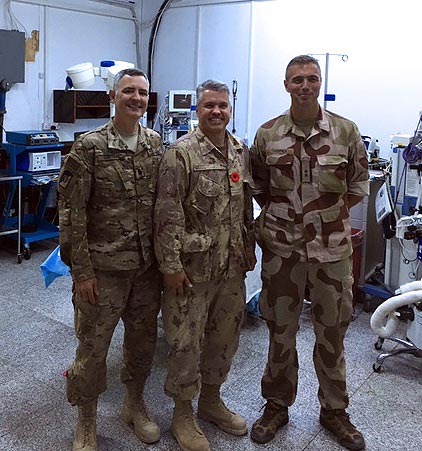 "We had to be prepared at any time to do life-and-limb saving emergent surgery," he said. "We initially set up in a small building, but also were prepared to move from place to place and set up surgical tents to support combat collection points."
Dr. Cortese was pleased that this path led him back to the Central Coast after he learned that LVMC's Chief Executive Officer Jim Raggio was looking for another Orthopaedic surgeon to serve the Lompoc Valley.
For this area, that means treating a full range of traumatic and degenerative orthopaedic conditions, as well as sports-related injuries such as knee ligament and meniscus tears, shoulder instabilities and tendon injuries, and hip labral tears and impingement.
"Jim's primary goal is to maintain the medical services in the community that the community needs," Dr. Cortese explained. "As I was looking to transition out of the military, I wanted more of a smaller town community hospital as opposed to a big city trauma center."
While Dr. Cortese does miss some of the work he did as a physicist, his desire to have more interaction with people has been met.
"As an orthopaedic surgeon, I see directly the impact of my care on my patients," Dr. Cortese said. "I like the patient population. They're injured and hurting. Our goal is to get them back on their feet, back to the activities they love to do."
Dr Cortese is seeing patients at:
Lompoc Valley Medical Center: Physician Services
136 N Third St
Lompoc, CA 93436
Appointments can be made at (805) 736-1253.