LVMC Community Update, December 11, 2020
This week our CEO updates the community on vaccines, positivity rate, new Covid cases, and Covid hospitalizations.
Dear Lompoc Valley Community:
What happened on this date in history?
1946 - UNICEF (United Nations International Children's Emergency Fund), a U.N. affiliate organization that works for the welfare of children around the world, was founded.
1990 - Ivana Trump was divorced from Donald Trump after 12 years of marriage.
2008 - Bernie Madoff, the founder and chairman of Bernard L. Madoff Investment Securities LLC, was arrested and subsequently convicted of fraud. The Ponzi scheme he was involved in was the biggest such fraud in the history of the United States.
COVID-19 Information
Vaccines. The good news, which in my opinion "trumps" all the bad news below, is that by next Friday LVMC expects to begin vaccinating its healthcare workers in high-risk categories, and shortly thereafter, it's nursing home residents. The County of Santa Barbara expects to receive its first vaccine allocation next Wednesday, and immediately initiate distribution to approved Vaccination Program Providers, like LVMC. A second vaccine distribution is expected to be received seven days after the first allocation. The timeframe for widespread community member vaccination is still to be determined.
Positivity Rate. There has been a steady increase in the Santa Barbara County 7-day average Covid positivity rate from 2.8% on November 9, to 6.8% on December 9. The positivity rate for the Lompoc Valley Community is not reported separately, but internal LVMC data would indicate that the rate is no lower than that of the County overall.
New Covid Cases. The Santa Barbara County 7-day average of new Covid cases per day is at its highest level (115 cases per day) since July 11 (119 cases per day). For Monday through Thursday of this week, the average number of new cases is 21.5 for Lompoc Valley, 26 for Santa Barbara, and 37.5 for Santa Maria. Overlaying population data, the Lompoc Valley rate for this 4-day period is higher than Santa Barbara and comparable to Santa Maria. The Lompoc Valley average of 21.5 new cases per day means that for each of the last four days, approximately 1 out of every 2,791 residents contracted Covid.
Covid Hospitalizations. The number of Covid positive inpatients at hospitals within Santa Barbara County had increased significantly over the past few weeks. This week it has increased further. Last Friday there were 61 hospitalized patients. Today there are 75. Of the 75 patients, 7 are at LVMC. Of the 75 patients, 20 are currently receiving ICU care. The latest Public Health Department figures show that there is 49% remaining ICU capacity in Santa Barbara County, well more (better) than the 15% "lockdown threshold" set by Governor Newsom.
That's it for now!
Thank you, Lompoc Valley Community, for your tremendous support of LVMC and our healthcare workers; it means a lot to all of us!
As always, please feel free to contact me at popkins@lompocvmc.com or (805) 737-3301. Until next time, be well and stay safe!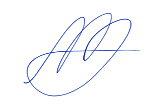 Steve Popkin
Chief Executive Officer