LVMC Community Update, December 4, 2020
This week our CEO update the Lompoc community on the upcoming stay-at-home order, new COVID cases and positivity rate, vaccinations, our retiring board president, Mr. Raymond Down, and much more.
Dear Lompoc Valley Community:
What happened on this date in history?
1945 - The U.S. Senate approved U.S. participation in the United Nations. The United Nations officially came into existence on October 24, 1945.
1954 - The first Burger King (Insta Burger King) opened in Miami, Florida. Burger King continued to grow slowly and in 1967 followed other fast food chains by allowing franchise restaurants. The idea was copied from the fast food restaurant concept introduced by Dick and Mac McDonald (Ray Kroc bought out Dick and Mac McDonald in 1955).
2006 - A 65 million-year-old nest of dinosaur eggs was auctioned to an unnamed buyer in Los Angeles for $420,000. The nest contained twenty-two broken eggs, nineteen of which were in embryonic form, with some of the raptors clearly visible. The nest had been discovered in Guangdong, China in 1984, and the buyer has not been named.
COVID-19 Information
Upcoming Stay at Home Order. As most of you have heard, Governor Newsom has announced a restrictive Stay at Home Order, effective when the "Region" has less than 15% remaining ICU bed capacity. For purposes of this Order, Santa Barbara County is included in the Southern California Region, along with the following counties: Imperial, Inyo, Los Angeles, Mono, Orange, Riverside, San Bernardino, San Luis Obispo, and Ventura. The most recent Public Health Department figures show that Santa Barbara County has 39% remaining ICU bed capacity. However, this Southern California Region, collectively, is expected to be below the 15% ICU bed capacity threshold within a couple/few days, at which time the Stay at Home Order will go into effect.
New Cases and Positivity Rate. There is no question that there has been a very significant spike in the Covid-related indicators in Santa Barbara County (including the Lompoc Valley Community). That said, Santa Barbara County remains less impacted than California overall. For example, as of December 1, Public Health Department figures show that California has 30.2 new Covid cases per 100,000 population, while Santa Barbara County has 14.1 cases. California has a Covid positivity rate of 6.4%, while the Santa Barbara County rate is 4.4%.
Covid Hospitalizations. Regrettably, the number of Covid positive inpatients at hospitals within Santa Barbara County has increased significantly over the past 1-2 weeks. As of yesterday, the total number is 61, with 16 of those in ICU. Of the 61 inpatients, 5 are at LVMC. (The official State figures show a lower number of hospitalized patients, but the above numbers are accurate.) There are roughly equal numbers of hospitalized patients in South County and North County.
Vaccinations. LVMC, like most other hospitals, is registered with the State as a "CDC COVID-19 Vaccination Program Provider." This means that when the vaccine is available for distribution, LVMC will be approved to receive and administer the vaccine. There are virtual meetings several times a week among government representatives, hospitals, and other stakeholders, to finalize the distribution and administration logistics. Based upon numbers I saw earlier this week, and then doing some math, it appears that approximately 20% of the Santa Barbara County population would be vaccinated by the end of February. Of course, that 20% would be those who are in the highest risk segments.
Antimicrobial Stewardship Honor Roll.
I'm pleased to announce that California Department of Public Health has awarded LVMC Gold Status, and Honor Roll status, for its Antimicrobial Stewardship Program. Antimicrobial Stewardship is a coordinated, multi-disciplinary program that promotes the appropriate use of antibiotics, improves patient outcomes, reduces microbial resistance and decreases the spread of infections caused by multi-drug resistant organisms such as methicillin-resistant Staphylococcus aureus (MRSA) and vancomycin-resistant E. coli.
Lompoc Health.
We are always looking for ways to improve the patient experience at Lompoc Health. We have recently initiated a remote online patient registration option, allowing patients to pre-register for their Lompoc Health visit before they arrive on-site, making the process more convenient and efficient. We have also very recently changed the way that Lompoc Health receives and routes phone calls, with the goal of shortening wait times, making sure callers get to the party they need to reach, and ensuring that prompt follow-up is done when messages are left. All feedback and suggestions are welcome and appreciated.
Thank You to Retiring Board President, Mr. Raymond Down.
Ray Down has retired from the LVMC Board of Directors after 47 years on the Board! Mr. Down was first elected to the five-member Board in 1973, at the age of 28. Since then, he has made immeasurable contributions to the success of LVMC, and by extension, the Lompoc Valley Community. In 2014, Mr. Down succeeded Mr. Frank Signorelli as President of the Board of Directors, after Mr. Signorelli's retirement from the Board after 41 years. Former Board Member, Mr. Roger McConnell, has been elected to fill the Board seat vacated by Mr. Down. Welcome back, Mr. McConnell. On behalf of all LVMC staff and stakeholders, past and present, thank you so much, Ray Down, for your 47 years of dedicated service!
Donations
A huge thank you to the following businesses and individuals who have made donations of Personal Protective Equipment and supplies, food for our healthcare workers, and other acts of kindness. You are all very much appreciated!! (Ones in bold are new since the last listing.) George Stillman; Dr. Connie Chan; Vandenberg Village Lions; Direct Relief; Albertson's Store #3171--and those individuals who participated with Albertson's; Northrop Grumman; Southwest Carpenters Union; INTO THE AM CLOTHING LLC-Matt Marchione; Kathy Milham; Kimberly Todd; Vons Market; Celeste Dugré; Subway; Sleep Center; Doreen Ross; Lompoc Pizza Hut; Superior Home Health; Miguelito Elementary School; Cajun Kitchen; La Purisima Mission Mask Makers; Advanced Performance Physical Therapy; SONOS; Pickle & Peanut Restaurants Inc.; Jordano's; Lompoc Little Caesar's Pizza; Victoria Perez; Diana Coronado; Firework Foundation; The Daily Grind; Industrial Eats; Vivid Financial Management; Christine Collier; David Carey DDS; The Church of Jesus Christ of Latter-day Saints; Sue McIntyre; McDonalds; Hilton Garden Inn; Anita Macias; a collaboration of 18 wineries--Alma Rosa, Ampelos, Chanin, Fiddlehead, Flying Goat, Garcia, Kings Carey, Kita, Longoria, Loring, Pali, Piedrasassi, Sandhi, Santa Barbara Winery, Sea Smoke, Sweetzer, Temperance and Transcendence; CoastHills Credit Union; CenCal Health; Dunn School; American Host; Kateri and Chris Kingsley; Katherine Milham; Sweet Bliss Sugar Scrubs and Co.; Carol Kirkland; Dr. Iris Radler; Donna Bommersbach; Patricia Henry; Nancy Manes; Annamie Lafferty; Marilyn Romine; Courtney & Mitch Barnham; Ida Kreds; Ingrid Kaper; Judy Carpenter; Space X; Lompoc Oral and Maxillofacial Surgery; Santa Barbara Foundation; Lompoc Hospital District Foundation; Lompoc Unified School District; Lompoc YMCA; Floriano's Mexican Food; Circle K; Keller Williams Realty of Lompoc; Girl Scouts of Lompoc; Arbonne independent distributors; Orcutt Bakery; Northrop Grumman; L3Harris Technologies; Astrotech Corp.; Harbor Freight; Home Depot; Direct Relief; Heath Dental; CHC Dental; Mikowicz Dental; Kimberly Nails; Not Alone Plumbing; Artisan Uprising Winery/Azeo Distillery; Starbuck's Store 496; Tom's Burgers; Super Grill; Sign Gypsies Central Coast.
Thank you, Lompoc Valley Community, for your tremendous support of LVMC and our healthcare workers; it means a lot to all of us!
As always, please feel free to contact me at popkins@lompocvmc.com or (805) 737-3301. Until next time, be well and stay safe!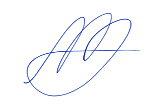 Steve Popkin
Chief Executive Officer