LVMC Community Update, July 2, 2020
Dear Lompoc Valley Community:
California and Santa Barbara County are in the midst of a second wave of COVID-19. The Lompoc Valley Community has, for the most part, been exempted from this second wave. However, with COVID-19, the situation seems to change on a dime, for better or for worse. So, as we are hopeful that the second wave crashes and fades away, we must all be diligent in doing everything we can to help make that happen. But, for this weekend, let's put COVID-19 in the back of our minds and celebrate Independence Day, and the amazing County in which we live!
COVID-19 Statistics and Information
Based upon data reported by the Bureau of Prisons ("BOP"), COVID-19 at the Federal Correctional Complex is at its lowest level since figures began being publicly reported. The figures show that out of 2,538 inmates, there are 5 inmates and 2 staff who are presently considered COVID-19 positive.
You have likely heard that on July 1, Governor Newsom issued an Executive Order impacting 19 Counties in California, including Santa Barbara and Ventura Counties, but excluding San Luis Obispo County. When the State of California and California Department of Public Health determine which Counties are included or excluded from the imposed restrictions, they evaluate each County's data against benchmarks in the categories shown below. If a County "falls-out" in one or more of the categories, it is included in the restrictions. (I have not included the specific State benchmarks, or the Santa Barbara County figures). The categories are:

Average number of COVID-19 tests per day, per 100,000 population
COVID-19 case rate per 100,000 population
COVID-19 testing positivity percentage
Percent change in COVID-19 positive hospitalized patients
Percent of ICU beds currently available
Percent of ventilators currently available

At least for now, the County is no longer publicly reporting the number of COVID-19 positive individuals who are hospitalized, and hospitalized in an ICU unit. However, I know from other sources that the numbers have not decreased during the past week. Since hospitalizations is a lagging indicator, the number of hospitalized individuals is not expected to materially decline until 1-2 weeks after the number and rate of COVID-19 declines within the County. Neither the number nor the rate has declined this week.
Although COVID-19 positive hospitalizations in Santa Barbara County have increased significantly over the past month, hospitalizations have remained very low at LVMC. For 18 consecutive days, through yesterday, we had zero positive inpatients from the "public," and one positive inpatient from the "non-public." As of yesterday, those numbers flipped, as we now have one inpatient from the public, and zero patients from the non-public.
Last week I reported that the COVID-19 positive test result rate in the County was high, but trending downward. During the latter part of this week the positive rate in the County, and specifically in the Lompoc Valley, has increased significantly. A couple days does not constitute a trend, but in the abundance of caution, we have made a partial revision to the LVMC Visitor Policy. The LVMC COVID-19 Task Force (comprised of physicians, clinical staff and administrative staff) has made the decision to restrict visitors/support persons from accompanying patients at the Lompoc Health clinics, and at the hospital for outpatient ancillary services (lab, radiology, etc.) Exceptions will be made for patients who are minors or have special needs. Visitation will continue to be permitted for Emergency Room encounters, and hospital inpatients. We will review this policy weekly and determine if further revisions, either more restrictive or less restrictive, should be made. (Despite the imposition of these restrictions, it is safe for patients to seek care at Lompoc Health clinics and at the LVMC Emergency Room. If you need medical care, please do not hesitate to seek our services.)
Comprehensive Care Center
LVMC's 110-bed Comprehensive Care Center ("CCC") has been recognized on many fronts for its outstanding work on behalf of its residents. The CCC has once again achieved a 5-Star quality rating from the Centers for Medicare and Medicaid Services. The CCC was also named in the U.S. News & World Report's ranking of the Best Nursing Homes in the U.S. In 2019, the CCC received the coveted American Healthcare Association/National Center for Assisted Living Quality Award, for processes initiated regarding reduction of urinary tract infections. The CCC was selected by the California Association of Health Facilities as a 2020 Showcase Award Winner, for its resident and community engagement in its annual "Trick or Treat at the CCC." This month, the CCC was notified that it is the recipient of the Intalere Healthcare Achievement Award, for its outstanding work in the area of infection reduction.
During this "COVID-19 time," the CCC is doing everything possible to continue engaging residents with activities and socialization. This Saturday at 2:00pm, the CCC residents will be having a Parade of Flags on the back patio. Then, at 8:00pm, there will be a fireworks display on the back patio. Friends and family of residents may watch the festivities from the adjacent sidewalks at the corner of Chestnut and Fourth. The fireworks were purchased with donations from LVMC employees.
LVMC Medical School Affiliation
LVMC is finalizing an arrangement whereby LVMC and designated medical staff members will participate in the education and training of some of tomorrow's physicians. Beginning on or before January 1, 2021, third year, and eventually fourth year, medical students will do their clinical rotations at LVMC and Lompoc Health. Initially, LVMC physicians in the specialties of Family Medicine, Internal Medicine, Pediatrics, OB/GYN, and General Surgery will serve as Preceptors for the medical students. Although this will be a time-consuming endeavor for the LVMC medical staff members, they are enthusiastic about the opportunity to "pass forward" the mentorship that preceptor physicians provided to them when they were medical students. More information to come as arrangements become finalized.
Donations
A huge thank you to the following businesses and individuals who have made donations of Personal Protective Equipment and supplies, food for our healthcare workers, and other acts of kindness. You are all very much appreciated!! Albertson's Store #3171--and those individuals who participated with Albertson's; Northrop Grumman; Southwest Carpenters Union; INTO THE AM CLOTHING LLC-Matt Marchione; Kathy Milham; Kimberly Todd; Vons Market; Celeste Dugré; Subway; Sleep Center; Doreen Ross; Lompoc Pizza Hut; Superior Home Health; Miguelito Elementary School; Cajun Kitchen; La Purisima Mission Mask Makers; Advanced Performance Physical Therapy; SONOS; Pickle & Peanut Restaurants Inc.; Jordano's; Lompoc Little Caesar's Pizza; Victoria Perez; Diana Coronado; Firework Foundation; The Daily Grind; Industrial Eats; Vivid Financial Management; Christine Collier; David Carey DDS; The Church of Jesus Christ of Latter-day Saints; Sue McIntyre; McDonalds; Hilton Garden Inn; Anita Macias; a collaboration of 18 wineries--Alma Rosa, Ampelos, Chanin, Fiddlehead, Flying Goat, Garcia, Kings Carey, Kita, Longoria, Loring, Pali, Piedrasassi, Sandhi, Santa Barbara Winery, Sea Smoke, Sweetzer, Temperance and Transcendence; CoastHills Credit Union; CenCal Health; Dunn School; American Host; Kateri and Chris Kingsley; Katherine Milham; Sweet Bliss Sugar Scrubs and Co.; Carol Kirkland; Dr. Iris Radler; Donna Bommersbach; Patricia Henry; Nancy Manes; Annamie Lafferty; Marilyn Romine; Courtney & Mitch Barnham; Ida Kreds; Ingrid Kaper; Judy Carpenter; Space X; Lompoc Oral and Maxillofacial Surgery; Santa Barbara Foundation; Lompoc Hospital District Foundation; Lompoc Unified School District; Lompoc YMCA; Floriano's Mexican Food; Circle K; Keller Williams Realty of Lompoc; Girl Scouts of Lompoc; Arbonne independent distributors; Orcutt Bakery; Northrop Grumman; L3Harris Technologies; Astrotech Corp.; Harbor Freight; Home Depot; Direct Relief; Heath Dental; CHC Dental; Mikowicz Dental; Kimberly Nails; Not Alone Plumbing; Artisan Uprising Winery/Azeo Distillery; Starbuck's Store 496; Tom's Burgers; Super Grill; Sign Gypsies Central Coast.
Our frontline healthcare workers, support staff, physicians, and allied health professionals have been doing an outstanding job, and we are very thankful and proud of them!! Thank you, Lompoc Valley Community, for your tremendous support of LVMC and our healthcare workers; it means a lot to all of us!
As always, please feel free to contact me at popkins@lompocvmc.com or (805) 737-3301. Until next time, be well and stay safe!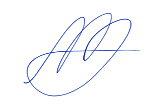 Steve Popkin
Chief Executive Officer