LVMC Celebrates 10 Year Anniversary of 'New' Hospital
In honor of the 10th anniversary of the opening of Lompoc Valley Medical Center hospital at 1515 East Ocean Ave., hospital staff, physicians, current and former Board members, and Lompoc Hospital District Foundation trustees celebrated with the installation of a time capsule on Monday, June 29, 2020.
In 2005, healthcare district voters overwhelmingly approved the issuance of $74.5 million of general obligation bonds to build a new hospital. Ground was broken for construction in August 2006 and the new hospital officially opened its doors on June 29, 2010, after decades at the former C Street site.
Staff were invited to provide submissions for inclusion in the time capsule, which was sealed on Monday and is designated to be opened again in 50 years, on June 29, 2070. In addition to information about the hospital's services, entries included documents related to COVID-19 pandemic, letters to future employees, family and staff photos, newspapers, and more.
Chief Executive Officer Steve Popkin presided over the ceremony, noting attendance was strictly limited to ensure social distancing.
"Ten years may not seem like a long time," Popkin said of the anniversary. "But in 10 years, a facility can start to look dated. To the contrary, this facility looks like it was built yesterday. It's held up extremely well. We are very proud of this facility."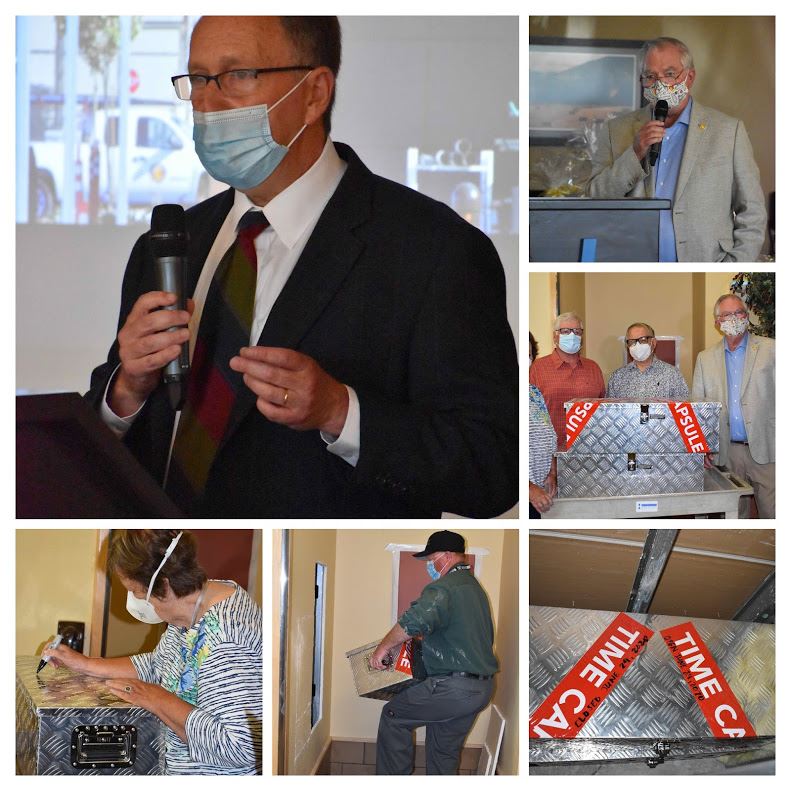 LVMC Board of Trustees Chairman Ray Down said that the hospital construction was not accomplished "by any one person," and remarked that the hospital building was finished on time and on budget.
"The support of the community, all of you here today, that's what makes this thing work," Down said. "It's everybody's hospital. We try to keep it the way you want it, so everybody feels comfortable coming in here – even wearing masks at this point in time."
Lompoc Mayor Jenelle Osborne presented the hospital with a proclamation declaring the week of June 29, 2020, as "Lompoc Valley Medical Center Week" in the city of Lompoc.
"Having a not-for-profit hospital that is not corporate-run, that the citizens chose to support, is one of the perks I often tell people about when they ask me to describe our community," she said. "It makes a difference if you can get quality care in your community and you don't have to leave town to get those services. It makes it one of those valuable parts of living here."
Chief Information Officer Jim White noted that in his submission, he included a family tree, letters to his future great-grandchildren, a letter to the future CIO, as well as a list of current mortgage rates, housing and vehicle prices. He also included copies of the Lompoc Record newspaper from the day the hospital opened.
The capsule was dedicated in honor of the Lompoc Hospital District Foundation and the Lompoc Valley community.
In the first fiscal year of its operations, from July 1, 2010, through June 30, 2011, the hospital logged 394 baby deliveries; 2,335 surgeries; 2,424 discharges; 18,804 X-ray procedures; 19,534 Emergency Department visits and 184,483 laboratory tests. Unfortunately, the arrival of COVID-19 and the temporary suspension of most surgeries and procedures makes a 10-year comparison inequitable for this year. Still, the numbers for that first year clearly show how welcome the new facility was in the Lompoc Valley.
LVMC includes the Comprehensive Care Center, and the healthcare district has expanded to include Lompoc Health facilities. The district employs more than 750 people.