LVMC COVID-19 Community Update, June 12, 2020
Dear Lompoc Valley Community:
You are probably aware that the Santa Barbara County Public Health Officer issued an Order indicating that effective today, businesses in the following classifications may reopen, if they have implemented the required infection prevention measures: Family Entertainment Centers; Hotels, Lodging, and Short-Term Rentals for Tourism or Individual Travel; Childcare Programs and Providers; Zoos, Aquariums, and Museums; Campgrounds, RVs, and Outdoor Recreation; Cardrooms, Satellite Wagering Facilities, and Racetracks; Music, Film, and TV Production; Professional Sports; Gyms and Fitness Centers; Restaurants, Wineries, and Bars; Day Camps; Schools and School-Based Programs; and Higher Education.
I am happy for these businesses, but I will say that I have enjoyed not working out for the past three months. No more excuses!
COVID-19 in the Lompoc Valley Community and Santa Barbara County
The COVID-19 situation in the Lompoc Valley Community is well-controlled, at the moment. The number and rate of COVID-19 positive cases throughout the County increased this week. This was expected with the partial re-opening of the economy. The greatest increase has been in Santa Maria. The number of COVID-19 positive cases in the Lompoc Valley Community increased slightly this week.
Notwithstanding the increase in positive cases, today is the first day since the middle of March that LVMC has no COVID-19 positive patients in the hospital. That means no COVID-19 positive inpatients from either the public or the Federal Correctional Complex. (I am aware of one resident of the Lompoc Valley who is an inpatient at another hospital.)
Even without any COVID-19 positive patients in the hospital today, our inpatient census (the number of patients in the hospital) remains high, and above prior year levels, and above the level just prior to the onset of COVID-19. This reinforces the notion that medical issues did not hit pause because of COVID-19, they still occur, and they still need to be treated. Along this same line, our surgical volume is back to 100% of the pre-COVID-19 level, and we have had certain days where our Lompoc Health clinic visit volume has exceeded 100% of pre-COVID-19 volume.
A key focus of the State, Santa Barbara County, and each local area, is managing the COVID-19 situation in skilled nursing facilities (nursing homes). Very fortunately, our skilled nursing facility, Comprehensive Care Center, has not had any COVID-19 positive patients/residents, and our staff are working diligently to keep it that way. Some other nursing homes in the County have not been as fortunate. Due to the possibility of rapid spread of COVID-19 within a nursing home if there are any COVID-19 positive residents or staff, the State and County have placed very stringent requirements on skilled nursing facilities. These include but are not limited to: protocols for baseline and regular testing of residents and staff, quarantining of individuals who are newly-admitted to a nursing home or returning to a nursing home from an acute care hospital, PPE protocols, and continuation of the restrictive visitation policy.
Federal Correctional Complex (FCC)
The COVID-19 situation at the FCC appears well-controlled. The publicly reported figures show that 1,044 inmates who were initially COVID-19 positive are now recovered, and 17 COVID-19 positive cases remain. Among staff, there are 30 who have recovered, and 12 who remain COVID-19 positive.
Another New Hospital Visitation Policy
Last week I reported that the Santa Barbara County Public Health Officer issued a new Order, easing some of the restrictions on hospital visitation. I also mentioned that the three hospitals in the County recommended certain further easing of restrictions. The Public Health Officer accepted most of the recommendations, and today issued a new order. By the end of day next Monday, we will implement the new hospital visitation order, and update our website to reflect our new visitation policy. (The easing of restrictions does not apply to nursing homes.)
Donations
A huge thank you to the following businesses and individuals who have made donations of Personal Protective Equipment and supplies, food for our healthcare workers, and other acts of kindness. You are all very much appreciated!! (The ones in bold are new since the last update.) Southwest Carpenters Union; INTO THE AM CLOTHING LLC-Matt Marchione; Kathy Milham; Kimberly Todd; Vons Market; Celeste Dugré; Subway; Sleep Center; Doreen Ross; Lompoc Pizza Hut; Superior Home Health; Miguelito Elementary School; Cajun Kitchen; La Purisima Mission Mask Makers; Advanced Performance Physical Therapy; SONOS; Pickle & Peanut Restaurants Inc.; Jordano's; Lompoc Little Caesar's Pizza; Victoria Perez; Diana Coronado; Firework Foundation; The Daily Grind; Industrial Eats; Vivid Financial Management; Christine Collier; David Carey DDS; The Church of Jesus Christ of Latter-day Saints; Sue McIntyre; McDonalds; Hilton Garden Inn; Anita Macias; a collaboration of 18 wineries--Alma Rosa, Ampelos, Chanin, Fiddlehead, Flying Goat, Garcia, Kings Carey, Kita, Longoria, Loring, Pali, Piedrasassi, Sandhi, Santa Barbara Winery, Sea Smoke, Sweetzer, Temperance and Transcendence; CoastHills Credit Union; CenCal Health; Dunn School; American Host; Kateri and Chris Kingsley; Katherine Milham; Sweet Bliss Sugar Scrubs and Co.; Carol Kirkland; Dr. Iris Radler; Donna Bommersbach; Patricia Henry; Nancy Manes; Annamie Lafferty; Marilyn Romine; Courtney & Mitch Barnham; Ida Kreds; Ingrid Kaper; Judy Carpenter; Space X; Lompoc Oral and Maxillofacial Surgery; Santa Barbara Foundation; Lompoc Hospital District Foundation; Lompoc Unified School District; Lompoc YMCA; Floriano's Mexican Food; Circle K; Keller Williams Realty of Lompoc; Girl Scouts of Lompoc; Arbonne independent distributors; Orcutt Bakery; Northrop Grumman; L3Harris Technologies; Astrotech Corp.; Harbor Freight; Home Depot; Direct Relief; Heath Dental; CHC Dental; Mikowicz Dental; Kimberly Nails; Not Alone Plumbing; Artisan Uprising Winery/Azeo Distillery; Starbuck's Store 496; Tom's Burgers; Super Grill; Sign Gypsies Central Coast.
Our frontline healthcare workers, support staff, physicians, and allied health professionals have been doing an outstanding job, and we are very thankful and proud of them!! Thank you, Lompoc Valley Community, for your tremendous support of LVMC and our healthcare workers; it means a lot to all of us!!
As always, please feel free to contact me at popkins@lompocvmc.com or (805) 737-3301. Until next time, be well and stay safe!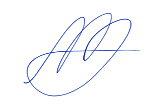 Steve Popkin
Chief Executive Officer