LVMC COVID-19 Community Update, May 22, 2020
Dear Lompoc Valley Community:
Below, please find an update regarding the COVID-19 situation from the Lompoc Valley Medical Center perspective.
Santa Barbara County Stage 2 Reopening
As announced yesterday, Santa Barbara County was approved by the State for "Accelerated Reopening." Based on the County's business reopening attestation/application, the industries that are eligible for reopening, some of which have remained open all along, include: agriculture and livestock; auto dealerships; child care; communication infrastructure; construction; delivery services; dine-in restaurants; energy and utilities; food packing; hotels and lodging; life sciences; limited services; logistics and warehousing facilities, manufacturing; mining and logging; outdoor museums; office workspaces; ports; public transit; real estate transactions; retail; shopping malls.
Below is an excerpt from the County's press release:
The County of Santa Barbara received approval from the California Department of Public Health (CDPH) to move forward on an accelerated Stage 2 path to reopening. With this approval, Santa Barbara County restaurants can now offer dine-in service (other facility amenities, like bars or gaming areas, are not permitted) and retail businesses with exterior facing entrances are permitted to have customers inside of their stores. Destination retail Includes shopping malls and swap meets.
"This is an exciting next step for our entire community and we are thankful for the diligent cooperation of residents," said Van Do-Reynoso, Director for the Santa Barbara County Public Health Department. "As local businesses work through reopening we encourage them to adhere to physical distancing and hygiene guidelines while educating both staff and customers of new practices."
COVID-19 Test Results in the Lompoc Valley Community.
Cases of COVID-19 in the Lompoc Valley Community have continued their recent downward trend. According to Santa Barbara Public Health Department Data, there were two positive test results on Monday, May 18, and zero positive test results the rest of this week (today's numbers have not yet been posted).
Under the Category of "Use it or Lose It"
As previously discussed, the County of Santa Barbara, in conjunction with the State, has established Community-Based COVID-19 Testing Sites, one of which is in Lompoc, at the Anderson Recreation Center. The testing site became operational on May 8, and was intended to remain for at least 60 days thereafter. A maximum of 130 tests can be performed each day. However, the demand for testing at this Lompoc site has been low and therefore the testing capacity has been underutilized.
I have been informed that if the utilization remains low, the Lompoc testing site will be discontinued and moved to another community where the testing demand will likely be greater. So, if you feel a need or desire to have a COVID-19 test, please see the information below regarding scheduling an appointment.
Screening and appointments can be made between the hours of 7am and 5pm by visiting https://lhi.care/covidtesting or by calling 888-634-1123 (I am told the wait time on hold is approximately 30 minutes). The days on which testing will occur are Friday through Tuesday of each week. There will be no out-of-pocket expense for those tested, however, insurers of those who have coverage will be billed.
Federal Correctional Complex (FCC).
Most Lompoc Valley residents are aware of the very high number of COVID-19 positive inmates at the FCC. Today, the numbers shifted significantly, for the better. Of the 1,076 inmates who have tested positive since day one, 728 (68%) are now classified as "recovered." It is expected that the majority of the remaining 32% will soon be classified as "recovered" as the "wait time" for asymptomatic and mildly symptomatic individuals expires. This is definitely good news.
Resumption of Non-Emergent Surgeries and Procedures, Ancillary Services, and Clinic Services.
The resumption of elective (essential but not emergent) surgeries and procedures at LVMC has been occurring as planned. For all intents and purposes, we are back to a full surgery schedule.
Physical Therapy services were reopened this Monday at the Lompoc Health North H Street Center. We had temporarily suspended physical and occupational therapy at the hospital site, as we repurposed that area for use as a COVID-19 surge unit, which we never had the need to use. We are working toward a June 15 date for reopening PT/OT services at the hospital site.
All Lompoc Health Clinic services are currently available, for both in-person and telehealth visits. In-person visits at the Counseling Center will resume in June, with the exact date to be determined.
LVMC Allocation of Remdesivir
Remdesivir is the drug that has shown to be very effective in the treatment of hospitalized COVID-19 patients, particularly those who are critically ill. LVMC is fortunate to have received a State/County allocation of Remdesivir, thereby enabling LVMC physicians to treat COVID-19 in the most effective way possible.
Thank You!
A huge thank you to the following businesses and individuals who have made donations of Personal Protective Equipment and supplies, food for our healthcare workers, and other acts of kindness. You are all very much appreciated!! (The ones in bold are new since the last update…if I missed anyone I apologize and will include in the next update!)
Kathy Milham; Kimberly Todd; Vons Market; Celeste Dugré; Subway; Sleep Center; Doreen Ross; Lompoc Pizza Hut; Superior Home Health; Miguelito Elementary School; Cajun Kitchen; La Purisima Mission Mask Makers; Advanced Performance Physical Therapy; SONOS; Pickle & Peanut Restaurants Inc.; Jordano's; Lompoc Little Caesar's Pizza; Victoria Perez; Diana Coronado; Firework Foundation; The Daily Grind; Industrial Eats; Vivid Financial Management; Christine Collier; David Carey DDS; The Church of Jesus Christ of Latter-day Saints; Sue McIntyre; McDonalds; Hilton Garden Inn; Anita Macias; a collaboration of 18 wineries--Alma Rosa, Ampelos, Chanin, Fiddlehead, Flying Goat, Garcia, Kings Carey, Kita, Longoria, Loring, Pali, Piedrasassi, Sandhi, Santa Barbara Winery, Sea Smoke, Sweetzer, Temperance and Transcendence; CoastHills Credit Union; CenCal Health; Dunn School; American Host; Kateri and Chris Kingsley; Katherine Milham; Sweet Bliss Sugar Scrubs and Co.; Carol Kirkland; Dr. Iris Radler; Donna Bommersbach; Patricia Henry; Nancy Manes; Annamie Lafferty; Marilyn Romine; Courtney & Mitch Barnham; Ida Kreds; Ingrid Kaper; Judy Carpenter; Space X; Lompoc Oral and Maxillofacial Surgery; Santa Barbara Foundation; Lompoc Hospital District Foundation; Lompoc Unified School District; Lompoc YMCA; Floriano's Mexican Food; Circle K; Keller Williams Realty of Lompoc; Girl Scouts of Lompoc; Arbonne independent distributors; Orcutt Bakery; Northrop Grumman; L3Harris Technologies; Astrotech Corp.; Harbor Freight; Home Depot; Direct Relief; Heath Dental; CHC Dental; Mikowicz Dental; Kimberly Nails; Not Alone Plumbing; Artisan Uprising Winery/Azeo Distillery; Starbuck's Store 496; Tom's Burgers; Super Grill; Sign Gypsies Central Coast.
Our frontline healthcare workers, support staff, physicians, and allied health professionals have been doing an outstanding job, and we are very thankful and proud of them!! Thank you, Lompoc Valley Community, for your tremendous support of LVMC and our healthcare workers; it means a lot to all of us!!
As always, please feel free to contact me at popkins@lompocvmc.com or (805) 737-3301. Until next time, be well and stay safe!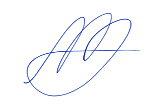 Steve Popkin
Chief Executive Officer