LVMC Community Update, November 13, 2020
This week our CEO updates the Lompoc community about the new Santa Barbara County Public Health Department Lompoc Covid-19 Workgroup, Lompoc Valley Covid Cases, California Covid Mortality Trend, and Covid Positive Hospitalized Patients.
Dear Lompoc Valley Community:
What happened on this date in history?
1915 - Educator, reformer, and first president and principal developer of Tuskegee University, Booker T. Washington, the most influential spokesman for African Americans in the late 19th and the early 20th century, died at age 59.
1971- Mariner 9 reached the planet Mars and became the first spacecraft to orbit another planet, swinging into its planned trajectory around Mars without a hitch.
1982 - The Vietnam Veterans Memorial, a monument consisting of two black granite walls engraved with the names of approximately 58,000 United States soldiers that did not return from Vietnam, was dedicated in Washington D.C.
COVID-19 Information
The Santa Barbara County Public Health Department recently established a Lompoc Covid-19 Workgroup. The goals of the workgroup are to: 1) share epidemiology information about Covid cases in Lompoc, 2) generate ideas about disease prevention, 3) develop and strengthen partnerships to improve testing, isolation, and quarantine, and contact tracing strategies, and 4) create targeted messaging for the Lompoc community.
The workgroup includes representation from the City of Lompoc, clergy, business owners, LUSD, healthcare facilities, community organizations, Public Health Department, and others. At the first meeting, held this Monday, Covid data specific to the Lompoc Valley was presented. This type of data was previously only available on a county-wide basis. Since that data was through October 17, I will provide some of the highlights, while the data is still reasonably fresh:
Covid Cases by Month. There has been a total of 920 Covid cases among residents of the Lompoc Valley. On a monthly basis, the number of new cases peaked in July, with 351 cases. The number of new cases has declined each month thereafter, with 178 in August, 137 in September, and 98 for October (extrapolated for the full month).
Cases and Deaths by Age Group and Population. Shown below for each age group is the percent of the population, percent of Covid cases, and the percent of deaths. (Note: The percent of population is based on county-wide figures, but the percentage of cases and deaths are specific to the Lompoc Valley.) With "only" eight deaths, the denominator is small, so drawing conclusions may be difficult. Our sincere condolences go out to those in our community who have lost a friend or loved one.

Ages 0-17: 23% of population; 12% of cases; 0% of deaths
Ages 18-29: 21% of population; 29% of cases; 0% of deaths
Ages 30-49: 24% of population; 33% of cases; 0% of deaths
Ages 50-69: 22% of population; 20% of cases; 38% of deaths
Ages 70+: 11% of population; 6% of cases; 63% of deaths

Covid Cases and Deaths by Gender.

Santa Barbara County's population is 51% male, and 49% female.
Covid cases in Lompoc Valley are 46% male, 53% female, and 1% unknown.
Covid related deaths in Lompoc Valley are 12% male, and 88% female.

Covid Cases and Deaths by Race/Ethnicity. (Notes: 1) Population percentages are based on county-wide figures. 2) Race/ethnicity percentages are specific to the Lompoc Valley, 3) For the 25% of Covid cases where race/ethnicity was not known, I have attributed them pro-rata based upon the percentage of known cases.)

Hispanic/Latino: 48% of population; 81% of cases; 38% of deaths
Asian: 5% of population; 2% of cases; 13% of deaths
White: 43% of population; 13% of cases; 50% of deaths
Black/African American 2% of population; 2% of cases; 0% of deaths
Other/Non-Hispanic 3% of population; 3% of cases; 0% of deaths

Lompoc Valley Covid Cases by Occupation Type. As of 10/17/20, the 920 individuals who had contracted Covid have the following occupation types:

Retired/Unemployed = 109
Other = 100
Agriculture = 76
Healthcare = 75
Clerical/Management = 62
Laborer/Unskilled Worker = 60
Restaurant/Bar, Food Preparation = 50
College/University Students = 7
Unknown = 28

Lompoc Valley Covid Cases by Transmission Type. Of the 70% of Covid cases for which transmission type is known, 68% were transmitted by "close contact" with an individual who was Covid positive, 32% were "community transmitted," and 0% were transmitted from "travel."
Lompoc Valley Covid Cases by Symptomology. For the 81% of cases for which symptomology is known, 87% of individuals were symptomatic (had Covid symptoms), and 13% were asymptomatic (did not have Covid symptoms).
California Covid Mortality Trend. The number of Covid related deaths per day in California has reduced significantly since the peak of 197 on August 4. Since then there has been a steady downward trend, and the average deaths per day for the 7-day period ending November 12 is 40.
Covid Positive Hospitalized Patients.

The number of Covid positive inpatients at hospitals in Santa Barbara County was remaining flat this week, until yesterday when there was an increase in each area of the County. Currently, there are 20 hospitalized patients in the County (up from 14 last week). Of the 20, there are 3 at LVMC.
The California Department of Public Health is working feverishly (no pun intended) with county Public Health Departments and healthcare facilities/providers to finalize and implement a plan for vaccine distribution and use, as soon as the vaccine becomes available. The plan includes things such as transportation and storage of the vaccine (which is required to be at "ultra-low temperature"), priority of individuals to receive the vaccine, priority of healthcare facilities to receive the vaccine, etc. Next week I will provide a brief summary of where things stand with the vaccine process in California, and hopefully, I will have some information about our local area.
A person who regularly reads these letters told me that recently the humor has been lacking. So, here you go…but don't get used to it, they're not always going to be this good!
What should you do if you're attacked by a group of circus performers…go for the juggler!
(That was told to me by a pathologist… who are not known for their humor… present LVMC pathologist excepted.)
Thank you, Lompoc Valley Community, for your tremendous support of LVMC and our healthcare workers; it means a lot to all of us!
As always, please feel free to contact me at popkins@lompocvmc.com or (805) 737-3301. Until next time, be well and stay safe!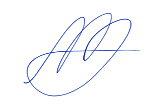 Steve Popkin
Chief Executive Officer