LVMC Community Update, November 20, 2020
This week our CEO updates the Lompoc community about Covid Vaccines, Covid Positive Hospitalized Patients, Tier Status Figures, and this year's Flu Season.
Dear Lompoc Valley Community:
What happened on this date in history?
1942– Joe Biden was born in Scranton, Pennsylvania. Bo Derek was also born on this day in 1956. Joe Biden…Bo Derek, you take your pick!
1982– Drew Barrymore at age 7 hosted "Saturday Night Live"
1985-Nearly two years after it was announced, Microsoft released its first graphical operating system, Windows 1.0. The OS made it easier for users to navigate on their computer screens. It came with Paint, Notepad, Calculator and a game called Reversi.
COVID-19 Information
I'm going to keep it brief today. As long as we all stay diligent with masking, social distancing, hand hygiene, and gathering protocols, I think we can use a little breather from "Covid 24/7."
Vaccines. Pfizer announced today that it has submitted an application to the FDA to approve its Covid-19 vaccine for emergency use. Moderna, the manufacture of the "other" vaccine, is expected to submit its application to the FDA very soon, most likely next week. It is expected that the FDA will consider both applications at the same time. Healthcare organizations in California are working with the State on distribution logistics and administration protocols. We are planning to have the first vaccine doses available for high-risk individuals before the end of December, but nothing is certain at this point.
Covid Positive Hospitalized Patients. The number of Covid positive inpatients at hospitals in Santa Barbara County inched up again this week. Two weeks ago the number was 14, last week it was 20, and today it is 22. That is still a low number, but, of course, it is not going in the direction we would like to see. Of the 22 patients, 2 are at LVMC.
Tier Status Figures. Setting aside the "Equity Positivity Rate" for a moment, the two metrics that determine Tier status are: 1) positivity rate, and 2) new Covid cases per 100,000 population. The official figures for Santa Barbara County are positivity rate = 2.7%, and new Covid cases per 100,000 population = 7.1. If Tier status were based solely on positivity rate, at 2.7%, we would be in the Orange Tier. Regarding cases per 100,000, the criteria for being in the Red Tier is less than 7. So, at 7.1, the County was 1.4% short of being in the Red Tier. Although the numbers above don't look bad, the informal figures I am hearing indicate that the positivity rate and cases per 100,000 population have been increasing this week. So, I expect the numbers above to be higher when the new official figures are released next week.
Geographic Distribution of New Covid Cases. Based upon Santa Barbara County Public Health data, new Covid cases in Santa Barbara, Lompoc, and Santa Maria were roughly proportional to the population of each City.
Flu Season. Although it is still early in the flu season, based upon Santa Barbara County Public Health Data, there is a lower incidence of flu from September through the present, 2020, compared to the same period in 2019 and 2018. However, Flu season typically peaks in December through February, so get your flu shot…it's not too late!
Thank you, Lompoc Valley Community, for your tremendous support of LVMC and our healthcare workers; it means a lot to all of us!
As always, please feel free to contact me atpopkins@lompocvmc.comor (805) 737-3301. Until next time, be well and stay safe!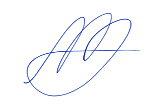 Steve Popkin
Chief Executive Officer