LVMC Community Update, September 11, 2020
Dear Lompoc Valley Community:
As this is the anniversary of "9/11," I will refrain from being my usual sarcastic self, and instead pay tribute to those who lost their lives, or were gravely impacted by the events of September 11, 2001. I will share one quote I particularly like, from Geraldine Brooks, "September 11, 2001, revealed heroism in ordinary people who might have gone through their entire lives never called upon to demonstrate the extent of their courage."
COVID-19 Information
State Tiered (Color-Coded) Monitoring System Status
As of yesterday, there were the following number of counties in each respective tier (from most restrictive to least restrictive): Purple-33 counties; Red-14 counties; Orange-9 counties; Yellow-2 counties. It appears that some counties that are currently in the Red Tier will be downgraded to the Purple Tier when the new listing is issued.
Santa Barbara County Tier Status
Santa Barbara County is one of the 33 California counties in the Purple Tier. As previously discussed, the assignment of a county to a tier is based upon two metrics: Positivity Rate, and New Covid Cases Per 100,000 Population.
On the Positivity Rate front, we (Santa Barbara County) are doing well. The official rate for the week of August 23-29 (the most recent week used) is 5.5%. The threshold that must be met to be eligible to advance from Purple to Red is "less than 8%." So, we check that box, at least for now.
However, on the "New Cases" front, the picture is not as rosy. County-wide, we need to have a rolling average of 31 or fewer new cases per day. The "raw number" of new cases per day in the County is 36. Without getting into detail, the State applies some factors to normalize the raw number. In the case of Santa Barbara County, the raw number of 36 increased to the official number of 37. So, the number of new cases per 100,000 population is 19% higher than where it needs to be (37 vs. 31). Since we did not satisfy this metric, we are not eligible to move from the Purple Tier to the Red Tier.
Hospitalized Covid Positive Patients
County-wide, the number of Covid positive patients continues to decline. As of today, there are 33 hospitalized patients, compared to 39 last week. Of the 33 patients, 9 are receiving ICU care. There are two Covid positive patients currently at LVMC, one of them receiving ICU care.
Covid Testing and Results
The availability of Covid testing throughout Santa Barbara County has increased, at least some. However, the demand for Covid testing has decreased recently. As mentioned above, this coincides with a decrease in the positivity rate. There is speculation as to why the demand for testing has decreased, but there are no consensus conclusions. The number of Covid tests performed is one of the factors the State uses to normalize the "new cases" metric. So, in other words, the fewer the number of tests performed, the lower the number of new cases must be in order to satisfy the metric.
The number of positive test results/new Covid cases, by geographic area within Santa Barbara County, fluctuates quite a bit from day to day. However, over the past 1.5 weeks, the proportion of new cases originating from the Lompoc Valley has increased some. This has not translated to more hospitalizations. But, as we have seen since the start of the pandemic, outbreaks seem to occur cyclically, and often without any identifiable reason. So, we should all continue to be diligent in doing what we know needs to be done to slow the spread.
School Re-opening Waiver Applications
Santa Barbara County Public Health Department (PHD) is now processing elementary school waiver applications to be considered for re-opening with in-person instruction. PHD reported that, as of 9/8/20, it had received 21 applications from various private and public schools. There were 14 applications received as of 9/1/20, so the number of applications increased by 50% over the 7-day period.
Lompoc Health
We continually look for ways to optimize the patient experience at our various Lompoc Health Centers. At present, we are recruiting another Internal Medicine physician to practice at our North Third Center; we have multiple excellent candidates. We are finalizing plans to re-establish outpatient lab services (in addition to outpatient lab services provided at the hospital), which were temporarily discontinued due to the Covid-19 situation. We are working on processes to streamline the registration process for certain types of visits and services. More to come on that soon. We are creating a centralized process where patients can easily raise concerns or request assistance. Until then, to address any issues or request assistance, please feel free to contact Sue Nooney, North H Center Site Manager at (805) 737-8700 or nooneys@lompochealth.com, or Nancy Hummer, North Third Center Site Manager at (805) 736-1253 or hummern@lompocvmc.com, or me, at the phone number or email address shown below.
Thank you, Lompoc Valley Community, for your tremendous support of LVMC and our healthcare workers; it means a lot to all of us!
As always, please feel free to contact me at popkins@lompocvmc.com or (805) 737-3301. Until next time, be well and stay safe!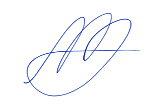 Steve Popkin
Chief Executive Officer