LVMC Community Update, September 25, 2020
Posted On:
Written By:

Steve Popkin
Dear Lompoc Valley Community:
What happened on this date in history?
1956- The first underwater telephone service from the United States to Europe began using two 2,250 mile cables under the Atlantic Ocean to provide the clearest all wire voice link between the two continents. 1965- Willie Mays, at the age of 34, became the oldest man to hit 50 home runs in a single season. He had also set the record for the youngest to hit 50 ten years earlier. 1981- Sandra Day O'Connor became the first female justice of the Supreme Court when she was sworn in as the 102nd justice. She had been nominated the previous July by President Ronald Reagan.
COVID-19 Information
Tier Purple Versus Tier Red
Many of you have heard by now that it is likely (crossing our fingers) that Santa Barbara County will advance from the Purple Tier (widespread transmission) to the Red Tier (substantial transmission) when tier status is announced next Tuesday. Santa Barbara County has satisfied the Red Tier criteria for one week and needs to do so for an additional week. The week in question is September 13-19. So, the numbers are all in, we just wait for them to be crunched and see where they fall. We don't want to get the cart before the horse, but the Santa Barbara Public Health Department seems pretty confident.
If we advance from Purple to Red, shown below are the sectors that will and will not change:
Hair Salons & Barbershops: No change. Currently open with modifications.
All Retail: Change. Currently, open indoors with modifications at 25% capacity. Will be 50% capacity.
Places of Worship: Change. Currently outdoor only. Will be indoors with the lesser of 25% capacity or 100 people.
Movie Theaters: Change. Currently outdoor only. Will be indoors with the lesser of 25% capacity or 100 people.
Hotels and Lodging: Change. Currently open with modifications. Will be open with modifications, plus fitness centers at 10% capacity.
Gyms and Fitness Centers. Change. Currently outdoor only with modifications. Will be open indoors with modifications at 10% capacity.
Restaurants: Change. Currently outdoor only. Will be open indoors with the lesser of 25% capacity or 100 people.
Wineries: No change. Outdoor only with modifications.
Bars, Breweries, and Distilleries Where No Meals Provided: No Change. Closed.
Family Entertainment Centers: No Change. Outdoor only with modifications.
Cardrooms, Satellite Wagering: No Change. Outdoor only with modifications.
Professional Sports: No Change. Open without live audiences and with modifications.
Nail Salons: Recent Change. Recently opened with modifications in purple tier, and will remain the same in red tier.
Covid Positive Hospitalized Patients.
Once again, the number of Covid positive patients hospitalized at Santa Barbara County hospitals decreased this week. As of today, there are 20 hospitalized patients, down from 25 last week. Of the 20 patients, 2 are at LVMC.
LVMC Emergency Room Visitation Policy.
LVMC has amended its visitation policy to allow the same visitation for Emergency Room patients as it does for inpatients. Therefore, for obstetric and pediatric patients, two "unique designated visitors" may accompany the patient in the Emergency Room. For all other patients, one unique designated visitor may accompany the patient. The complete LVMC Visitation Policy can be found on the LVMC website.
"The Daisy Award"
LVMC is preparing to kick-off "The Daisy Award" (TDA). TDA is a nurse recognition program based on what is most meaningful –stories of patient and family gratitude for their extraordinary compassionate care.
For 20 years, TDA has been honoring extraordinary nurses in the United States and 28 other countries, at more than 4,500 healthcare facilities and schools of nursing. To date, there have been more than 1.8M nominations written and 144,000 nurses honored.
Based on the many grateful letters/emails/cards/phone calls I receive from patients and their families, about our extraordinary nurses who have touched their lives, I expect the nominations and awards to be plentiful.
Donations
A huge thank you to the following businesses and individuals who have made donations of Personal Protective Equipment and supplies, food for our healthcare workers, and other acts of kindness. You are all very much appreciated!! (Bold type means a donation since the last update) Vandenberg Village Lions;Direct Relief;Albertson's Store #3171--and those individuals who participated with Albertson's; Northrop Grumman; Southwest Carpenters Union;INTO THE AM CLOTHING LLC-Matt Marchione; Kathy Milham; Kimberly Todd; Vons Market; Celeste Dugré; Subway; Sleep Center; Doreen Ross; Lompoc Pizza Hut; Superior Home Health; Miguelito Elementary School;Cajun Kitchen; La Purisima Mission Mask Makers; Advanced Performance Physical Therapy; SONOS; Pickle & Peanut Restaurants Inc.; Jordano's; Lompoc Little Caesar's Pizza; Victoria Perez; Diana Coronado; Firework Foundation; The Daily Grind;Industrial Eats; Vivid Financial Management; Christine Collier; David Carey DDS; The Church of Jesus Christ of Latter-day Saints; Sue McIntyre; McDonalds; Hilton Garden Inn; Anita Macias; a collaboration of 18 wineries--Alma Rosa, Ampelos, Chanin, Fiddlehead, Flying Goat, Garcia, Kings Carey, Kita, Longoria, Loring, Pali, Piedrasassi, Sandhi, Santa Barbara Winery, Sea Smoke, Sweetzer, Temperance and Transcendence; CoastHills Credit Union; CenCal Health; Dunn School; American Host; Kateri and Chris Kingsley; Katherine Milham; Sweet Bliss Sugar Scrubs and Co.; Carol Kirkland; Dr. Iris Radler; Donna Bommersbach; Patricia Henry; Nancy Manes; Annamie Lafferty; Marilyn Romine; Courtney & Mitch Barnham; Ida Kreds; Ingrid Kaper; Judy Carpenter; Space X; Lompoc Oral and Maxillofacial Surgery; Santa Barbara Foundation; Lompoc Hospital District Foundation; Lompoc Unified School District; Lompoc YMCA; Floriano's Mexican Food; Circle K; Keller Williams Realty of Lompoc; Girl Scouts of Lompoc; Arbonne independent distributors; Orcutt Bakery; Northrop Grumman; L3Harris Technologies; Astrotech Corp.; Harbor Freight; Home Depot; Direct Relief; Heath Dental; CHC Dental; Mikowicz Dental; Kimberly Nails; Not Alone Plumbing; Artisan Uprising Winery/Azeo Distillery; Starbuck's Store 496; Tom's Burgers; Super Grill; Sign Gypsies Central Coast.
Thank you, Lompoc Valley Community, for your tremendous support of LVMC and our healthcare workers; it means a lot to all of us!
As always, please feel free to contact me atpopkins@lompocvmc.comor (805) 737-3301. Until next time, be well and stay safe!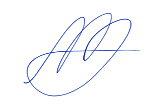 Steve Popkin
Chief Executive Officer