LVMC Community Update, September 4, 2020
Dear Lompoc Valley Community:
On this Labor Day weekend, I would like to acknowledge our entire LVMC Team for the tremendous work they do for LVMC, our patients and their families, and our Lompoc Valley Community. We very much appreciate each and every LVMC employee!! (And, if I may, a shout out to my Mom, who was in labor on Labor Day…some years ago…which was a waste of a perfectly good vacation day for her.)
Although there is not a lot new this week on the clinical side of Covid, there is quite a bit of "Covid adjacent" information that I thought you might find interesting. (Full disclosure: about half of what I wrote below I took the liberty of plagiarizing from material published by Santa Barbara County Public Health Department…I have no plans to run for President anytime soon, so I think I'm okay.)
COVID-19 Information
Governor Newsom Announcement.
On August 28, Governor Newsom announced that effective 8/31 the State is transitioning from the State Monitoring List program to a tiered system for each county. The 5 tiers are: Purple=Widespread Transmission Red=Substantial Transmission, Orange=Moderate Transmission and Yellow=Minimal Transmission. Each Tier determines what type of reopening each county can do safely and counties can only move through one tier at a time, even if metrics qualify for a more advanced tier. Additionally, a county must remain in a tier for a minimum of two weeks (in some cases three weeks) before moving to the next tier. There are only two metrics that determine the applicable tier: Positivity Rate, and New Covid Cases per 100,000 population. Santa Barbara County is currently in the Purple-Widespread tier (tier 1). The criteria to advance from tier 1 to tier 2 (purple to red), are Positivity Rate of less than 8%, and fewer than 7 new daily Covid cases per 100,000 population. The population of Santa Barbara County is approximately 450,000, so that equates to needing to have a rolling average of 31 or fewer new Covid cases per day. A county must meet and maintain both criteria in order to advance to the higher tier. Updates to the tiers are made on Tuesdays each week. In addition to Santa Barbara County, other counties that are in the purple tier (tier 1) include San Luis Obispo, Ventura, Los Angeles, Orange, Alameda, Riverside, and San Bernardino, to name just a few.
What Tier Purple Means for Business Openings and Closings.
As required by the Health Officer Order, the following sectors may open indoor operations with modifications and adherence to the Health Officer Order and State provided guidance:
Hair salons and barbershops
Shopping malls. Indoor occupancy is limited to 25% capacity. Common areas and food court dining areas must remain closed. Food court food facilities may remain open for off-site consumption (take-out or delivery)
Libraries limited to 25% occupancy capacity
Retail limited to 25% occupancy capacity
Additionally, the following businesses and activities must continue to keep physical locations closed:
In-person higher education including technical schools, colleges, universities, adult education, and trade schools. Indoor lectures are prohibited. Courses offered in specialized indoor settings (e.g. labs, studios, arts), whose design imposes substantial physical distancing on participants are permitted when following the Stated issued guidance. Distance learning is allowed;
Parties and Receptions. Outdoor wedding ceremonies (religious or non-religious) are permitted so long as the State guidance for Places of Worship is followed. Indoor ceremonies are not allowed at this time. Receptions for weddings are not allowed.
Rodeos and public equestrian events.
Organized sports and team sports including adult, amateur (non-professional) team sports, and indoor and drills, except professional sports without a live audience. (Intramural &Youth sports training and conditioning are allowed when following State guidelines.)
Gatherings are not allowed whether small or large. Gatherings are defined as an event or convening that brings together people from different households in a single room or space at the same time in any indoor or outdoor space whether public or private. Gathering exemptions include:
While in a work setting which is allowed while maintaining physical distancing;
Outdoor recreational activities while maintaining six feet distance from others. Examples include walking, cycling, jogging and hiking;
Congregate living situations including dormitories and homeless encampments;
Outdoor worship services, wedding ceremonies, outdoor cultural ceremonies or outdoor protests, when physical distancing of six feet is maintained.
School Re-opening Waiver Applications.
Santa Barbara Public Health is now processing Elementary School education (grades TK-6) application waivers for schools to be considered for re-opening with in-person instruction. Applications are being reviewed by an internal committee in conjunction with the COVID case data from the jurisdictions where the schools are located. As of 9/1, the Public Health Department had received 14 applications from various private and public schools. For counties that are in the red tier (tier 2) or better, a waiver is not required.
New Covid Testing Site in Lompoc.
The Santa Barbara County Public Health Department has added Covid testing sites at its Public Health Centers in Lompoc, Santa Barbara, and Santa Maria. The Lompoc Health Care Center is located at 301 North R Street. These testing sites are targeted to "priority populations," rather than the general public.
Hospitalized Covid Positive Patients.
After a few weeks of significant declines in Covid positive hospitalized patients, the number of patients has stabilized. The current number of hospitalized patients in Santa Barbara County remains the same as last week, at 39. There was no material change in the proportion of hospitalized patients among North County, South County, and Lompoc Valley.
Donations
A huge thank you to the following businesses and individuals who have made donations of Personal Protective Equipment and supplies, food for our healthcare workers, and other acts of kindness. You are all very much appreciated!! Angela Wynne; Edward Mischke; Direct Relief; Albertson's Store #3171--and those individuals who participated with Albertson's; Northrop Grumman; Southwest Carpenters Union; INTO THE AM CLOTHING LLC-Matt Marchione; Kathy Malham; Kimberly Todd; Vons Market; Celeste Dupré; Subway; Sleep Center; Doreen Ross; Lompoc Pizza Hut; Superior Home Health; Miguelito Elementary School; Cajun Kitchen; La Purisima Mission Mask Makers; Advanced Performance Physical Therapy; SONOS; Pickle & Peanut Restaurants Inc.; Jordanov's; Lompoc Little Caesar's Pizza; Victoria Perez; Diana Coronado; Firework Foundation; The Daily Grind; Industrial Eats; Vivid Financial Management; Christine Collier; David Carey DDS; The Church of Jesus Christ of Latter-day Saints; Sue McIntyre; McDonalds; Hilton Garden Inn; Anita Macias; a collaboration of 18 wineries--Alma Rosa, Ampules, Chenin, Fiddlehead, Flying Goat, Garcia, Kings Carey, Kita, Longoria, Loring, Pali, Piedra Sassi, Sandhi, Santa Barbara Winery, Sea Smoke, Sweetser, Temperance and Transcendence; Coast Hills Credit Union; Cenacle Health; Dunn School; American Host; Kateri and Chris Kingsley; Katherine Malham; Sweet Bliss Sugar Scrubs and Co.; Carol Kirkland; Dr. Iris Radler; Donna Pomersbach; Patricia Henry; Nancy Manes; Annamae Lafferty; Marilyn Romine; Courtney & Mitch Barnham; Ida Reds; Ingrid Caper; Judy Carpenter; Space X; Lompoc Oral and Maxillofacial Surgery; Santa Barbara Foundation; Lompoc Hospital District Foundation; Lompoc Unified School District; Lompoc YMCA; Florian's Mexican Food; Circle K; Keller Williams Realty of Lompoc; Girl Scouts of Lompoc; Arbonne independent distributors; Orcutt Bakery; Northrop Grumman; L3Harris Technologies; Stretch Corp.; Harbor Freight; Home Depot; Direct Relief; Heath Dental; CHC Dental; Mikulicz Dental; Kimberly Nails; Not Alone Plumbing; Artisan Uprising Winery/Aveo Distillery; Starbuck's Store 496; Tom's Burgers; Super Grill; Sign Gypsies Central Coast.
Thank you, Lompoc Valley Community, for your tremendous support of LVMC and our healthcare workers; it means a lot to all of us!
As always, please feel free to contact me at popkins@lompocvmc.com or (805) 737-3301. Until next time, be well and stay safe!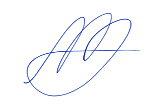 Steve Popkin
Chief Executive Officer