CCC Residents Enjoy Effort to Improve Memory and Brain Function
Every day at LVMC's Comprehensive Care Center, a group of elderly residents gather around a small computer tablet and transform themselves into virtual game show participants.
The group – mainly in their 70s and 80s – interact virtually with a team of UCSB students interested in evaluating and improving the seniors' cognitive function through the simple math and trivia questions.
The effort is an element of the UCSB Brain Exercise Initiative, a nonprofit endeavor using simple math and writing exercises, coupled with passages of reading aloud, to gauge how much stimulation improves the memory and happiness of older people.
The concept is based on Japanese neuroscientist Dr. Ryuta Kawashima's work, who found that doing simple math, reading, and writing for 30 minutes a day, five days a week, showed improvements in cognitive functioning for those with Alzheimer's disease or dementia.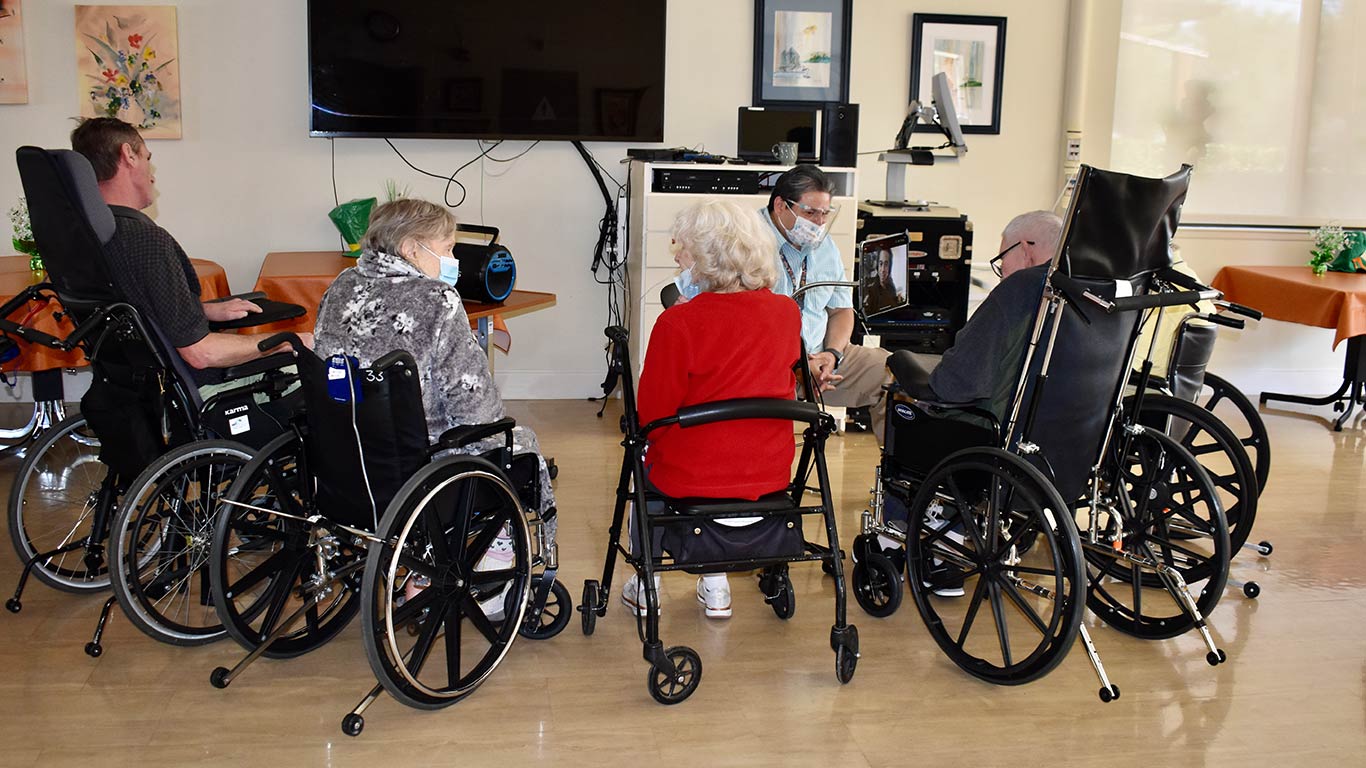 As the images of UCSB students appeared on a small tablet attached to a stand, the CCC group laughed and joked with their much-younger teachers. Taking turns, they answered a series of math equations involving addition, subtraction, and some division. Trivia questions ranged from movie actors to geographic queries to songs. The residents helped each other with answers and shouted encouragement. Their interest in answering and general mood and attitudes improved noticeably as the session went along.
At one point, Ray, a resident on the autism spectrum, kept answering "Five!" to every question. Eventually, the UCSB students caught on and fed him questions whose answers would equate to five. Ray's fellow residents laughed along as he answered.
"It's yoga for the brain," said CCC Activities Director Michele Hunt. "There are so many things I think are so beautiful about this. One, we are pairing our up-and-coming young people, who are being locally educated, with the older people in our community. How great that you're getting to see these two ends of the spectrum coming together. I love bringing these two different age groups together."
The residents get delighted with how smart they are when answering questions correctly, she added. A younger resident in his late 50s, recovering from a severe stroke, was initially hesitant to participate. But as the questions continued, he excelled at the trivia – everything from movies to geography to pop culture.
"They think they're done with their intelligence, but they're not," Hunt says. "And it's amazing."
At 88, resident Diane grinned and chatted with the students. She says because she was born weighing just 2 pounds, her memory has never been good.
"That was fun," she said afterward. "I don't know why it comes so easy. I do it in my head. I like it."
Hunt says it's empowering for the CCC residents to see that they have the skill set to do well and maybe even show off a little.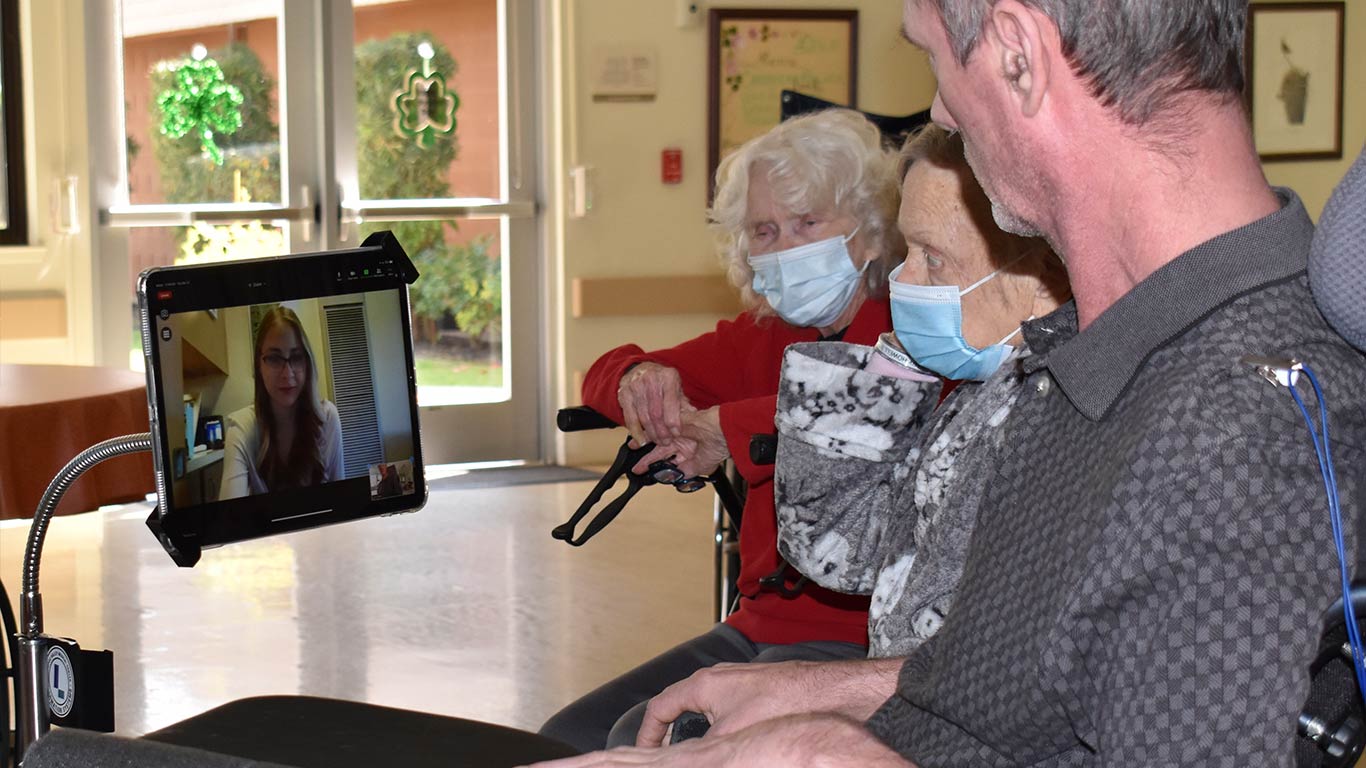 "Their mental acuity is amazing," she adds. "It gives them this boost. Diane thinks she's an MIT professor. Bring them together in that small group setting builds relationships between each of them. They cheer one another on, so there's beautiful peer support."
Biopsychology student Shiva Areff is president of the UCSB Brain Exercise Initiative and says the team has 70 students involved working with nine "retirement" homes for the elderly in Santa Barbara County.
"The goal is for our program to be long-term," Shiva said. "We would love to continue bringing college students and retirement home residents together for generations to come." Areff added, "BEI does not conduct any research, as we just do brain exercises with the residents and have a great time."
Hunt helps with the technology, as does CCC Activities aide Joe Lugo, among others.
"We love that the CCC residents are so determined, given that the exercise packets can be challenging sometimes," Shiva said. "One of our Vice Presidents, Rachel Cole, who has worked with the CCC residents on many occasions, mentioned that she had been amazed by the great energy and resilience the residents bring to each session. In all, we are so grateful to be working with the wonderful CCC residents and staff and look forward to many more sessions to come."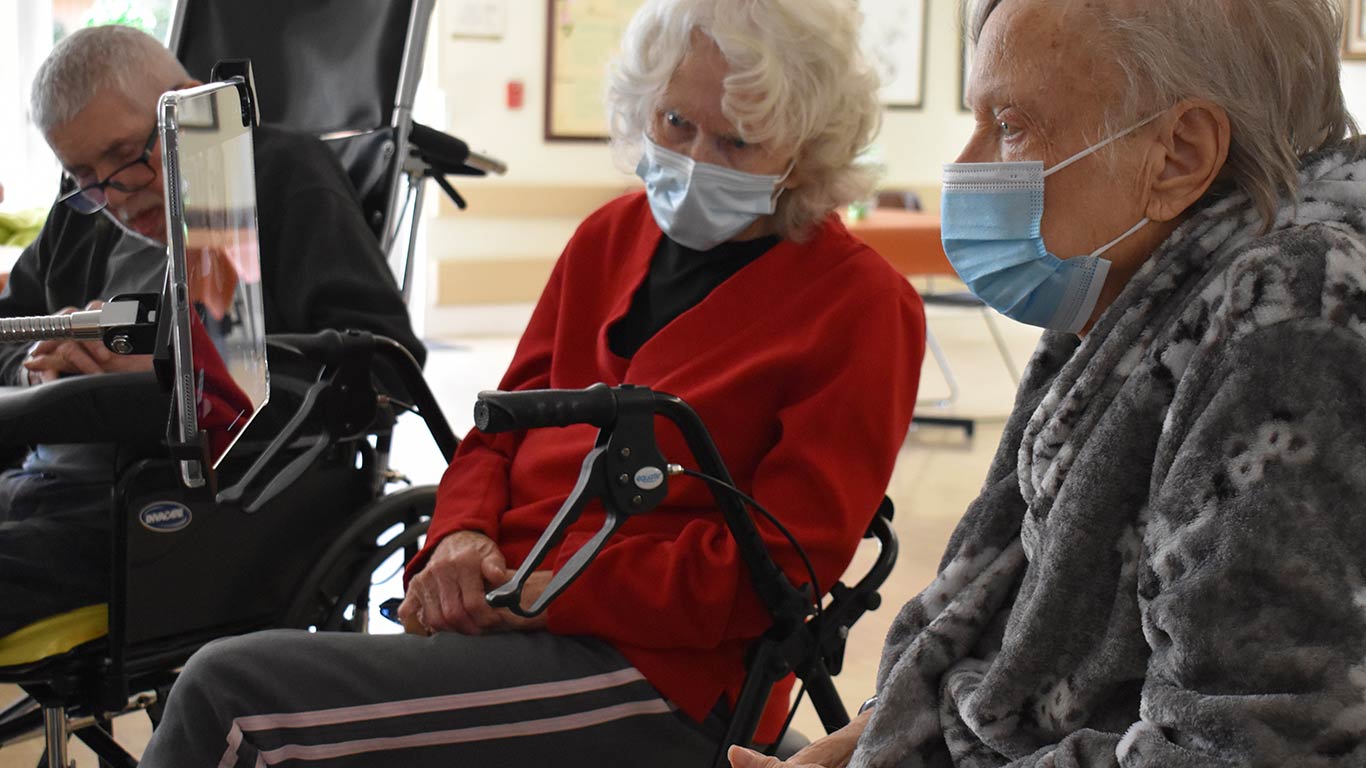 Hunt says she appreciates that the UCSB students are respectful, genuine, and kind to the CCC residents. They help and encourage the residents if they struggle with answers.
"I had no idea what to expect, and it's just blown me away – their professionalism, that sense of enthusiasm," Hunt says. "I like the research that supports 30 minutes of brain exercise a day for a healthy brain. Here we are trying to keep them physically healthy, emotionally, socially, and mentally healthy. This meets it all. If you feed the soul, feed the heart, feed the brain, I think that the body follows. They feel so good. Even Ray, who didn't get any of the answers correct, feels great. He felt empowered."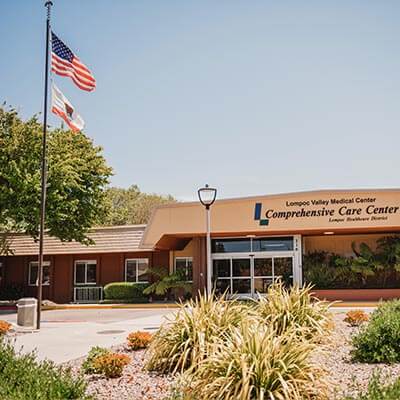 A Look Inside the CCC
Take a tour of the Comprehensive Care Center. From our spacious rooms to our beautiful memory garden, see what makes the CCC a wonderful place for our residents.