Dr. Khawar Gul Named LVMC Physician of the Year for 2021
Cardiologist Dr. Khawar Gul has been named Lompoc Valley Medical Center Physician of the Year for 2021.
Employees cast votes for the physician they believe exemplifies the district's values and maintains the community's trust, patients, and residents. The votes are also directed toward a physician who strives continuously to improve services and works as a team member with hospital staff.
Dr. Gul has been a member of the medical staff of LVMC since August 2010.
This week, the award was bestowed by Chief Executive Officer Steve Popkin during the annual Medical Staff Appreciation reception.
"I am in the company of very talented, smart, and hard-working physicians," Dr. Gul said when accepting the award. "It is an honor to be nominated the Physician of the Year amongst yourselves. I'm at a loss for words to describe my feelings. But I am very thankful to be allowed to help this community. I thank the employees who nominated me and accepted this award on their behalf."
Dr. Gul was previously named Physician of the Year in 2012.
He completed his medical training at Rawalpindi Medical College and his residency in Internal Medicine at the University of Texas Medical School in Houston. He completed a fellowship in Cardiovascular Diseases and a fellowship in Cardiac Computed Tomography at UCLA.
Last year, Dr. Gul donated a GE Healthcare cardiovascular ultrasound machine to LVMC and is a frequent contributor to Nurses Week and Hospital Week celebrations.
Dr. Gul was presented with a scroll of comments written by LVMC employee nominations. Many of them spoke of his responsiveness, work ethic, and dedication.
"Dr. Gul has gone above and beyond to provide education to staff," one nomination noted. "He has come in after-hours and on weekends to provide in-services including EKG, newborn heart murmurs, and more. Dr. Gul is always very approachable and loves to help staff increase their knowledge."
Many nominations noted Dr. Gul's traditional "Greetings" comment to colleagues and others. The nominations spoke of his kindness and patience.
"Dr. Gul is very knowledgeable in his field and shares that with his patients in a way that makes them feel comfortable and having gained knowledge of their condition," a nomination stated. "He is very approachable, friendly, and a real asset for our community and LVMC."
Honoring Retiring Physicians
Also honored during the Medical Staff appreciation event, retiring physicians, Dr. William Gausman and Dr. Michael Gill were also honored.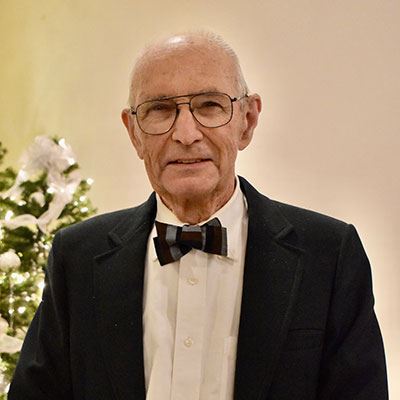 Dr. Gausman came to Lompoc in 1960 and had practice Family Medicine, obstetrics, and anesthesiology for more than 60 years. He was a founder of Lompoc Valley Medical Group, known in the community as "VMG." He and his Registered Nurse, Ricki Prucha, have worked together for more than 45 years. They will both retire on Dec. 31, 2021.
Dr. Gausman was honored for his commitment to the community and devotion to his patients, having treated generations of local residents during his career.
"We've enjoyed the patients," he said, noting that some have become his friends. "Three months after I got here, I delivered a gal. She still comes to see me from Paso Robles. I delivered her daughter also. You get to know a lot of people."
Dr. Gausman received a rousing standing ovation from his colleagues.
"He has helped set the highest standard of medical care and continues to be a role model for his peers," stated his recognition gift.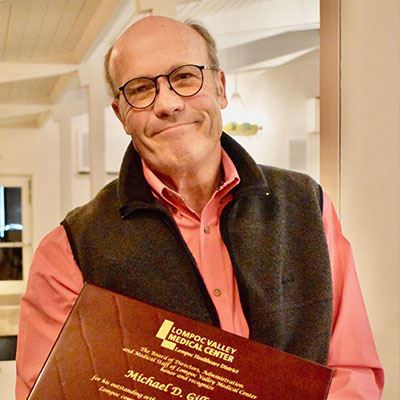 Dr. Gill has served the community as an orthopedic surgeon since 1985, including as the team physician for Lompoc High School athletics. He was also previously LVMC Chief of the Medical Staff. According to his recognition gift, he is a "personal and professional role model for many of his colleagues," according to his recognition gift.
"There's a lot to say," he said during the event. "The best thing about this whole experience is I got to work with a bunch of really, really good folks. We always helped each other out. We were always interested in the patients. For all the young folks here, don't forget that."
Previous Physicians of the Year include Dr. Rahim Raoufi, 2020; Dr. Cedric Kwon, 2019; Dr. Rollin Bailey, 2018; Dr. Tomas Machin, 2017; Dr. Cindy Blifeld, 2016 and Dr. Randall Michel, 2015.