LVMC Community Update, December 17, 2021
This week our CEO updates the community on our vaccination clinics, vaccination figures, Covid in Santa Barbara County, a vaccination study, Covid hospitalizations, and booster shots.
Dear Lompoc Valley Community:
What happened on this date in history?
1903 – The Wright brothers made the first sustained motorized aircraft flight at 10:35 am, piloted by Orville Wright at Kitty Hawk, North Carolina.
2014 – 103-year-old Gus Andreone recorded the 8th ace of his career on the 113-yard, 14th hole of the Lakes Course, Palm Aire, Sarasota, Florida. He is the oldest golfer to record a hole-in-one.
2018 – U.S. poacher was sentenced to watch the film "Bambi" repeatedly during his year in prison, for killing hundreds of deer in Missouri.
Quote of the week
"What you get by achieving your goals is not as important as what you become by achieving your goals." -- Zig Ziglar
COVID-19 and Vaccinations
Vaccination Clinics
We continue holding vaccination clinics at the hospital every Wednesday for children aged 5-11, at 12:30 pm – 2:30 pm and 5:30 pm – 7:30 pm.
For community members age 12 and older, we continue holding vaccination clinics at the hospital every Thursday from 12:30 pm to 2:30 pm, and every Friday from 12:30 pm to 6:00 pm.
At the vaccination clinics, we will be offering first doses, second doses, booster doses, and "additional doses." Currently, we have all three vaccine brands in stock.
For all vaccination clinics, appointments may be scheduled at ca.gov and walk-ins are welcome.
Vaccination Figures
8% of the county population 5 and older have had at least one vaccine dose, versus 74.3% two weeks ago.
1% of the county population 5 and older are fully vaccinated, versus 66.4% two weeks ago.
3% of the entire county population has had at least one vaccine dose, versus 69.9% two weeks ago.
1% of the entire county population is fully vaccinated, versus 62.5% two weeks ago.
As of yesterday, 90,293 booster doses have been administered in the county, versus 67,693 two weeks ago.
Covid in Santa Barbara County
I won't go into the detailed figures this time, but I would characterize the state of Covid in Santa Barbara County as "stable" (others may not). Daily Case Rate is up, hospitalizations are up a little (although there is only 1 Covid positive patient hospitalized at LVMC right now). Active Covid cases, positivity rate, and Covid deaths are all relatively flat.
To Vax or Not to Vax
I think by now, most people have decided whether they are going to get vaccinated (of course, most already have). But for those who are still on the fence, I have reprinted below an article published in Becker's Hospital Review, which summarizes the findings of a study with a data set of nearly 10 million admissions at 250 hospitals across all 50 states. More than 120,000 COVID-19 hospitalizations were examined.
(And if you're thinking that I have reprinted this just to save me the time of coming up with original content, that's not necessarily true.)
Study Findings:
An overwhelming majority of COVID-19 hospitalizations were among unvaccinated or partially vaccinated people. From June to September 2021, 85 percent of virus hospitalizations were among those not fully vaccinated against COVID-19.
Age was highly correlated with breakthrough hospitalizations. The majority of COVID-19 breakthrough hospitalizations were of people 65 and older, while the majority of people not fully vaccinated and hospitalized with COVID-19 were adults ages 18 to 64. Only 10 percent of breakthrough hospitalizations were people under age 50. 
Compared to the age distribution of fully vaccinated people in the U.S., people 65 and up make up a disproportionately large share of breakthrough hospitalizations. As of Sept. 30, 25 percent of fully vaccinated Americans were 65 and older. In comparison, in the Epic sample, 69 percent of fully vaccinated people hospitalized with breakthrough COVID-19 were 65 and older.  
A greater share of people hospitalized with a breakthrough COVID-19 case also had at least one comorbidity compared to COVID-19 patients who weren't fully vaccinated.  
Breakthrough hospitalizations included fewer COVID-related respiratory complications or treatments, suggesting fully vaccinated patients hospitalized with breakthrough COVID-19 may have been more likely to be hospitalized for unrelated reasons.  
Fully vaccinated adults hospitalized with COVID-19 had shorter average hospital stays than those who weren't fully vaccinated within the same age group. Among patients over 65, the median COVID-19 hospital stay was 1.1 days shorter for those who were fully vaccinated (5.6 days) than for those not (6.7 days).
Booster Note
I had been doing some serious procrastinating in regard to getting my booster shot. I kept telling myself that I had something important coming up in the next few days and I could not afford to be sick, in case I had a reaction to the vaccine. I finally got the booster shot yesterday.  No side effects other than a little soreness at the injection site. I think we all hear about those we know who had more of a side effect, but we don't hear about the majority of people who do not get sick from the booster shot.
Happy Holidays to everyone…and may 2022 be a safe, healthy, happy, and prosperous year for all of us!!
Thank you for your continued support, and as always, please feel free to contact me at popkins@lompocvmc.com or (805) 737-3301.  Until next time, be well and stay safe!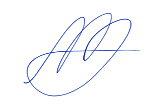 Steve Popkin
Chief Executive Officer