LVMC Community Update, February 12, 2021
This week our CEO updates the community about the status of the CCC, COVID-19 Vaccine distribution, and COVID-19 cases and hospitalizations.
Dear Lompoc Valley Community:
What happened on this date in history?
1909 – On the 100th anniversary of Abraham Lincoln's birthday, the NAACP was founded.
1999 – President Bill Clinton was acquitted on both articles of impeachment.
2004 –The city of San Francisco began issuing marriage licenses to same-sex couples in response to a directive from Mayor Gavin Newsom.
Comprehensive Care Center
There continues to be no Covid positive residents or staff at the CCC.
Vaccine
This Wednesday, February 10, LVMC began administering vaccine second doses to community members age 75 and older who had previously received their first vaccine dose at LVMC. As of today, almost half of the 1,900 individuals have received their second dose. By the end of next week, about 90% will have received their second dose.
LVMC had already administered second doses to healthcare workers and others in tier 1a. Any healthcare workers or others in tier 1a who received their first dose at LVMC, and have not yet received their second dose, may still do so.
After we finish administering second doses, we expect to have approximately 120 doses remaining. We will use those 120 for the new first doses. We will use our existing waiting list to schedule those 120 appointments. Currently, the waiting list is comprised of approximately 800 community members age 75 and older.
Today, the Santa Barbara County Public Health Department has (or will be) announcing that effective Tuesday, February 16, Santa Barbara County and all vaccination providers in the County will be expanding vaccination eligibility to those 65 years of age and older. That's the good news. The bad news is that there is a minimal supply of vaccines in the County, so the eligibility expansion to 65+ will have little immediate impact. (North County may have some limited capacity for 65+.)
Community members 65 and older may call or email our vaccine appointment request line or email address at (805) 875-8909 andvaccine@lompocvmc.com, respectively. When you do, we will place your name on the appointment waiting list. However, in a change from our previous procedure, rather than contacting you within three business days to schedule an appointment, we will contact you when we have the vaccine needed to offer you an appointment. Due to the uncertainty of future vaccine allocations and the uncertainty regarding when the State will take over appointment scheduling, we will only be scheduling appointments seven days out.
Vaccine allocations are made to LVMC and other vaccination providers each Tuesday (if vaccine supply permits). LVMC has requested 1,750 doses of the Moderna vaccine for next week. However, we will not know until next Monday whether we will receive some, all, or none of our requested amount. If we learn on Monday that we will be receiving an allocation, we will begin immediately scheduling appointments.
There have been mixed messages from the State and County regarding using the allocated vaccine for first doses versus retaining an inventory for second doses. Unless they clarify differently, the State wants all vaccination providers to use all the vaccine allocated within seven days of receipt. If a vaccination provider does not do so, it will negatively impact the amount of vaccine it is allocated in the future, and the vaccine in inventory can be taken back and redistributed to another vaccination provider. This means that vaccination providers will be giving first doses to individuals with an expectation, but not a guarantee, that they will be allocated enough vaccine to provide the second doses on time. This time around, we kept our second doses in inventory so that I/we could give our personal guarantee that we could provide second doses on time. As we advance, we will have to do it on faith and rely on the State to manage the vaccine distribution efficiently, effectively, and fairly.
Without going into detail here, it appears that Santa Barbara County is well-positioned to receive its fair share of vaccine allocation.
Eventually, the State (through its third-party administrator, Blue Shield) will take over appointment scheduling. Appointment scheduling will then be done through the websitemyturn.ca.gov. The various counties throughout California will go live with this scheduling system in different "waves." The State has not specified a date on which this will occur for Santa Barbara County. We speculate that it will be at least a couple of weeks, and perhaps several weeks from now. I was just informed that when this switchover to the State scheduling occurs, waiting lists or pre-scheduled appointments maintained by vaccination providers will become null and void, and those individuals will need to register for an appointment through myturn.ca.gov. You can go on this website now or at any time to register to receive information and updates, but you cannot yet register for an appointment. It will not put you on a waiting list by registering, but it may provide you with an early notice about when you may schedule an appointment through the website.
I was also just informed that LVMC may not be a State designated vaccination provider, at least early on. Right now, the State is working with fifteen large hospital systems to roll out the vaccination program. Our county includes Marian Medical Center because it is part of an MCE (Multi-County Entity) through its parent company, Common Spirit/Dignity Health. It also includes Cottage Health, with its three hospital facilities. In addition, the Federal Government is contracting with pharmacies throughout the State to provide vaccinations, but the specific pharmacy locations have not been disclosed. I have been in communication with Santa Barbara County Public Health Department to get assurances that if LVMC is not a State designated vaccination provider, they will provide vaccination clinics at LVMC and/or at other locations in Lompoc. There will be more to come about this, but regrettably, definitive information is tough to come by at this time.
Although there is a lot of work and expense involved with being a vaccination provider, we love doing it, and we love seeing our community members at LVMC and helping them get through this pandemic. Hopefully, we will be able to continue serving in this capacity.
Anyone who has an urgent question about vaccinations may email me atpopkins@lompocvmc.com. I will reply as soon as possible.
Covid Cases and Hospitalizations
The number of Covid cases, positivity rate, and Covid positive inpatients at hospitals within Santa Barbara County continues to decline. All the trends are going in the right direction, not as quickly as we would like, but let's take the good news where we can find it.
Thank you for your continued support, and as always, please feel free to contact me at popkins@lompocvmc.comor (805) 737-3301. Until next time, be well and stay safe!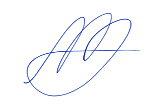 Steve Popkin
Chief Executive Officer