LVMC Community Update, January 15, 2021
This week our CEO updates the community on our COVID-19 vaccination of community members and COVID-19 hospitalizations.
Dear Lompoc Valley Community:
What happened on this date in history?
1892 – Basketball rules were first published in Triangle Magazine, written by James Naismith.
1942 - Chicago Cubs drop plans to install lights at Wrigley Field because of the military's need for materials; takes 35 years before lights finally installed at the venerable ballpark.
2001 – Wikipedia, a free Wiki or content encyclopedia, is launched by Jimmy Wales and Larry Sanger.
COVID-19 Information
Vaccines
On December 17, LVMC began vaccinating healthcare workers within LVMC and outside of LVMC, as well as CCC residents. To date, approximately 700 healthcare workers and CCC residents have been vaccinated. The 120 LVMC employees who have declined the vaccine may still be vaccinated upon request.
On Wednesday, January 13, LVMC began vaccinating Lompoc Valley residents age 75 and older. By the end of today, approximately 1,000 individuals in this age group will have been vaccinated, and more are scheduled to receive the vaccination.
We initially started with patients of Lompoc Health, since we have the names and phone numbers of the applicable individuals. For these patients, the Primary Care Provider's Medical Assistant is calling to offer a vaccination appointment. We have contacted approximately half of the approximately 2,700 eligible Lompoc Health patients. Those who have not been contacted yet will be contacted soon.
We have, regrettably, given mixed messages about who is eligible to receive the vaccine. To clarify, all residents within the Lompoc Healthcare District (generically think of it as within the Lompoc Valley), who are 75+, may receive a vaccination, regardless of where they receive their medical care.
Beginning Monday, January 18, Lompoc Valley residents who do not have a Lompoc Health primary care physician may email us at vaccine@lompocvmc.com or call us at (805) 875-8909. If you email, please simply provide your name and phone number. Similarly, if you call, please just leave your name and phone number. If you are emailing or calling for more than one individual (i.e., husband and wife), you may leave both names on the same email or voice message. Whether you email or leave a voice message, you will receive a call from an LVMC representative within three business days to schedule a vaccination appointment. (Either email or phone call is acceptable, but email is preferred.)
LVMC is prepared to continue providing vaccinations until everyone in the Lompoc Valley who wants to be vaccinated is vaccinated. This assumes, of course, that we are provided with an adequate allocation of vaccines. So far, we have received what we have requested, and the County has been very cooperative in meeting our vaccine needs. We expect that to continue indefinitely, unfortunately, there are no guarantees.
The Santa Barbara County Public Health Department is providing vaccinations throughout the County, including in Lompoc. However, the details of how to access vaccinations through the County are still being finalized and will be communicated to the public soon. Other Vaccination Providers, such as Cottage, Marian, Sansum, etc. are in the process of rolling-out their vaccination programs for their respective patients and communities. LVMC is working very closely with the entities mentioned.
After we have offered vaccinations to residents 75+ (according to census data there are about 3,100 individuals 75+), we will continue with the 65+ age group. We expect to complete the 75+ age group in approximately two more weeks.
For the 75+ group, we have so far used the Moderna vaccine (although we will use whichever vaccine we are allotted). We are not aware of any serious adverse reactions to the vaccine among the 1,000 or so individuals who have been vaccinated. The second dose of the vaccine is to be administered 28 days after the first dose. So, in 28 days following January 13, when we begin administering second doses, the pace of new first dose vaccinations will slow.
All counties and healthcare providers are administering their vaccination programs in somewhat different ways. We are all doing it in the way we feel is best for our respective communities and within our respective capabilities. At LVMC, our overriding objective is to get the vaccine in the arms of Lompoc Valley residents as quickly as possible. This is an extremely fluid situation, with no playbook to follow, so your patience is appreciated.
Anyone who has an urgent question, other than to schedule a vaccination appointment, may feel free to email me at popkins@lompocvmc.com. I will reply as soon as possible.
Covid Hospitalizations
The number of Covid positive inpatients at hospitals in Santa Barbara County remained approximately flat this week, albeit at a high level. Perhaps this a good sign, as the number of inpatients had increased significantly each of the past several weeks. As of today, LVMC has 17 Covid positive inpatients, with 2 in ICU. Our inpatient units are very busy (with all patients, not just Covid), but we are managing well. Unfortunately, we had to postpone two surgical cases due to bed capacity, but we do not expect that to be a regular occurrence.
Donations
A huge thank you to the following businesses and individuals who have made donations of Personal Protective Equipment and supplies, food for our healthcare workers, and other acts of kindness. You are all very much appreciated!! (Ones in bold are new since the last listing.) Pickle & Peanuts Restaurants/McDonald's; Santa Ynez Tribal Health Clinic; Wild West Pizza & Grill; George Stillman; Dr. Connie Chan; Vandenberg Village Lions; Direct Relief; Albertson's Store #3171--and those individuals who participated with Albertson's; Northrop Grumman; Southwest Carpenters Union; INTO THE AM CLOTHING LLC-Matt Marchione; Kathy Milham; Kimberly Todd; Vons Market; Celeste Dugré; Subway; Sleep Center; Doreen Ross; Lompoc Pizza Hut; Superior Home Health; Miguelito Elementary School; Cajun Kitchen; La Purisima Mission Mask Makers; Advanced Performance Physical Therapy; SONOS; Pickle & Peanut Restaurants Inc.; Jordano's; Lompoc Little Caesar's Pizza; Victoria Perez; Diana Coronado; Firework Foundation; The Daily Grind; Industrial Eats; Vivid Financial Management; Christine Collier; David Carey DDS; The Church of Jesus Christ of Latter-day Saints; Sue McIntyre; McDonalds; Hilton Garden Inn; Anita Macias; a collaboration of 18 wineries--Alma Rosa, Ampelos, Chanin, Fiddlehead, Flying Goat, Garcia, Kings Carey, Kita, Longoria, Loring, Pali, Piedrasassi, Sandhi, Santa Barbara Winery, Sea Smoke, Sweetzer, Temperance and Transcendence; CoastHills Credit Union; CenCal Health; Dunn School; American Host; Kateri and Chris Kingsley; Katherine Milham; Sweet Bliss Sugar Scrubs and Co.; Carol Kirkland; Dr. Iris Radler; Donna Bommersbach; Patricia Henry; Nancy Manes; Annamie Lafferty; Marilyn Romine; Courtney & Mitch Barnham; Ida Kreds; Ingrid Kaper; Judy Carpenter; Space X; Lompoc Oral and Maxillofacial Surgery; Santa Barbara Foundation; Lompoc Hospital District Foundation; Lompoc Unified School District; Lompoc YMCA; Floriano's Mexican Food; Circle K; Keller Williams Realty of Lompoc; Girl Scouts of Lompoc; Arbonne independent distributors; Orcutt Bakery; Northrop Grumman; L3Harris Technologies; Astrotech Corp.; Harbor Freight; Home Depot; Direct Relief; Heath Dental; CHC Dental; Mikowicz Dental; Kimberly Nails; Not Alone Plumbing; Artisan Uprising Winery/Azeo Distillery; Starbuck's Store 496; Tom's Burgers; Super Grill; Sign Gypsies Central Coast.
Thank you for your continued support, and as always, please feel free to contact me at popkins@lompocvmc.com or (805) 737-3301. Until next time, be well and stay safe!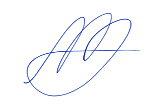 Steve Popkin
Chief Executive Officer