LVMC Community Update, January 22, 2021
This week our CEO updates the community on the COVID-19 Vaccine, the number of new Covid cases in Santa Barbara County, and Hospital bed, and particularly ICU bed availability.
LVMC Community Update, January 22, 2021
Dear Lompoc Valley Community:
What happened on this date in history?
1973– the Supreme Court decided Roe vs. Wade. With the 7-2 decision, the court ruled that a woman's right to choose an abortion was protected by the privacy rights guaranteed by the Fourteenth Amendment.
1978– Bee Gees' album "Saturday Night Fever" goes #1 for 24 weeks
2010– Lakers forward Kobe Bryant becomes the youngest NBA player to reach 25,000 career points at 31 years, 151 days; beating Wilt Chamberlain by 35 days.
COVID-19 Information
Vaccines
As reported last week, LVMC is currently providing vaccinations for Lompoc Valley residents ages 75 and older. Those who have a Lompoc Health primary care physician will be called to schedule a vaccination. Those who do not have a Lompoc Health primary care physician may email us at vaccine@lompocvmc.com or call us at (805) 875-8909. If you email, please provide your name, phone number, and date of birth. Similarly, please leave your name, phone number, and date of birth if you call. If you are emailing or calling for more than one individual (i.e., husband and wife), you may leave both names and dates of birth on the same email or voice message. Whether you email or leave a voice message, we will do our best to call you within three business days to schedule a vaccination appointment. (We are only scheduling the number of appointments for which we have the vaccine in inventory, so depending on our supply of vaccine, it could be longer than three business days). Lompoc Health patients who have not yet been called to schedule an appointment may also use the above email or phone number if they wish.
Unfortunately, due to the minimal amount of vaccine that has recently been allocated to Santa Barbara County, and therefore to LVMC, we have had no choice but to slow the pace of vaccinations this week and for at least next week. The situation is very fluid, and I cannot predict the amount of vaccine available at certain points in the future. At this point, we are using all of our vaccine allocations for the first doses and relying on the assurances from the State and County that we will be allocated enough vaccine to provide the second dose to everyone who has received the first dose.
In addition to LVMC, vaccinations are available by appointment from the County of Santa Barbara, Cottage Health, Marian Medical Center, Sansum Medical Group, some pharmacies, and others. Each Vaccination Provider has its own process and protocols. Like LVMC, each of these entities has a limited number of appointments available due to the limited amount of vaccine that has been allocated.
Although the State is permitting vaccinations for individuals 65 and older, I am not aware of any Vaccination Provider in Santa Barbara County that is vaccinating individuals below 75 (except for healthcare workers and others in tier 1a). This is due to the limited supply of the vaccine. Neither the State nor County have made a special dispensation for those with underlying medical conditions. When most of the 75+ category have been vaccinated and/or vaccine supply is in abundance, LVMC and other Vaccination Providers will move forward with the 65+ category. LVMC is prepared and committed to continuing vaccinations until everyone in the Lompoc Valley who wants to be vaccinated is vaccinated.
The County of Santa Barbara is administering vaccinations in Santa Barbara, Santa Maria, and Lompoc. The Lompoc location is at the Lompoc Veterans Memorial Building. To the best of my knowledge, there are no vaccination appointments currently available. However, to register for an appointment or get a variety of information regarding vaccinations, you may go to the County website at www.publichealthsbc.org. Then click on "COVID-19 Vaccine Information." This will take you to various links to choose from, depending on what you want to do or what information you wish to obtain.
For the 75+ group, we have so far used the Moderna vaccine (although we will use whichever vaccine we are allotted). We are not aware of any serious adverse reactions to the vaccine among the 1,500 or so individuals who have been vaccinated. The second dose of the vaccine is to be administered 28 days after the first dose. For those who have been vaccinated, the date to return for your second dose is written on the back of your Vaccination Record Card. You should come simultaneously as you did for the first dose appointment, although that time is not written on the card. If you do not recall the exact time of your first dose appointment, please make your best estimation, and come then.
In the media, you may have heard that a single lot of Moderna vaccine had a more than expected number of allergic reactions at one vaccination site out of the 287 sites that received vaccine from that lot. Vaccination Providers in Santa Barbara County had some vaccines from that lot. However, the one vaccination site in question was not in Santa Barbara County. The California Department of Public Health ("CDPH"), out of an abundance of caution, initially recommended that the use of that lot of vaccine be "paused." After further and extensive investigation, CDPH issued a communique indicating that the lot of vaccine in question was safe. That use of the vaccine should immediately resume.
Anyone who has an urgent question about vaccinations may email me at popkins@lompocvmc.com. I will reply as soon as possible.
COVID-19 Facts and Commentary
The number of new Covid cases in Santa Barbara County is declining. (The number of new cases can partially be a function of the number of tests performed, which I do not know.) However, let's take good news wherever we can find it. The number of new cases is a leading indicator of hospitalizations, so everything else being equal, we would expect a decline in hospitalizations in the next couple/few weeks.
As reported by "Becker's Hospital Review," California's Covid positivity rate is 9.3%, tied for 24thamong the 50 states. Santa Barbara County data shows that the County positivity rate is 16%. However, the good news is that laboratories in both South County and North County report that the positivity rate has recently shown a significant decline.
As reported by "Becker's Hospital Review," California ranks 48th out of the 50 states in terms of vaccine doses administered as a percent of vaccine doses allocated. California has administered 37.31% of the doses allocated. According to Santa Barbara County data, 48% of the vaccine doses allocated to the County have been administered. 40,275 doses have been allocated to Santa Barbara County, and 19,336 doses have been administered through the County Public Health Department and other Vaccination Providers, like LVMC.
Hospital bed, and particularly ICU bed availability in Santa Barbara County, continues to be tenuous. However, the number of Covid positive inpatients at hospitals within Santa Barbara County has declined slightly, making two consecutive weeks without an increase, after several weeks of significant increases. The Covid positive census at LVMC has remained at 17, but now with 6 in ICU (up from 2).
Although I have not crunched the numbers to confirm this, my observation is that Santa Barbara County Covid trends lag California trends by at least a few weeks. Lompoc Valley Covid trends lag the rest of Santa Barbara County by a couple/few weeks.
Thank you for your continued support, and as always, please feel free to contact me at popkins@lompocvmc.com or (805) 737-3301. Until next time, be well and stay safe!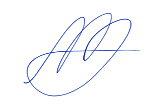 Steve Popkin
Chief Executive Officer