LVMC Community Update, January 29, 2021
This week our CEO, Steve Popkin updates the community on the state of the Comprehensive Care Center, some COVID-19 facts and commentary, and the COVID-19 vaccine distribution plan.
Dear Lompoc Valley Community:
What happened on this date in history?
1919 -The Prohibition(Eighteenth) Amendment to the Constitution was ratified and went into effect the following year.
1936 - Babe Ruth and Ty Cobb were among the first players to be elected to the Baseball Hall of Fame in Cooperstown, New York.
1959 - Disney released the animated film Sleeping Beauty to theatres.
Comprehensive Care Center
There were remarkably no Covid positive residents or staff at the CCC for the first nine months of the pandemic. However, as Covid began to surge again, the CCC had its first Covid positive resident on December 5. On January 11, the number of Covid positive residents peaked at 31.
I'm pleased to report that as of today, there once again are no Covid positive residents at the CCC. In addition, 94% of residents have received their Covid vaccination. Beginning next week, indoor "window visitation" will resume, as will certain dining room services and resident activities.
COVID-19 Vaccines
On January 27, Governor Newsom's Office announced that the State of California is implementing a new vaccine distribution plan and protocols and will be taking a much more centralized approach (I am paraphrasing). The State has contracted with Blue Shield of California to be the "third party administrator" to operationalize the plan.
Currently, and for the next 2-3 weeks, until the new plan becomes effective, the vaccine distributed to the State is then distributed to each county within California. The county allocates and distributes the vaccine to each vaccination provider (like LVMC). For Santa Barbara County, this process has been working very well. There are a couple of reasons for this: 1) the three hospital systems in the County are working very closely together and are coordinating their efforts to serve their respective communities best, and 2) Santa Barbara County Public Health Department has been an excellent partner and is working with all of us to establish and amend protocols and vaccine distribution based upon what is happening on the ground. Apparently, this process has not been as effective in other counties, particularly larger counties.
From now on, the State will be bypassing the counties and distributing vaccines directly to vaccination providers. (The county public health departments are intended to continue being a vaccination provider, particularly for "hard to reach populations," but not serve in a vaccine distribution capacity.) The State has not yet disclosed the basis on which it intends to distribute vaccines. The State has indicated that "equity factors" will be a key component of the formula but has not provided specifics about what that means.
The State intends to have a single vaccination eligibility criterion, not subject to revision or interpretation by any county. The State intends to roll-out a centralized vaccination appointment scheduling system, although no specific details have been disclosed. Lompoc Valley residents age 75 and older are still welcome to email or call us at vaccine@lompocvmc.com and (805) 875-8909. We will put those who email or call on an appointment waitlist and use that list if we can. Still, the State's impending appointment scheduling system may very well override our ability to do any of our own scheduling.
There is a philosophical difference between the State and many vaccination providers (including LVMC) regarding vaccination priority. The State wants vaccination providers to use virtually all the vaccines they receive quickly and continue administering first doses, even if they do not have sufficient vaccine inventory to provide second doses to all who have received the first doses. However, thus far, the State has provided no assurances that it will make second dose allocations and distributions in a timely manner. It is presumed that the State wants all vaccines used when received (rather than saving some for second doses) so the State can demonstrate that it is administering a high percentage of the vaccine doses allocated by the Federal Government.
Virtually all individuals in tier 1a (healthcare workers, etc.) who received the first dose from LVMC have also received their second dose. The last first dose vaccinations given at LVMC for residents age 75+ were administered this Wednesday. Second doses for the 75+ category are scheduled to begin on February 10 (28 days after the first dose). We have decided not to administer any more first doses until we have secured enough vaccine to provide second doses for all individuals who have received the first dose. We feel that this is what our community members would want and that it is the right thing to do. Currently, we have about 650 doses in inventory, and we will need to acquire at least 1,100 more. When our vaccine allocation exceeds this amount, we will once again begin administering the first doses. This may put LVMC at odds with State protocol, but at least until the new State plan "shakes out," this is the approach we will take. We very truly wish we were able to continue administering vaccinations at full capacity, as there is nothing that has given us a greater sense of purpose than helping our community members get through this pandemic.
For those of you who have received your first dose of vaccine, the date to return for your second dose is written on the back of your Vaccination Record Card. It would be best if you came simultaneously as you did for the first dose appointment, although that time is not written on the card. If you do not recall the exact time of your first dose appointment, please make your best estimation, and come then. Notwithstanding what I said above, please do not worry about LVMC having enough vaccine for your second dose; we will find a way.
Anyone who has an urgent question about vaccinations may email me at popkins@lompocvmc.com. I will reply as soon as possible.
COVID-19 Facts and Commentary
As reported by "Becker's Hospital Review," the website live calculates the rate at which the Covid virus is spreading. It tracks the "effective reproduction rate." Among other things, the model attempts to correct for increasing or decreasing Covid testing volume. According to RT.live, California currently has the third slowest spread of Covid among the fifty states.
For the second consecutive week, Covid positivity rate and the number of Covid positive hospital inpatients have declined both in California overall and in Santa Barbara County. For LVMC, the total number of Covid positive inpatients is 18, roughly the same as last week, but down 25% from earlier this week.
As reported by "Becker's Hospital Review," California's ranking improved from 48th to 39th out of the 50 states in terms of vaccine doses administered as a percent of vaccine doses allocated.
Thank you for your continued support, and as always, please feel free to contact me at popkins@lompocvmc.com or (805) 737-3301. Until next time, be well and stay safe!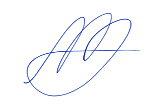 Steve Popkin
Chief Executive Officer