Ray Down -- Leaving a Legacy of Service to LVMC
When he first was asked to serve on the Lompoc Valley Medical Center Board of Directors, Ray Down wasn't that interested. But as a local banking executive, he thought it might be a good public relations move for his job.
That was in 1973.
Now, after 47 years serving the community as a hospital board member, Down is retiring. In Santa Barbara County, he is one of the longest-serving elected officials.
"Once I got started with it, you start learning stuff and it becomes interesting," he says. "When the next election came up, I just stayed. It was really interesting early on."
In those early days, the hospital struggled financially. Sometimes, the district balanced whether to fund its staff payroll or buy items such as food for the dietary department.
"We were a small facility," he recalls. "Occupancy wasn't that strong even back then. We were a small primary care hospital. Our Emergency Room was totally on-call physicians. If you had staff privileges, you had ER requirements. It was the only way we could cover it."
The list of accomplishments and improvements within the district during his tenure is impressive. During his early years, in a file he keeps of his board service, there's a list of key moments during his time in office – including discussing plans for hospital expansions, making a proposal for a full-time emergency room, awarding a contract for the construction of the Comprehensive Care Center, approving a $6.1 million budget in 1981, making efforts to bring mammography to the district in 1980, working on ballot bond measures for the hospital and CCC, hiring new chief executive officers and eventually seeing the passage (with a state voter approval record) of a bond measure to build a new hospital.
Though hospital board members are not typically as well-known in a community as a city councilperson, Down's impact was noticed throughout his tenure. A newspaper editorial urging voters to re-elect him in 1988 called him a "wise and conservative guardian of the hospital's financial well- being."
Because the original hospital on D Street was built in the 1940s, many of his early years on the board dealt with remodeling projects. The board approved adding a new laboratory and MRI machine, and moved the Emergency Room. The operating room was renovated and the cafeteria was upgraded and moved. The birthing center changed its location several times, Down notes.
"Things just kept going. I thought we were a little bit of a backwater hospital at that point in time."
But he soon learned that Lompoc hospital was holding its own statewide after he became active with the state association relating to hospital districts.
"You'd look at what the big hospitals were doing, but we had started upping our game. I'd get to meetings and look around at what some of the other hospitals were or weren't doing and realized we're not that bad. We're doing more than some of these smaller hospitals. It made me feel really good."
In some years, he faced competition at the polls when he sought another term. Often, he ran unopposed.
"One of the things that kept it interesting (was) there was always something new," Down recalls. "Every time I'd get toward the end of a term, I'd say, 'Well, you know, I could let someone else do this.' Then I'd say, 'Well, I'll go one more term and finish this project.' And at the end of another four years, there would be another project."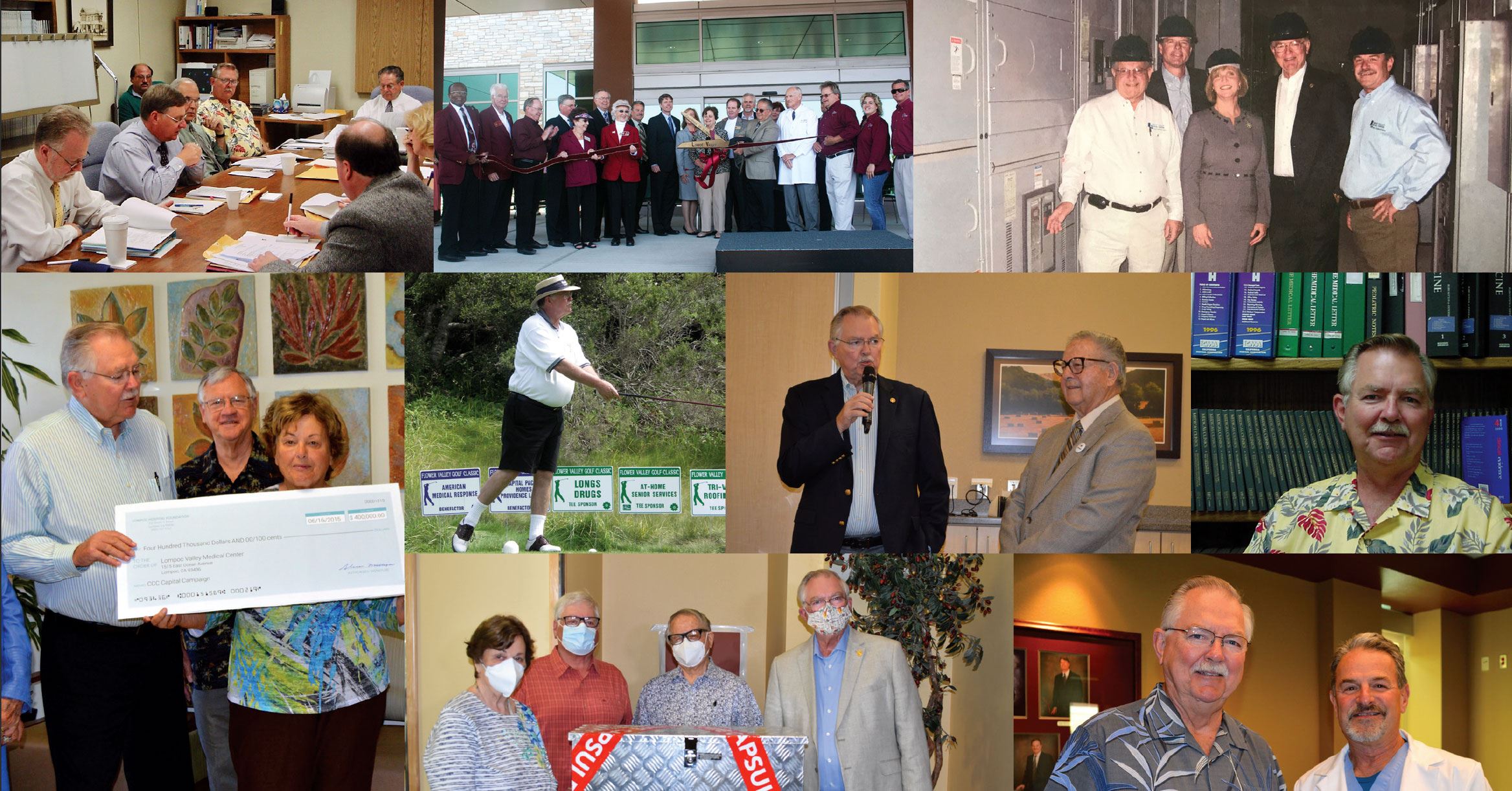 When longtime Chief Executive Officer Jim Raggio retired two years ago, Down thought it might be time to step down as well. He waited until a new chief executive, Steve Popkin, was hired. And he wanted to make sure the former Champion Center had new tenants. That was accomplished with the leasing of the building to Crestwood Behavioral Health in mid-2020.
"It seemed like the right time," he says. "It's a commitment I take seriously."
He looks back with pride at the employees of LVMC with whom he's interacted over the past four decades.
"We've had good people and good administration, and fantastic hands-on care from nurses and physicians. That's made me proud to be a part of it. If that wasn't going on, I certainly wouldn't have stayed this long. If I was getting complaints every day from the community, I probably would have hung it up long ago. But we don't."
Down believes every community member within the district boundaries should consider serving on the board.
"You don't have to have an ax to grind," he says. "This is public service. If you're interested in having a community that has all the things that need to be in a community, one of those things is a good medical facility. If you have a vision of what you think Lompoc needs to be or what would help us attract more businesses or what would help us attract more people, one of them is going to be a hospital. If you have a vision of what that needs to be, you ought to be sitting at the table, as a board member or at least coming in as a member of the public and giving us your opinion of what you want to see, or things that need to be done for the community to make the hospital a better place."