LVMC Community Update, June 11, 2021
This week our CEO updates the community on hospital visitation policies, COVID-19 positivity rate, and vaccinations.
Dear Lompoc Valley Community:
…this will be a short one today!
What happened on this date in history?
1692 – The first victim of the Salem Witch Trials, Bridget Bishop, was hanged for witchcraft in the colony of Massachusetts. (Sorry to start on a downer!)
1845 – Andrew Jackson's African Grey parrot "Polly" was removed from his funeral for swearing, at The Hermitage, Tennessee. Funeral attendee William Menefee Norment recorded: "Before the sermon and while the crowd was gathering, a wicked parrot that was a household pet got excited and commenced swearing so loud and long as to disturb the people and had to be carried from the house." (Now that's better!)
1933 – John Dillinger robbed his first bank, in New Carlisle, Ohio. He took $10,600.
1935 – In Akron, Ohio, Dr. Robert H. Smith from Akron, and Bill Wilson from New York City, formed Alcoholics Anonymous--the date of Smith's last drink.
Quote of the Week
"Once you've accepted your flaws, no one can use them against you." - George R. Martin
COVID-19
The California Covid positivity rate remains low at 0.6%. That is the fourth-lowest state rate in the country. The positivity rate for Santa Barbara County is similarly low at 0.7%. The highest state positivity rate is Alabama, at 13.4%.
Although the two-week average of active cases in the county went up slightly, from 36 to 39, the county's Adjusted Case Rate per 100k population decreased from 1.3 last week, to 0.9 this week.
About 1 in 13 residents of Santa Barbara County have had and recovered from Covid.
The number of hospitalized Covid patients in the county remains flat at 8. The number dropped to 6 yesterday, but back to 8 today. LVMC currently has 1 Covid inpatient, the same patient that was admitted on May 9. Compared to earlier in the pandemic, Covid patients, as a group, generally have a lower length of stay, and a smaller percentage require ICU care.
There continue to be no Covid positive residents at the CCC.
Hospitals in the state are awaiting new guidance regarding visitation practices from California Department of Public Health. It is expected within the next few weeks. When received, LVMC will re-evaluate its visitation policies.
Vaccinations
Next week we will be holding vaccinations clinics at LVMC on Monday and Friday. We will be administering both first and second doses on both days. Appointments may be scheduled on MyTurn. In addition, walk-ins are welcome during vaccination clinic hours.
65% of the eligible county population (12+) has received at least one vaccine dose (up from 63.7% last week). 55% of the entire county population has received at least one dose (up from 53.9% last week). 55.2% of the eligible county population has been fully vaccinated (up from 52.3% last week). 46.7% of the entire county population has been fully vaccinated (up from 44.2% last week). We are making progress, but slowly.
At 45.31%, California ranks 20th in the country regarding percentage of population that is fully vaccinated. Santa Barbara County is slightly higher than the state, at 46.7%
The percent of Santa Barbara County population that are partially or fully vaccinated, by age group, are as follows: 12-15: 30%; 16-29: 58%; 30-49: 57%; 50-64: 80%; 65-74: 83%; 75+: 83%
440,030 vaccine doses have been administered in Santa Barbara County (including retail pharmacies but excluding some Federal vaccination providers). That equates to about one dose per county resident.
Thank you for your continued support, and as always, please feel free to contact me at popkins@lompocvmc.comor (805) 737-3301. Until next time, be well and stay safe!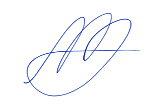 Steve Popkin
Chief Executive Officer