CCC Story Time Awakens Memories, Prompts Discussions
In the Comprehensive Care Center Activities Department, "Story Time" is an almost daily interactive way to engage residents.
For many people, early childhood memories include recollections of snuggling onto a lap and being read a story at bedtime or hearing imaginative tales read by a parent, teacher, or sibling.
At the Comprehensive Care Center, "Story Time" is an engaging activity that helps enhance moods and stimulate the brain functioning of skilled nursing residents.
Led by members of the Activity Department staff, Story Time begins with gathering residents interested in hearing the day's theme. Sometimes, it means the reading of actual children's storybooks or anthologies.
"I like to be told stories," said resident Mary.
Other times, the activity may start with current affairs of the day or a "This date in history" discussion.
"I always do 'This day in history and let that be the springboard," explained CCC Activities Director Michele Hunt. "We talk a lot about COVID and what's going on in the world. I don't talk about the deaths (from the pandemic), but I talk about it being the reason their families couldn't come in during the past year."
She knows when she asks residents to state the day of the week that she might not get the correct answer.
"When you're retired, every day is Saturday," she said with a laugh.
On a recent day, she asked the day of the week question and got a fun answer in return from a hard-of-hearing resident.
"Do I remember when I was 16?" resident Diane asked.
Playing along, Michele asked, "What were you doing?"
"I lived on a ranch," Diane explained. "I rode horses. I hoed beans. I helped bale hay. I rode tractors."
Michele says the Story Time discussions can get lively or nostalgic at times.
"If it's an event we're talking about, I'll ask them if they know where they were on the day it happened. If it's the bombing of Pearl Harbor, I'll ask, 'Have you ever been to Hawaii?' It gets them thinking about the past, something that happened."
Though the birth of William Shakespeare was obviously hundreds of years before the birth of any CCC resident, one recent day saw the discussion during Story Time turn to the famed playwright's birth and life.
"What did William Shakespeare do," Michele asked.
A resident replied: "He told poems."
A discussion of Shakespeare's birth year of 1564 prompted a "Was anyone alive in 1564" question, which received laughter.
"I don't think so," one resident said, as Michele noted the playwright would be 457 years old if still alive.
"Does anyone know where he was born; was he born in Lompoc?" Michele asked.
A CCC resident replied proudly, "He was born in England."
As StoryTime continued, Michele engaged the men and women in discussions of plays and sonnets written by Shakespeare and read a sonnet aloud. She talked about "Romeo and Juliet," "Hamlet," "A Midsummer Night's Dream," and more.
Academic studies have shown that reading aloud to elderly people, particularly those with dementia, can improve brain functioning, enhance memory and reduce stress and anxiety.
For one resident, it was more basic.
"I like Story Time," he said.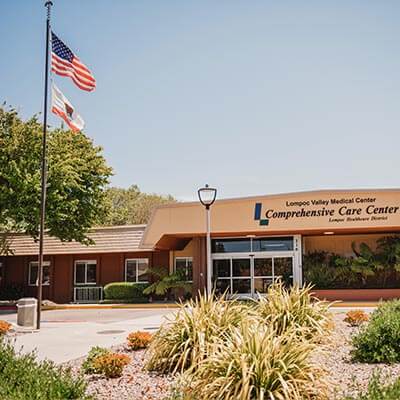 A Look Inside the CCC
Take a tour of the Comprehensive Care Center. From our spacious rooms to our beautiful memory garden, see what makes the CCC a wonderful place for our residents.