LVMC Community Update, May 14, 2021
This week our CEO updates the community on COVID-19 vaccinations, the CDC's new mask guidance, and other COVID-19 news.
Dear Lompoc Valley Community:
What happened on this date in history?
1804 – Meriwether Lewis and William Clark's expedition commissioned by Thomas Jefferson set out from St. Louis for the Pacific Coast.
1878 – Vaseline is granted a United States patent (it's taking all I have to refrain from comment).
1908 – First passenger flight in an airplane happened.
1998 – Seinfeld's final 2-part episode "The Finale" aired on NBC to 76.3M viewers. Commercials were priced at $2M for 30 seconds.
Quote of the Week
"I destroy my enemies when I make them my friends."  — Abraham Lincoln
COVID-19
You have likely already heard the new CDC guidance that individuals who are fully vaccinated may go "maskless" in most settings, both outdoors and indoors (exceptions include healthcare settings and large crowded indoor gatherings, to name a couple). So, now there is even more incentive to get vaccinated…you don't want to be the one getting a suntan on half your face this summer! The state and county are in discussions about these new CDC guidelines, and as of the time I am writing this, they have not yet adopted the new guidelines.
Some good Covid news throughout the country, as reported by Becker's Hospital Review:

Nationwide, new Covid cases have fallen to the lowest levels since September, with about 38,000 new infections reported each day;
Michigan and New York, two states that have seen recent COVID-19 surges, each reported at least a 40% drop in new cases over the last two weeks;
46.4% of the population have received at least one Covid vaccine dose, while 35.4% of the population is fully vaccinated (Santa Barbara County figures are shown below);
The national Covid positivity rate is 3.6%, down from 15% in January, and an all-time low for the pandemic;
The nation is reporting 600 Covid deaths per day, the lowest average in 10 months (that's still a lot…but low in comparison).

Now the bad news: Covid hospitalizations in Santa Barbara County, and in Lompoc, have spiked over the past week. A week ago, the number of Covid positive hospitalized patients in the county was at an all-time low of about 5. That number has grown to about 15, spread just about equally among the three hospitals in the county. LVMC had been at 0-1 patients for the past several weeks, and now we are at 6 patients. The average age of the Covid patients at LVMC is 53, consistent with the nationwide trend of hospitalized patients being younger than earlier in the pandemic. I don't want to say too much about the vaccination status of specific patients, due to patient confidentiality, but suffice it to say, if you don't want to risk being hospitalized with Covid, get vaccinated. It was told to me that two Covid patients in the ICU at another area hospital said, "not getting vaccinated may have been the biggest mistake of my life." Imagine the regret we would feel if we were in that same situation.
There are no Covid positive residents at the CCC.
Vaccinations
Here are some vaccination statistics, using county data, as of this Wednesday (so the percentages are slightly higher as of today):
49.9% of the county population has received at least 1 vaccine dose
62.6% of the eligible county population has received at least one dose
39.4% of the county population is fully vaccinated
49.5% of the eligible county population is fully vaccinated
226,200 county residents (of approximately 440,000 total residents) have received at least one dose
Percentage of fully vaccinated county population, by region:

North - 31.3%
Central- 32.4%
South - 47.9%

Vaccine doses administered in the county, by age cohort:

16-29: 20%
30-49: 28%
50-64: 24%
65+: 27%

LVMC is partnering with Lompoc Unified School District to vaccinate students ages 16-18. Beginning next Wednesday, May 19, LUSD will be transporting students by bus to and from LVMC for vaccinations. The vaccinations will begin at noon. LUSD will be coordinating the scheduling, as well as distribution and collection of consent/registration forms. This same process will very soon be expanded to students ages 12-15. This program will continue each Wednesday until LUSD determines there is no longer a need.
This week, LVMC administered 1,469 vaccine doses (including the ones scheduled for today). In addition, there were 301 individuals who scheduled appointments and were "no-shows."
For the upcoming week of May 17, the LVMC first dose vaccination schedule is as follows:

Monday: Pfizer vaccine for ages 12 and older. Scheduling is done through MyTurn at myturn.ca.gov. (Students 12+ who do not schedule a vaccination through LUSD may still schedule directly through MyTurn). Appointments are filling up quickly for Monday.
Tuesday: Johnson & Johnson vaccine for ages 18 and older. Scheduling is through MyTurn. As of now, plenty of appointment slots are available.
Wednesday: Pfizer vaccine. Special vaccination clinic for LUSD students. Scheduling and coordination are done through LUSD.
Friday: Moderna vaccine for ages 18 and older. Scheduling is through MyTurn. As of now, plenty of appointment slots are available.
Thank you for your continued support, it is very much appreciated. As always, please feel free to contact me at popkins@lompocvmc.com or (805) 737-3301. Until next time, be well and stay safe!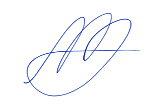 ​
Steve Popkin
Chief Executive Officer