LVMC Community Update, May 28, 2021
This week our CEO updates the community on COVID-19 positivity rate, vaccination distribution, our Nursing Assistant Training Program, and more.
Dear Lompoc Valley Community:
What happened on this date in history? 
1923 – The United States Attorney General said it is legal for women to wear trousers anywhere (sometimes known as Hillary Clinton Day). 
1937 - The Golden Gate Bridge in San Francisco was officially opened by President Franklin D. Roosevelt, in Washington, D.C., who pushed a button signaling the start of vehicle traffic over the span.
1957 – National League owners voted unanimously to allow the New York Giants and Brooklyn Dodgers to move to San Francisco and Los Angeles, respectively, at the mid-season owner's meeting in Chicago, Illinois.
Quote of the Week
"Sincerity is the key to success. Once you can fake that you've got it made."  --Groucho Marx
(Next week back to serious quotes!)
COVID-19
California has the lowest Covid positivity rate in the country, at 0.7%. Santa Barbara County has the same positivity rate as California. The highest rate in the country is Kansas, at 12%. 15 states have a rate of 2% or lower, and 7 states have a rate of 1% or lower.
The number of new Covid cases and active Covid cases in Santa Barbara County continue to show significant declines week over week.   There have been no Covid related deaths in the county during the month of May.
There are only 8 Covid patients hospitalized in Santa Barbara County (down from 13 last week).  There is 1 Covid patient at LVMC (down from 4 last week). 
There continues to be no Covid positive residents at the CCC.
Vaccinations
Next week we will be holding a vaccination clinic at LVMC each weekday.  Each weekday except Wednesday we will be administering first doses of Pfizer vaccine to individuals age 12 and older, and second doses of Pfizer and Moderna to individuals age 12 and older. Wednesday we will be administering Johnson & Johnson vaccine to those age 18 and older. If you wish to take advantage of the J&J vaccine only requiring one shot, please come this Wednesday, as we do not have many doses remaining, and when we are out, we may not receive more inventory.  On Wednesday, we will also be available to administer Pfizer vaccine to LUSD students ages 12 and older, upon request of LUSD.
To schedule an appointment for one of the above vaccination clinics, please go to myturn.ca.gov. LUSD students may also use the MyTurn appointment scheduling system, or they may contact their school official. Although we much prefer that appointments be scheduled, we want to make it as easy as possible for everyone to get vaccinated.  So, if you walk-in without an appointment during our vaccination clinic hours, we will not turn you away; you will receive a vaccination.
You may have heard the news yesterday that the State of California will be conducting a "vaccine lottery," as well as providing other financial incentives for California residents to get vaccinated. There will be a $15 Million lottery, in which 10 individuals will win $1.5M each. There will be additional winners of $50,000 each. Reportedly, all residents who have been vaccinated are eligible for these incentives. In addition, starting yesterday, the State will be offering $50 grocery or prepaid gift cards to the first 2 Million people to get vaccinated. (The above description of terms is to the best of my knowledge.) According to the report, the chances of being one of the 10 winners of $1.5M are 1 in 2.2 Million. By contrast, the chances of winning the Mega Millions Jackpot is 1 in 302 Million. (Are you feeling lucky?)
53.1% of the entire Santa Barbara County population has received at least one vaccine dose (up a little from 51.9% a week ago). 43.3% are fully vaccinated (compared to 41.8% a week ago). 
62.8% of the eligible county population (12+), has received at least one vaccine dose (compared to 61.3% a week ago.) 51.2% are fully vaccinated (compared to 49.4% a week ago). As you can see, we are making progress, but not nearly as quickly as we would like. (Also, for your information, the above percentages do not include vaccinations administered by VAFB.) 
LVMC Potpourri
Starting in June, the CCC will be conducting a NATP Nursing Assistant Training Program to prepare 15 participants for certification and employment as a Certified Nursing Assistant (CNA) at the CCC. The 15 participants have already been selected, but additional programs may be scheduled in the future. 
Newly graduated registered nurses looking for employment are encouraged to consider coming to a special afternoon tea luncheon and open house at LVMC on June 29. The event is directed at recently graduated nurses who may be interested in applying for a 12-month New Graduate Residency Program. Interested candidates will tour each nursing department and meet with the Chief Nursing Officer and all Nursing Directors. Hired candidates will start orientation/training in our Medical-Surgical-Telemetry department for up to eight weeks for basic nursing foundation. That includes two weeks of didactic classroom coursework. After completing those eight weeks, the new nurses will spend time orienting in their chosen department. During the program, each candidate will gain certifications in Advanced Cardiac Life Support (ACLS), Pediatric Advanced Life Support (PALS), National Institute Stroke Scale (NIHSS) and Neonatal Resuscitation Program (NRP). The application for the Nurse Residency program is online at our Careers page at lompocvmc.com. The luncheon and tour will take place from noon to 1:30 on June 29. New RN graduates interested in attending may RSVP by June 24 to Brianna Bonner, MSN, RN, at bonnerb@lompocvmc.com.  
Thank you for your continued support, and as always, please feel free to contact me at popkins@lompocvmc.com or (805) 737-3301.  Until next time, be well and stay safe!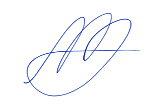 Steve Popkin
Chief Executive Officer