LVMC Community Update, October 15, 2021
This week our CEO updates the community on booster shots, vaccinations, COVID statistics and hospitalizations, and LVMC's newest daisy award winner.
Dear Lompoc Valley Community:
What happened on this date in history?
1951 – "I Love Lucy," starring Lucille Ball and Desi Arnaz, debuted on CBS.
2017 – Actress Alyssa Milano's tweet, "If you have been sexually harassed, write me too" prompted floods of replies across Facebook, Instagram, and Twitter.
2021 – One day earlier, Los Angeles Dodgers won the first-round playoff elimination game against (the hated) San Francisco Giants, on an umpire's blown "swing call" (but we will take it!).
Quote of the week
"You have brains in your head. You have feet in your shoes. You can steer yourself any direction you choose. You're on your own. And you know what you know. And YOU are the one who'll decide where to go…" --Dr. Seuss (from his book, Oh, the Places You'll Go!)
COVID-19 and Vaccinations
Booster Shots. As of today, Pfizer is still the only vaccine FDA approved for booster doses. As discussed in the media, it is very likely that the FDA will soon approve both Moderna and J&J vaccines for booster doses. When that happens, the FDA will provide eligibility and administration guidelines. (As a reminder, both Pfizer and Moderna are FDA approved for "additional doses" for severely immunocompromised individuals who meet certain criteria.)
LVMC Vaccination Clinics. We continue to hold our vaccination clinics on Wednesdays and Thursdays from 12:30 pm – 2:30 pm, and Fridays from 12:30 pm – 2:30 pm and 4:30 pm – 6:30 pm. Appointments can be made at myturn.ca.gov and walk-ins are welcome. At the clinics we are offering first doses, second doses, booster doses, and additional doses to those who meet the various eligibility requirements. In addition, those who are receiving a Covid vaccine dose may also receive a flu shot, upon request.
Covid Statistics.
The Covid daily case rate for unvaccinated county residents is about five times higher than that of vaccinated residents. However, the daily case rate has been declining for both vaccinated and unvaccinated residents, with unvaccinated residents showing the steepest decline.
The Covid positivity rate in the county hit a recent low of 3.2% on September 24. It then went up slightly, and is now back down to the same 3.2%
Covid Hospitalizations. The number of Covid hospitalized patients in the county decreased from 45 two weeks ago, to 39 as of today. Of the 39, 13 are receiving ICU care. Of the 39 hospitalized patients, 4 are at LVMC. Of the 4, 2 are receiving ICU care.
County Covid Figures by Gender
Of those vaccinated, 56% are female, and 44% are male.
Females represent 49% of the county population, 51% of Covid cases, 52% of Covid hospitalizations, and 43% of Covid deaths. Conversely, males represent 51% of the population, 48% of Covid cases, 48% of Covid hospitalizations, and 57% of Covid deaths. There is a surprising lack of correlation between Covid hospitalizations and Covid deaths—females have a higher percentage of hospitalizations than males, but a significantly lower percentage of deaths.
Vaccination Figures
In Santa Barbara County, 69.7% of the eligible population (12+) is fully vaccinated, compared to 68.4% two weeks ago. 77.7% of the eligible population has had at least one dose, compared to 76.6% two weeks ago. 59.0% of the entire county population is fully- vaccinated, compared to 57.9% two weeks ago. 65.7% of the entire population has had at least one dose, compared to 64.9% two weeks ago.
By way of comparison, 79.7% of the eligible state population has received at least one vaccine dose, versus 77.7% of the eligible county population.
In Santa Barbara County, there have been 558,181 vaccine doses administered, to date. That equates to 1.25 doses per "every man, women and child" in the county.
LVMC Potpourri
Congratulations to Brenda Damasco, a registered nurse at our Comprehensive Care Center, on being recognized with the DAISY Award for Extraordinary Nurses. The prestigious international award is part of The DAISY Foundation's mission to recognize the extraordinary, compassionate nursing care provided to patients and families every day.
Thank you for your continued support, and as always, please feel free to contact me at popkins@lompocvmc.com or (805) 737-3301. Until next time, be well and stay safe!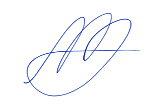 ​
Steve Popkin
Chief Executive Officer