LVMC Community Update, September 17, 2021
This week our CEO updates the Lompoc community on COVID-19 and vaccinations, vaccine boosters, and robotic surgeries.
Dear Lompoc Valley Community:
What happened on this date in history?
1873 – 19 students attended the opening class at Ohio State University.
1920 – National Football League was born in Canton, Ohio. 12 teams paid $100 each to join the American Professional Football Association; renamed the NFL in 1922.
1934 – RCA Victor released the first 331/3 RPM recording (Beethoven's 5th)
1981 & 2004 (A little something for Dodgers fans...and fans of the dreaded Giants.) Fernando Valenzuela set the National League rookie record with his 8th shut-out of the season (remember Fernandomania??). Barry Bonds hit his 700th career home run, off San Diego's Jake Peavy (pretty impressive…even for a cheater).
Quote of the week
"The best time to plant a tree was 20 years ago. The second best time is now." --Chinese Proverb
COVID-19 and Vaccinations
Vaccine Additional Doses. The powers that be decided to use the term "Additional Dose" (rather than "Booster Dose") to describe the third dose of either Pfizer or Moderna for individuals who are severely immunocompromised.
LVMC continues to offer an additional dose (third shot) to qualifying individuals who complete and sign an attestation form indicating that they meet at least one of the following criteria:
Receiving active cancer treatment for tumors or cancers of the blood
Received an organ transplant and taking medicine to suppress the immune system
Received a stem cell transplant within the last 2 years or taking medicine to suppress the immune system
Moderate or severe primary immunodeficiency (such as DiGeorge syndrome, Wiskott Aldrich syndrome
Advanced or untreated HIV infection
Active treatment with high-dose corticosteroids or other drugs that suppress immune response
It is recommended that:
The third dose be received at least 28 days after the second dose.
When possible, receive the same vaccine (Pfizer or Moderna) as the first two doses.
Talk to your doctor about the need for a third dose and the best timing of a third dose.
Vaccine Booster Doses. The term "Booster Dose" is still being used to describe the additional vaccine dose for the general public. However, booster doses for the general public have not been approved, to date.
As reported by the New York Times today, the scientific advisory committee to the FDA voted 16-2 against approving Pfizer booster doses for those 16 and older. The committee agreed to discuss whether those 65+ or those at higher risk due to their jobs or underlying health conditions, should get a booster dose. The FDA is not obligated to follow the committee's recommendations, but it typically does. The FDA is expected to make a decision by early next week.
The Pfizer vaccine is the only vaccine that is currently being considered by the FDA for booster dose approval. It is speculated that if and when the Pfizer vaccine is approved, the Moderna vaccine would be approved about two weeks later (again, that is just educated speculation).
LVMC Vaccination Clinic
We continue to operate our vaccination clinic on Friday afternoons. We are doing first doses, second doses, and third (additional) doses for those who qualify. Appointments are available at myturn.ca.gov, and walk-ins are welcome.
Abundance of Statistical Information and Opinion. As time goes by, there are more opportunities for Covid related studies to be designed and executed, data to be retrospectively analyzed, and conclusions offered. The conclusions (and opinions) are varied, and it will probably be some time before there will be universally (or close to universally) accepted conclusions. But, I am not aware of any study that even hints that people are not medically better off being vaccinated (except those with a medical contraindication). There may be debate over how effective the vaccine is, or whether its efficacy wanes after a particular length of time, but I have not heard even one person in a position of responsibility say that an individual and their community is not better off by being vaccinated.
Covid Case Rate. The good news is that in Santa Barbara County the Covid Daily Case Rate Per 100k Population has steadily declined since mid-August. This is true for both the vaccinated and unvaccinated population. However, the case rate for the unvaccinated is almost five times higher than for the vaccinated (6.2 cases per 100k population for vaccinated vs. 30 cases for unvaccinated.)
Covid Hospitalizations. There have been some studies hypothesizing that a higher than expected percentage of Covid hospitalized patients do not have severe disease, or were hospitalized for a non-Covid reason and their Covid positive status was incidental. This may or may not be true. But, at least in Santa Barbara County, the admitting physicians are using the same or similar criteria for hospital admission now as they have done in the past. So, the rise or fall of the number of hospitalized patients is still an extremely important and very valid indicator of the Covid trend line. I am happy to report that, as of this morning, the number of hospitalized Covid positive patients in the county has decreased significantly. Today, there are 45 Covid hospitalized patients, versus 82 two weeks ago (a 45% decrease). Today there are 13 patients in ICU, versus 19 two weeks ago (a 32% decrease). Although this is definitely good news, you may recall that before this most recent surge, the number of Covid hospitalized patients in the county was routinely in single digits or the low teens. At LVMC, as of today, there are 4 Covid hospitalized patients, including 2 in ICU.
Breakthrough Hospitalizations. I have been asked what percent of Covid hospitalizations are "breakthrough cases." Breakthrough hospitalizations relate to individuals who are Covid positive and have been fully vaccinated. The answer is there is no official answer. At LVMC, on any given day, it has been between 0% to 30%. From anecdotal observation within the county it seems to be about 20%. However, I heard another estimate at 9%. So, if you say, "thanks for nothing"…you're welcome.
Vaccination Figures
In Santa Barbara County, 66.9% of the eligible population (12+) is fully vaccinated, compared to 65.3% two weeks ago. 75.4% of the eligible population has had at least one dose compared to 74.2 two weeks ago. 56.6% of the entire county population is fully- vaccinated, and 63.9% of the entire population has had at least one dose. Approximately 10,300 vaccine doses have been administered in the county during the past two weeks.
LVMC Potpourri
In a recent edition of the community update letter I mentioned that we acquired a state-of-the-art Da Vinci XI Single Console Robotic System. Benefits of robotic surgery include shorter hospitalization; reduced pain and discomfort; faster recovery time; smaller incisions, resulting in reduced risk of infection; reduced blood loss and transfusions; and minimal scarring. I am pleased to announce that on September 23 our first robotic surgeries will be performed, by experienced robotic surgeon, Dr. Christopher Taglia. Many more to come!
Thank you for your continued support, and as always, please feel free to contact me at popkins@lompocvmc.com or (805) 737-3301. Until next time, be well and stay safe!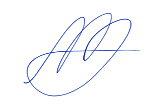 ​
Steve Popkin
Chief Executive Officer