LVMC Community Update, March 11, 2022
This week our CEO updates the community on Vaccination clinics, Hospitalization, Vaccine Boosters, cahnges in mandates, and more.
Dear Lompoc Valley Community:
What happened on this date in history?
1779 – The United States Army Corps of Engineers was established (the first time).
1850 – Women's Medical College of Pennsylvania opened, the second female medical school in the United States.
1918 – US Army mess cook Private Albert Gitchell of Fort Riley, Kansas became the first documented case of Spanish Flu, starting a worldwide pandemic killing 50-100 million people.
1958 – Starting this season in Major League Baseball, American League batters were required to wear batting helmets.
2018 – China's National People's Congress approved the removal of term limits for a leader, allowing Xi Jinping to potentially be President for life.
2020 -- COVID-19 was declared a pandemic by the head of the World Health Organization, Tedros Adhanom Ghebreyesus, with 121,564 cases worldwide and 4,272 deaths.
Quote of the week
"You could never learn to be brave and patient if there were only joy in the world." --Helen Keller
COVID Comments
Hospitalizations
Within Santa Barbara County there are currently 16 Covid hospitalized patients, with 3 of those receiving ICU care (for one section of the county I am using data from one week ago; the data for the remainder of the county is current as of today.) This represents a 75% decrease from three weeks ago, when there was a total of 63 Covid hospitalized patients, with 13 receiving ICU care. Of the 16 Covid hospitalized patients, 2 are at LVMC, with 1 of those receiving ICU care.
Vaccination Clinics
We continue holding vaccination clinics for children 5-11 at the hospital every Wednesday, from 3:30 pm to 4:30 pm. For community members ages 12 and older, we are holding vaccination clinics at the hospital every Friday from 2:00 pm to 6:00 pm. (Please note that due to declining vaccination demand, the Friday vaccination clinic now begins at 2:00 pm rather than 12:30 pm.) For all vaccination clinics, appointments may be scheduled at ca.gov and walk-ins are welcome.
Vaccinations/Boosters
The number of county residents who received their primary vaccination during the past three weeks has slowed to a crawl. This is expected, as there are fewer and fewer unvaccinated county residents, and the number of individuals who were "on the fence" about getting vaccination continues to decline, and the initiation of vaccine mandates have mostly come and gone. This is also consistent with national trends. According to the CDC, "COVID-19 daily vaccinations this week are down 47% from the prior week."
0% of Santa Barbara County residents ages 5+ have had at least one vaccine dose. This is up from 79.7% three weeks ago (at least 80% sounds better than 79.7%!).
The pace of booster dose administration within the county is also slowing. To illustrate, for the two-week period beginning seven weeks ago there were approximately 12,000 booster doses administered. For the two-week period beginning five weeks ago there were approximately 7,150 booster doses administered. In the last three-week period (three-week, not two-week), there were approximately 5,853 booster doses administered. Presently, 157,006 county residents have received a booster. This equates to 51% of those who are fully vaccinated, and 35% of the entire county population. The county figure of 51% is slightly better than the national figure of 50.1%.
Covid Miscellaneous
The CDC estimated that for the week ending February 26, Omicron accounted for 100% of the new Covid cases in the United States. As the Covid New Case Rate, Positivity Rate, Hospitalization Rate, and Death Rate continue to decline, locally and nationally, the $64,000 question is whether there will eventually be a new variant that results in a new Covid surge. We will likely not know the answer for some time. But, let's take good news when and where we find it. The Covid situation is the best it has been in two years, and a ray of sunshine is poking through the clouds.
Vaccine mandates are being lifted or loosened in many sectors, but not so for most healthcare facilities. For all LVMC facilities (hospital, skilled nursing facility, and medical clinics), all employees and physicians must be fully vaccinated and boosted in order to continue working, unless they have a medical or religious exemption. If they have an exemption, they must be Covid tested once or twice per week, depending on the facility at which they work.
As an aside, I find it interesting to go to various business establishments (restaurants, banks, grocery stores, etc.) and observe people wearing or not wearing a mask, and try to read the dynamics of the room. Someday this will make for a good chapter of a Psychology 101 textbook.
As Covid is winding down (hopefully for good!), future Community Update Letters will include more focus on things we are doing at LVMC to enhance the care and service we provide to the community.
Thank you for your continued support, it is very much appreciated. As always, please feel free to contact me at popkins@lompocvmc.com or (805) 737-3301. Until next time, be well and stay safe!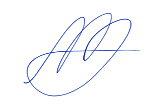 Steve Popkin
Chief Executive Officer