LVMC Community Update, May 27, 2022
This week our CEO updates the community on covid cases, hospitalizations/deaths, positivity rate, vaccination clinic, and vaccination/booster statistics.
Dear Lompoc Valley Community:
What happened on this date in history?
1935 – The Supreme Court declared FDR's American Recovery Act unconstitutional.
1981 – Ronald Reagan was shot, and John Hinckley attempted suicide by overdosing on Tylenol.
1995 – Actor Christopher Reeve was paralyzed from the neck down after falling from his horse in a riding competition in Culpeper, Virginia.
Quote of the week
"You'll find that education is just about the only thing lying around loose in this world, and it's about the only thing a fellow can have as much of as he's willing to haul away."
—John Graham
COVID Comments
Covid Cases
You have probably noticed that the number of Covid cases has increased during the past couple/few weeks. If you haven't gotten Covid yourself, you probably know someone who has. Santa Barbara County data shows that the Covid case trend line began rising at the beginning of May, and then had a steep incline starting May 17. The good news is the number of reported cases per day peaked on May 21, with 214 cases, and has declined each day since, with 85 cases reported on May 24 (the last day for which data is publicly available). Hopefully, this declining trend continues.
Hospitalizations/Deaths
The number of hospitalized Covid patients in Santa Barbara County has increased from 9 to 23 over the last month. The vast majority of the currently hospitalized patients are in South County.  This is a change from earlier in the pandemic where the highest rate of hospitalization was in North County. Of the 23 hospitalized patients, 3 are at LVMC, with none of them in ICU. (Over the past few weeks we had 0 or 1 hospitalized patients, but today it "popped-up" to 3 patients.) Fortunately, there have been no Covid deaths in Santa Barbara County during the past four weeks.
Among the 50 states, California ranks tied for the 19th lowest Covid hospitalization rate.
Positivity Rate
The Covid positivity rate in Santa Barbara County hit a recent low of 1.5% on March 13. It stayed relatively flat until it started rising on April 7. The positivity rate continued to climb and reached 7% on May 20 (the last date for which data is publicly available). It remains to be seen whether the positivity rate has decreased between May 21 and May 24, coinciding with a decrease in reported Covid cases.
Vaccination Clinic
Our vaccination clinics continue each Friday from 4:30 pm to 6:00 pm., at the hospital. All eligible individuals may receive a vaccination at this time. Beginning today, after approval by the FDA and California Department of Public Health, we are offering booster doses for children ages 5-11. Appointments are available at myturn.ca.gov, and walk-ins are welcome.
Vaccination/Booster Statistics
The percent of eligible persons in Santa Barbara County age 5+ having received at least one vaccine dose increased slightly to 81.0%, from 80.6% a month ago, and 80.1% three weeks earlier (so, we have pretty much hit the wall).
In California, 53.0% of individuals who are fully vaccinated have also received at least one booster dose. The nationwide percentage is 46.6%. The state with the highest rate of booster vaccination is Vermont, at 61.0%. The state with the lowest rate is North Carolina, at 26.8%.
…don't get me started about Monkeypox!!
Thank you for your continued support, it is very much appreciated. As always, please feel free to contact me at popkins@lompocvmc.com or (805) 737-3301. Until next time, be well and stay safe!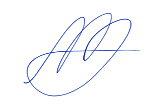 Steve Popkin
Chief Executive Officer