Strategic Evaluation Process
Category: LVMC Updates
Posted On:
Written By:

Steve Popkin, CEO
Dear Lompoc Valley Medical Center Employees, Medical Staff, Foundation Board Members, Stakeholders, and Lompoc Valley Community Members:
I am writing to inform you that the Lompoc Valley Medical Center ("LVMC") Board of Directors, in the exercise of its governance responsibilities, has initiated a process to evaluate and determine whether it is in the best interest of the greater Lompoc Valley Community for LVMC to remain an independent hospital and health care provider in its current structure, or to "partner" in some fashion with a larger organization.  There is no pre-determined answer to this question.
To be clear, LVMC is financially healthy.  For example, for the fiscal year ending June 30, 2023, LVMC had an EBIDA (Earnings Before Interest, Depreciation and Amortization) margin of 9.5%, compared to the not-for-profit hospital average of approximately 6.1%.  Nonetheless, with the changes and trends occurring in the hospital/healthcare industry, it is prudent as part of ongoing strategic planning to assess LVMC's near, medium, and long-term situations, and act accordingly.  It has become very common for peer hospitals in California and across the country to proactively assess independence and the potential merits of a partnership.
LVMC has engaged the firm of Juniper Advisory to facilitate the "independence versus partnership evaluation process." Part of this process entails discovering which of approximately twenty-five healthcare organizations have potential interest in partnering with LVMC, and how they would propose to maintain and expand healthcare services to the community and provide capital investment to LVMC. 
Following receipt of the initial "Indications of Interest" and preliminary proposals, the LVMC Board of Directors will make a decision to either discontinue the process and remain independent, or continue the process towards a possible partnership. This first decision point is expected to occur approximately four months from now. If the decision is to further explore a partnership, the Board of Directors will still preserve additional opportunities later in the process to make a decision to remain independent. If a partnership does come to fruition, it would likely be approximately twelve months from now. While this process is occurring behind the scenes, nothing will be changing at LVMC.
The LVMC Board of Directors and LVMC Leadership intend to be very transparent as this process unfolds (subject to any Non-Disclosure Agreement requirements). We are interested in hearing from all community members and others who would like to provide input. Our preferred way of receiving input is via email to me at popkins@lompocvmc.com, or feel free to call me at (805) 737-3301 or speak with me in-person. I will make sure that all input I receive is communicated to the Board of Directors.
Thank you for your continued support, and we look forward to communicating regularly as information becomes available.
Best regards,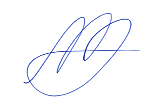 Steve Popkin, CEO