Event Details
Flower Valley Golf Classic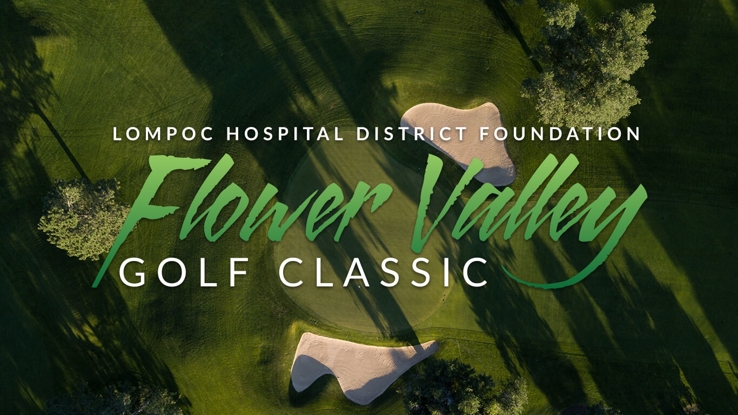 About This Event
Details:
The Golf Classic is back! Join us for fun and to help us raise funds to support Lompoc's healthcare.
Tournament and Banquet Tickets Are Sold Out
Your entry fee includes a tee prize, a lunch, your round of golf, a cart at the Mission Club, a buffet dinner at Mission Club Restaurant, and an array of prizes. Bring a guest for the buffet awards banquet for an additional $30 per person.
Shotgun Scramble Format
You may pick your own foursome, or the committee can arrange for your foursome.
Single entries will be accommodated. For golfers without established handicaps, a handicap will be based on the average score. Mulligan sales will be offered ($20).
Course Information

4300 Club House Rd, Lompoc, CA 93436
Nestled in the rolling hills near the prestigious Vandenberg Space Force Base in Lompoc, CA. The Mission Club is an exclusive private facility boasting a breathtaking championship golf course.
Schedule of Events
11 am - 11:45 am

Golfer check-in and registration.
Practice range open.

11 am - 12 pm

Putting Contest
Lunch

12:15 pm

Shotgun tournament tee-off.

5:30 pm
(approximate)

Banquet dinner, live auction and awards presentation.
Live and Silent Auctions
A key attraction of our tournament is a silent and live auction, with bids received by local residents as well as a number of out-of-town guests who visit specifically for our tournament. This unique live auction opportunity takes place during the awards banquet.
You do not need to golf in the tournament to bid on auction items. However, you do need to be present to win. Join us for the tournament dinner only for $30 per person.
Donate to the Auctions
Considering donating an auction item? Your generosity with the donation of an item, gift certificate, or service for auction bidders can make this event a rousing success!
Our Cause
Your registration and/or sponsorship will help the Lompoc Hospital District Foundation raise funds to purchase new equipment and materials for the Rehabilitation Services Department serving LVMC, the Comprehensive Care Center, and Lompoc Health — North H Center.
These purchases will drastically improve the department's ability to care for patients of all functional levels effectively and efficiently.
Among the planned purchases are:
Barihab XS frame
This offers the ability to provide physical assistance for low-level patients and increases the intensity and utilization of skilled services. This will allow patients to recover more quickly and reduce the physical workload on staff.
Convertible Staircase
This convertible staircase with a curb/ramp attachment creates the ability to simulate real-world obstacles and improve patients' function and safety before returning to the community.
Speech Therapy Outcome Assessment Toolkits
These toolkits will help staff provide proven and objective assessments to properly assess and provide updated interventions and recommendations related to cognitive and swallowing abilities.
Cybex Treadmill and Recumbent Bike
These will allow for advancements in gait analysis and progression of higher-level activity for individuals in the outpatient setting.
About the Golf Classic
The Flower Valley Golf Classic is the Foundation's major annual fundraiser, with proceeds donated to Lompoc Valley Medical Center. We urge you to help us with our goal of supporting LVMC in its quest to maintain and expand healthcare services, facilities, and educational opportunities in our growing and diverse community.
Lompoc Hospital District Foundation is a 501(c)(3) non-profit organization, and donations are tax deductible to the extent provided by law. Our Federal Tax ID # is 77-0262454.
For more information, please contact either of the following:
Alice Milligan (805) 736-4005
Gary Williams (805) 733-2835
Registration
Price:

Varied
Registration Instructions: