Living A Dream, Serving A Community
Dr. Lisa Ercolini-Bhatia's path toward a medical career began before she was even born. Throughout her childhood, she'd hear her mother sing the praises of the OBGYN who delivered her — a healthy baby girl despite prenatal fears of a traumatic birth. "I was born healthy, and my mom attributed a lot of it to excellent health care," Dr. Ercolini- Bhatia explains. "That always stayed with me. I felt like I was here because of good health care. So I want to serve the community by trying to give back." The family physician has done just that.
Now Chief of Staff at Lompoc Valley Medical Center and Vice President of Valley Medical Group Inc., Dr. Ercolini- Bhatia has practiced medicine in Lompoc for five years.
A native of the San Francisco Bay Area and mother of two young children, Dr. Ercolini-Bhatia completed her undergraduate degree in biology at St. Mary's College in Moraga and completed her graduate medical education at the University of Iowa College Medicine.
She felt drawn to smaller communities rather than practicing medicine in her hometown, a large city already full of physicians. In Iowa, patients sometimes had to drive up to five hours for a specialist.
"I wanted to serve underserved communities in rural areas," she explains of her time in Iowa. "I thought it would be excellent training. The great part about my training is we were trained to cover as many aspects of medicine as possible because sometimes there aren't specialists in a community."
In her residency, she diversified her studies, doing a 30-day obstetrical preceptorship in the heavily populated New Delhi, India, and a 30- day rural preceptorship in tiny Lahaina, Hawaii. Seeking to expand her knowledge of rural medicine programs, Dr. Ercolini-Bhatia has also worked as a travel researcher, investigating local tribal remedies for viral conjunctivitis (pink eye) in Fiji and reporting on the rituals and customs practiced by rural Fijian medical healers.
After her residency, Dr. Ercolini-Bhatia went into private practice for five years before her husband became disenchanted with Midwestern winters.
"We wanted a Midwest town in California," she recalls. "We wanted a small town and community, to feel that connection between healthcare and the community we serve."
In Lompoc, Dr. Ercolini-Bhatia practices outpatient medicine four days a week, seeing patients at Lompoc Valley Medical Group, Lompoc Valley Medical Center, the Comprehensive Care Center, and elsewhere.
"I feel like I get to live my dream," she says. "Every day, I get to do what I set out to do. Not everybody can say, 'I got to live my dream.' I got to live my dream to serve a community and be a part of the community, which we wanted. We're glad we found Lompoc so we could feel a part of it and still feel we're filling a need the community needed to have."
With the implementation of the Affordable Care Act, the physician says it sometimes feels as if paperwork dictates a physician's practice, with quality incentives and mandates required for reimbursements.
By being involved at the administrative level as Chief of Staff and as a member of the Santa Barbara County Medical Society, Dr. Ercolini-Bhatia hopes to have a voice in emphasizing the need for physicians to have time with patients.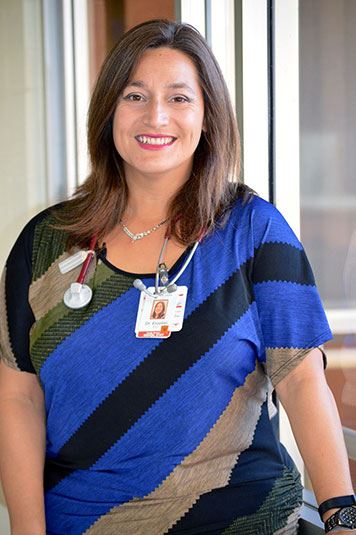 "We wanted a small town and community, to feel that connection between healthcare and the community we serve." "At the present, the system does not support that, and that's a problem," she suggests.
She and other doctors are working to ensure that good quality care is provided at the hospital.
"When we see patients in the ER, it's very challenging," she says. "They get overwhelmed, now there are more people on the Affordable Care Act, and there's a huge volume coming into the Emergency Room seeking healthcare because they haven't had it perhaps for some time. We are trying to make sure the ER physicians have time to address what patients came in there for and maybe not fix all the outpatient things. But at least they're trying to see the volume they can and provide quality care."
She and other physicians work diligently, she said, to "support our local hospital, to make sure that our community gets good health care, quality healthcare, and local healthcare ... That's what I feel like the Chief of Staff tries to push, that the hospital is emphasizing quality care to our patients. It may seem like paperwork and mandates are coming through, but many of them are based on quality measures, which can be a good thing."
She laughs that she has enough patients to put up a cot at the hospital and live there full-time.
But having a balance in her life is critical, she says.
Her husband, Manu Ercolini-Bhatia, is an engineer and works from home. Her parents, Ben and Carmen Ercolini Carpuz live in Lompoc part-time and help with their grandchildren, Alexandra and Kash.
"I always tell both of my children, the family gives back when Mommy has to run in to see a patient in the middle of the night or has to leave dinner to go in and admit a patient at the hospital," she explains. "The family does sacrifice a little bit, but we're serving the community. So they do sacrifice a little bit, but they know that's our goal, to help people."
Sometimes she feels as if people do not realize how special the community is, she says.
"This is a beautiful part of the world, and we're so blessed with wonderful weather," Dr. Ercolini-Bhatia adds. "There is a community sense. I want them to feel that the hospital and many of our medical clinics are trying to serve them and address all of their needs. It will take time. It will be a process, as we're going forward in this era that's brand new to all of us, the new era of evolving health care. We're going to stumble and occasionally fall. But we're going to get there. And we're going to do it together by giving the best health care that we can."