Helping Children to Cope with Trauma
Child life specialists traditionally work in hospitals, but the field has grown to include support for children in a variety of settings. Child life specialists also provide support for traumatic events through the coordination of programs offered through non-profit agencies and through some chapters of the American Red Cross.
The Child Life Council defines child life specialists as "trained professionals with expertise in helping children and their families overcome life's most challenging events."
These professionals are further described as being "armed with a strong background in child development and family systems, promoting effective coping through play, preparation, education, and self-expression activities. Child life specialists provide emotional support for families and encourage optimum development of children facing a broad range of challenging experiences, particularly those related to healthcare and hospitalization. Because they understand that a child's wellbeing depends on the support of the family, child life specialists provide information, support and guidance to parents, siblings, and other family members. They also play a vital role in educating caregivers, administrators, and the general public about the needs of children under stress."
The resources associated with child life training are invaluable in any professional setting with children and families. Many non-traditional roles have been created incorporating child life skills in general and special education, early intervention, and therapeutic specialties. Recently, private medical practices with pediatric specialties have started to add Child Life services.
Any professional who works with children and families will at some time work with a child or family coping with trauma-related to national events, personal tragedy, or medical needs for self or loved one. Professionals with child life skills are able to help children and families to cope and combat depression.
When my own child was undergoing minor medical procedures, having a background in Child Life was such a gift. I was able to provide the necessary education for my son prior to his surgery. I was able to recognize the need for Child Life services in the same-day surgical unit at Lompoc Valley Medical Center. It was through these early experiences that my own Child Life Connection effort was born to help create pediatric friendly spaces where walls weren't white and sterile, where play was encouraged for successful coping, and where children weren't simply provided medical care, but their psychosocial needs were provided for as well.
Child Life Connection began creating programs for hospitals that did not have a pediatric focus but were caring for children through the emergency department and same-day surgery.
The providers at these facilities possess the skills required for meeting medical needs but had little training or support for the psychosocial needs of pediatric populations. Grants were secured to fund the paints and supplies needed to create pediatric-friendly spaces. Child-friendly murals were created with time and talent donated by local art students.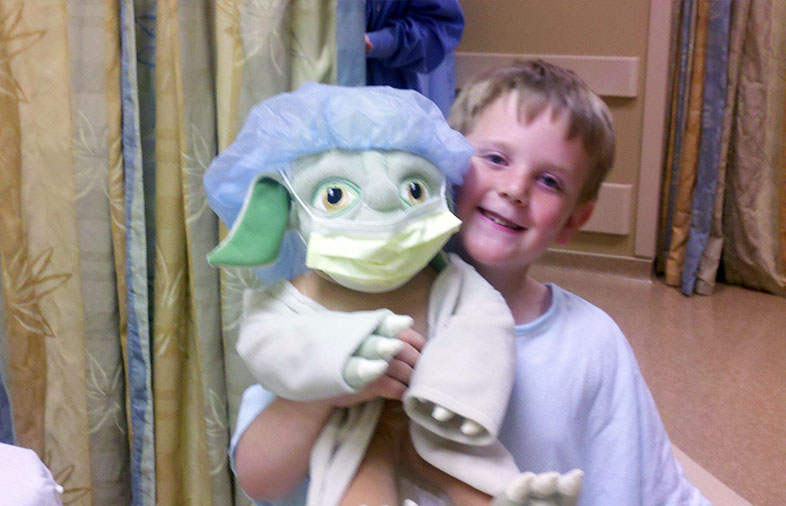 Non-profits were able to donate items in typical quantities for children's hospitals to Child Life Connection, which then stored the donations and created manageable quantities for non-pediatric hospitals to use for pediatric patients. These included anything from fully stocked mobile playrooms to plush toys and handmade blankets to movie libraries and video gaming systems. These are all items that help children to focus on a healthier coping style of incorporating play into the medical visit.
Many Child Life specialists are creating successful private practices – finding niches that best meet the needs of a local community. This can include consulting in-hospital, in-dentistry, in-hospice, in-clinic, in-home, or in-school. Professionals are offering their services throughout hospitals to any unit where pediatric patients or children of adult patients may visit and where support is needed.
Numerous Child Life specialists seek dual certification in two or more specialties. Whether they are therapeutic-based (physical therapy, occupational therapy, recreational therapy, infant massage, art therapy, music therapy, counselor, psychologist) or education-based (credentialed special or general education teacher, early interventionist, early education teacher), Child Life training provides a solid foundation for helping children to cope with the impacts of ongoing medical needs and traumatic events. These education options and the insights brought from professional training and volunteer experiences in the child life community are invaluable for anyone considering a career with children or families as well as for future parents.