Caring for Critically Ill COVID-19 Patients
After a patient diagnosed with COVID-19 was taken off a ventilator after 14 days, the LVMC Critical Care Unit (CCU) and Respiratory Therapists team applauded the milestone. Days afterward, the patient was doing well and breathing on his own.
Because of the restrictions in place due to the pandemic, and for medical privacy reasons, these moments are rarely seen by anyone outside of the unit designed for the most critically ill patients at LVMC.
The delicate process of removing a patient from a ventilator is called "extubation" and signals major progress in a patient's recovery.
"He was so happy to have the tube removed," says Senior Nursing Director Karen Kelly. "He was able to talk to us after two weeks of being on the ventilator. The patient is doing well on high flow oxygen, but still has a way to go in his recovery."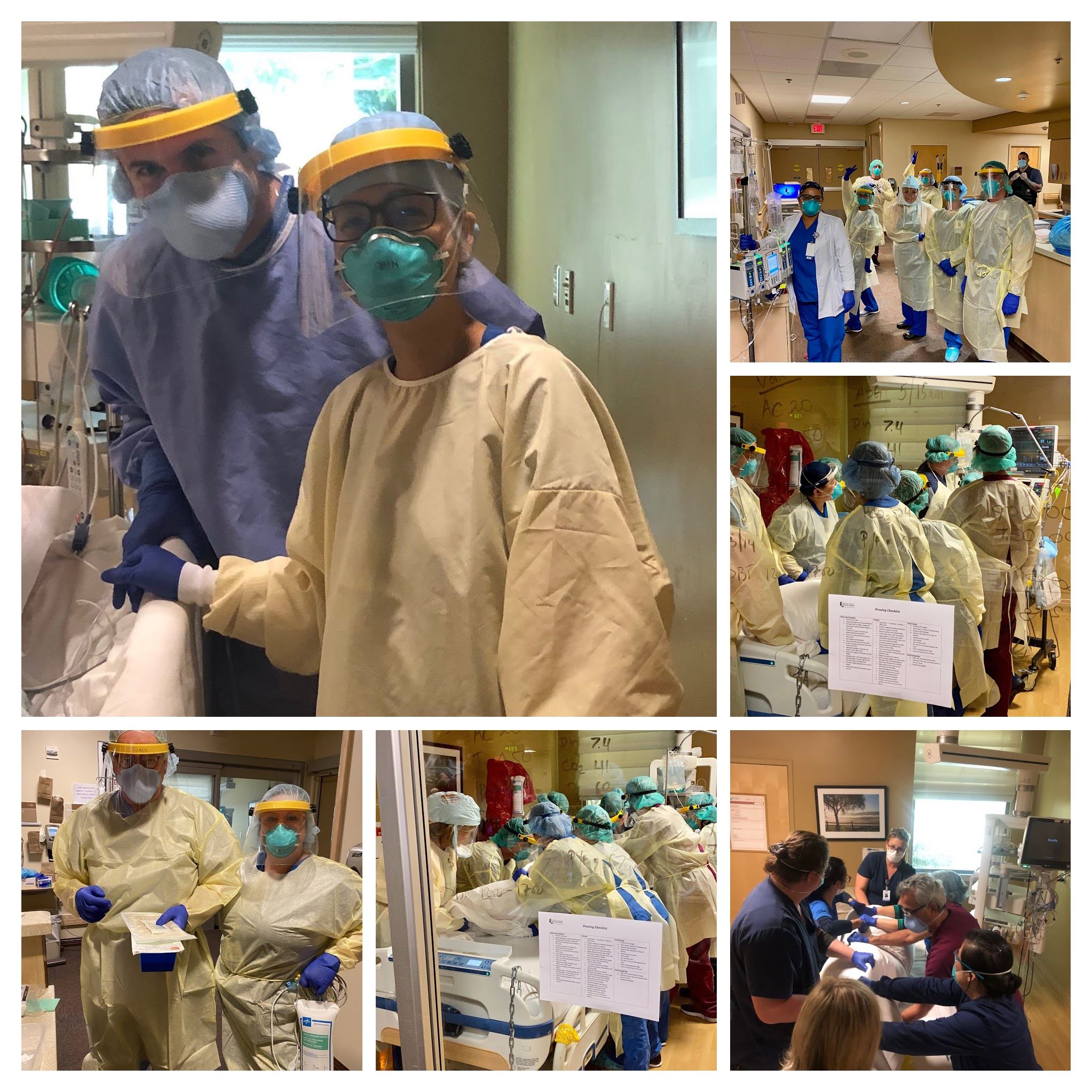 The CCU staff continued to monitor the patient's progress carefully as he recovered enough for discharge.
Getting to the point of removing the breathing tube took the work of a significant number of staff members and followed an intricate multi-step procedure known as proning. Critically ill patients with Severe Acute Respiratory Distress Syndrome, or ARDS, are face-down for most of their daily care, to improve oxygenation and decrease mortality rates. To change a patient's position, a team of healthcare workers must conduct a multifaceted repositioning procedure called "proning." This helps reduce lung trauma and improve clinical outcomes.
"There was a lot of great teamwork at work here," said Candace Lunsford, LVMC Respiratory Therapist. "Proning the patient took 9 staff members. It was all hands on-deck. It was so rewarding to see the patient come off the ventilator."
Dr. Christopher Taglia, DABS, DABOM, an LVMC general and bariatric surgeon, indicated that about 15 to 25 percent of patients who are hospitalized with COVID-19 will need critical care, because of the severe respiratory and/or multi-organ failure associated with the virus.
"The statistics are pretty bleak," he said in early May. "It's a really bad disease."
With LVMC caring for many COVID-19 patients, Dr. Taglia mentioned the conversion of portions of the Medical-Surgical unit into a COVID-specific unit.
"Our CCU is running specifically for critically ill COVID patients," he added.
Though the hospital staff have cared for a number of patients in severe respiratory failure who required mechanical ventilation, the hospital has had "zero percent mortality," he noted.
"This hospital is not that high of an acuity level, but because of the outbreak, it has had to step up its ability to care for these patients – and it has."
Dr. Taglia gave high credit to the critical care nurses and respiratory therapists, as well Dr. Bill Pierce and Senior Nursing Director Karen Kelly and Dr. Lawrence Reimer.
Because the pandemic led to fewer bariatric surgeries being scheduled, Dr. Taglia also stepped up and took on more of a critical care role.
"It's been an awesome experience and so far, we've had good outcomes," Dr. Taglia said of caring for COVID patients. "It's also been an impressive collaboration. Cottage Health has accepted four of our more critically ill patients, helping us to complete the care."
A native of New York who graduated from Albert Einstein College of Medicine in New York, Dr. Taglia was keeping watch on the hospital where he did his fellowship, North Shore University Hospital, during the peak of that state's pandemic crisis. The 900-bed hospital at one point had about 800 COVID-19 patients.
"It was real," he said. "You're seeing all these stories of people truly being awesome, going into leadership roles. I wanted to be part of that. I reached out (at LVMC) to Dr. Randy Michel and said I wanted to be involved here. My training is in bariatric, but I really got a good education in critical care in my residency."
Though LVMC doesn't compare to a 900-bed hospital, Dr. Taglia said the COVID-19 outbreak is still a "big deal" locally.
"I think any surgeon who is a true surgeon enjoys the high stakes," he explained. "There is nothing more high stakes than life and death matters. This is life and death with patients. I hope all these people (he's treating) survive. That would be the best gift of all."