Talking Turkey About Safe Food Preparation
Though many people complain about the feeling of being "as stuffed as a turkey," overeating isn't likely to land you in the Emergency Department on Thanksgiving. It's more likely you could end up needing medical care for a common accident such as slicing your finger while carving the turkey, or burning your hand while pouring gravy.
For a majority of people this Thanksgiving, a serious medical concern to be aware of is the potential for suffering from food-borne illnesses. According to the Centers for Disease Control, about 1 in 6 Americans (48 million people) get sick each year from the improper care of food. Of those, about 128,000 are hospitalized for food poisoning and some 3,000 died from food-borne illness.
Salmonella and Campylobacter are among the two common germs that lead to foodborne illness, with children and seniors being particularly susceptible, according to the Partnership for Food Safety Education.
Foodborne illness can cause a severe stomachache – more serious than just that "full" feeling most people have after eating a larger-than-usual meal. In some serious cases, foodborne illness can lead to kidney failure and chronic long-term health problems.
The CDC routinely provides tips about food preparation in efforts to reduce those numbers.
So when it comes to Thanksgiving and preparation of the feast's turkey, here are some key steps you can follow to remain healthy and bacteria-free.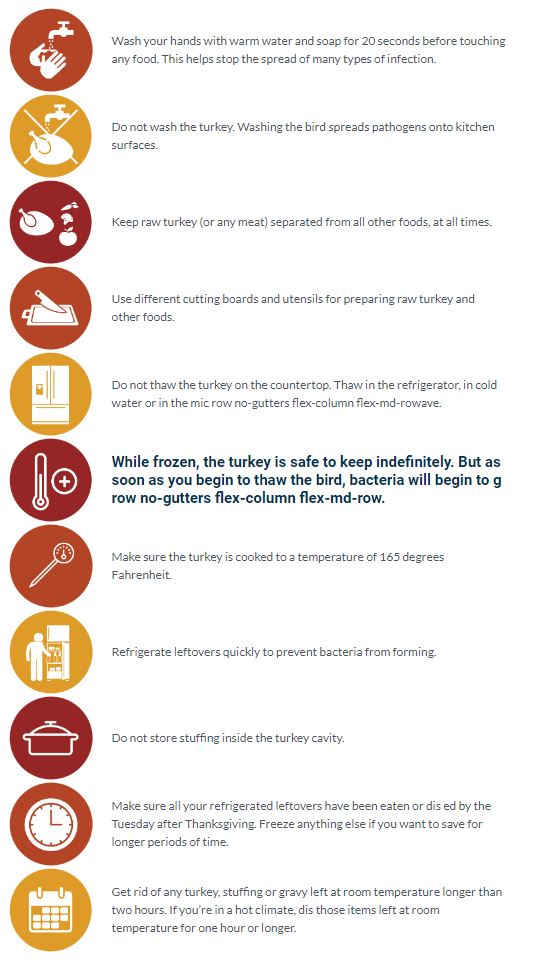 The Partnership for Food Safety Education offers an easy-to-remember motto as a reminder about food safety: "Fight BAC." That's the partnership's reminder to beware of bacteria and to keep food safe from what it calls the invisible enemy. Bacteria are particularly dangerous because they cannot be seen, tasted or smelled. Bacteria multiply rapidly in moist, warm conditions and if consumed, harmful bacteria can cause foodborne illness.
Eggs are of particular concern, as bacteria can lurk in uncooked eggs. When baking or cooking, the partnership advises against licking a spoon or bowl if the batter contains uncooked eggs.
Holidays also bring out the longer-than-usual meal times and a multitude of buffets. It's also a good time to remember to keep eggnog, cheesecake, cream pies and cakes with whipped cream or cream cheese frostings refrigerated until it's time to eat.
Because bacteria can multiply quickly in moist desserts that contain dairy products, remember the two-hour rule: Don't leave perishables out at room temperature for more than two hours. If you're not serving them right away, keep them refrigerated.
Remember that getting answers about food safety is only a phone call or an Internet search away.  Foodsafety.gov has answers to virtually every food-related question imaginable, especially when it comes to cooking a turkey. Experts answer queries about pop-up thermometers, or how to deal with cooking two turkeys at once. There are details about deep frying a turkey and about shopping for a feast. There's even information on holiday food safety bloopers.
The USDA Meat and Poultry Hotline is available at 1-888-MPHotline. A food safety expert is available at askkaren.gov.