LVMC Community Update, August 18, 2023
Dear Lompoc Valley Community:
I'm baaaack! (You probably forgot about me…that's okay, I forgive you!)
What happened on this date in history? (It was a very slow news day!)
 1872 – Aaron Montgomery Ward issued the first "catalog" for his mail-order business; it was one sheet listing 163 available items.
1909 – Mayor of Tokyo, Yukio Ozaki presented Washington, D.C. with 2,000 cherry trees, which President William Howard Taft decided to plant near the Potomac River.
1962 – Peter, Paul & Mary released their first hit, "If I Had a Hammer."
Quote of the week
"So how do you know what is the right path to choose to get the result you desire? And the honest answer is this. You won't. And accepting that greatly eases the anxiety of your life experience."
—Jon Stewart
COVID Comments (A few tidbits for old times' sake)
·During the month of August 2023, approximately 1% of Emergency Room visits in California had a diagnosis of Covid. The peak was 11.7% in January 2022.
·In Santa Barbara County, regrettably, there have been a total of 809 Covid related deaths. For the most recent 7-day period reported, there was a rate of 0.1 deaths per 100k population (the equivalent of 1 death per 1 Million population--a very low rate).
·Based upon CDC Criteria, Santa Barbara County has a Covid hospital admission level of "LOW" (which is the best level).
·Currently, there are no Covid positive inpatients at LVMC. Recently, there was a small Covid outbreak at the Comprehensive Care Center ("CCC"), but as of now there are no Covid positive residents/patients at the CCC.
·We continue to hold Covid Vaccination Clinics at our Lompoc Health North H Street Facility the first Friday of each month, from 1:00pm to 4:30pm. The facility is located at 1225 North H Street.
Inpatient Dialysis
As a result of tremendous work by our hospital staff and medical staff, LVMC is now licensed to provide Inpatient Dialysis Services. This means that patients who receive chronic dialysis treatment and need to be admitted to LVMC for an unrelated reason, can now remain at LVMC and not have to be transferred to another hospital in order to continue their dialysis treatments. Our Dialysis Team includes experienced and specially trained nurses and ancillary staff, under the direction of Nephrologists and Co-Medical Directors, Dr. Andrew Ross and Dr. Bindu Kamal. Other nephrologists are participating in the service and will be providing patient care, as well.
Robotic Surgery Center of Excellence
I am pleased to announce that earlier this week LVMC was awarded accreditation as a Center of Excellence in Robotic Surgery. This designation makes LVMC the only Center of Excellence in Robotic Surgery on the Central Coast.
Surgeries conducted using robotic systems enable surgeons to perform complex surgical procedures in a minimally invasive manner and typically result in shorter hospitalization stays, reduced pain and discomfort for the patient, faster recovery time, smaller incisions and minimal scarring.
Since acquiring the da Vinci XI Robotic System in September 2021, LVMC General Surgeons, Dr. Christopher Taglia, Dr. William Pierce, and Dr. Peter Davis have performed more than 450 robotic surgeries. Robotic Surgery Program Director, Dr. Taglia, is the only surgeon on the Central Coast performing robotic bariatric surgery, and he ranks in the top 5% of da Vinci robotic system general surgeons in Southern California, based on the number of robotic surgical procedures performed.
Youth Volunteer Program
Adding to our long-standing adult volunteer program, LVMC recently established a youth volunteer program. The purpose is to expose Lompoc youth to the healthcare industry and healthcare careers, provide them an opportunity to acclimate to a workplace setting and learn skills, and "beef up their resume." Of course, LVMC will also benefit from the services provided by our youth volunteers. We are working closely with the Administrations of Lompoc High School and Cabrillo High School on this program.
Thank you for your continued support, it is very much appreciated. As always, please feel free to contact me at popkins@lompocvmc.com or (805) 737-3301. Until next time, be well and stay safe!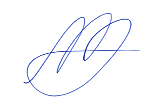 Steve Popkin
Chief Executive Officer