LVMC Community Update, March 3, 2023
Dear Lompoc Valley Community:
What happened on this date in history?
1855 - United States Congress approved $30,000 to test camels for military use (I think March 3, 1855 was a Wednesday—hump day).
1887 – Anne Sullivan began teaching 6-year-old blind-deaf Helen Keller.
1923 – Time magazine published its 1st issue, featuring Joseph G. Cannon (Speaker of US House of Representatives).
1991 – Los Angeles police officers severely beat motorist Rodney King; the beating was famously captured on amateur video and later led to riots when police officers were acquitted.
Quote of the week
"Courage doesn't always roar. Sometimes courage is the quite voice at the end of the day saying, I will try again tomorrow."
—Mary Anne Radmacher
Potpourri
There has been no material change in the Covid situation in Lompoc since my last update five weeks ago. Things are still under control, although there has been a small increase in the number of Covid positive patients who are hospitalized at LVMC, which currently stands at 3 (none in ICU).
According to the Santa Barbara County Public Health Department, the COVID-19 Community Level for the county remains Low, based upon the CDC definition.
The California Public Health Emergency (PHE) ended on February 28. The Federal PHE is scheduled to end on May 11. Now that the California PHE has ended, the most common question I get is whether staff and visitors still need to wear masks while in the hospital, skilled nursing facility, and medical clinics. The answer is yes. The mask mandate for healthcare facilities was instituted by the California Department of Public Health (CDPH). Unless and until CDPH rescinds the mask mandate, it will remain in place, and to date, CDPH has given no indication that it intends to rescind the mandate.
For now, we are continuing our Covid vaccination clinics at the hospital every other Friday from 3 pm – 5 pm. However, we will be winding down the clinics over the next 1-2 months. Soon, we will provide information about alternative ways for community members to receive Covid vaccinations.
Those who have visited the hospital may know that parking is tight (our staff certainly know this, as we do our best to leave parking spaces open for patients and visitors). To alleviate this situation, we are in the process of constructing an 83-space parking lot across from the hospital on 7th Street, adjacent to Circle K. Plans are being prepared for submission to the City, and we anticipate construction to begin in September.
LVMC is in escrow for the purchase of a building in Vandenberg Village to expand our Lompoc Health medical clinics. Over the past few years, we have added many physicians and Advanced Practice Providers to Lompoc Health to best serve the needs of the community. As a result, we are out of space for current operations and future expansion. More to come as this project moves forward.
LVMC applied for, and received, grant funding through the State's California Bridge Program to provide a Patient Navigator for our Emergency Department. The Patient Navigator, who began employment at LVMC this January, has responsibility for providing resources for those who have substance use disorder and cooccurring mental health issues, with emphasis on facilitating Medication Assisted Treatment (MAT) for the substance use component.
Very recently, the State issued a draft report showing the risk-adjusted mortality rates for each hospital in the state, for various medical conditions. The medical conditions evaluated included Acute Myocardial Infarction; Acute Stroke (including 3 distinct subsets); Gastro-Intestinal Hemorrhage; Heart Failure; Hip Fracture; and Pneumonia. For each medical condition, each hospital was rated "worse than" state average, "same as" state average, or "better than" state average. Although LVMC's actual mortality rate was better than state average for 6 of the 8 medical conditions, after risk adjustment, LVMC was rated "same as" state average for all medical conditions. 26.6% of hospitals in the state had at least one "worse than" rating. As noted above, LVMC did not have any "worse than" ratings.
Last week, LVMC had its triennial, 3.5-day federal accreditation survey. Although we will not receive our written survey report until next week, based on the comments and many compliments from the surveyors during the survey exit conference, we had a very successful survey, thanks to the entire LVMC Team.
Thank you for your continued support, it is very much appreciated. As always, please feel free to contact me at popkins@lompocvmc.com or (805) 737-3301. Until next time, be well and stay safe!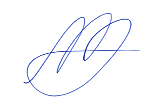 Steve Popkin
Chief Executive Officer