An Early Delivery For Little Jonah
Patient: Amber Gustilo
Date Submitted: Jan 10, 2018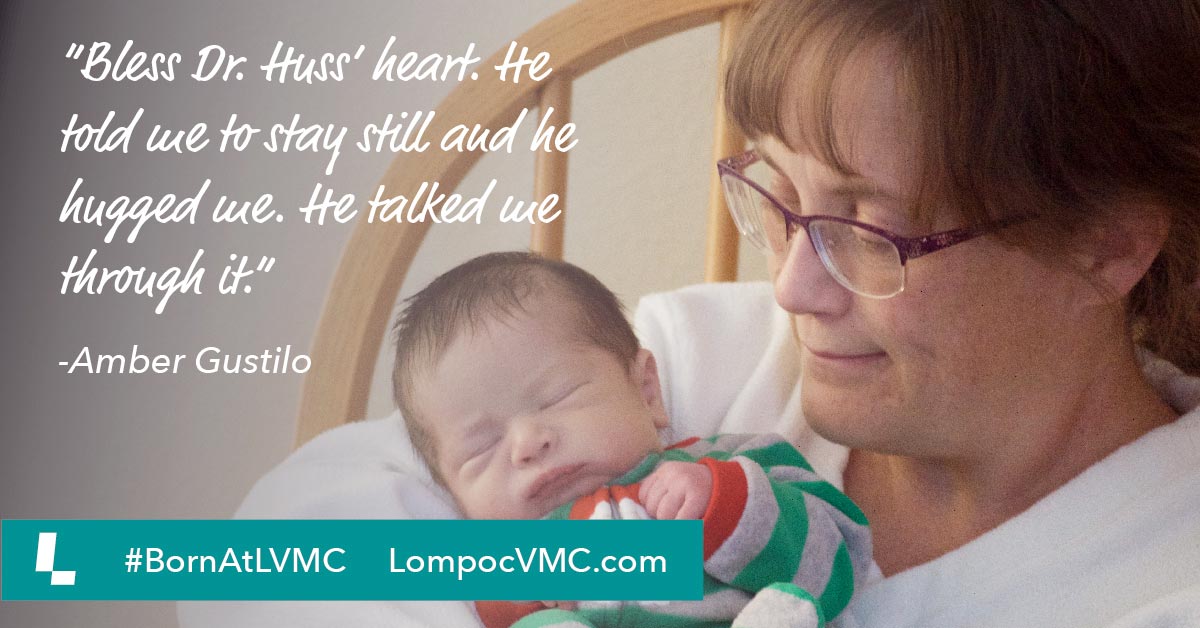 " Jonah Gustilo was just determined to make an early arrival into the world. The second son of Amber and Ben Gustilo was initially due on Dec. 10, and his parents planned for him to be delivered via a scheduled C-Section at Cottage Hospital on Dec. 4. "He decided he didn't want to wait," his mother said."
The night of Nov. 28, Amber started feeling pressure in her abdomen, which isn't altogether unusual for a pregnant woman in her 38th week. But the next morning, as Ben was getting ready to work, she realized the pain was more in line with labor.
"I said, 'I don't think you're going to work,'" Amber recalled. After dropping off their 4-year-old son Joshua and their dog at her mother's house in Lompoc, the couple started the drive to Santa Barbara. They made it as far as Santa Rosa Road on Highway 1.
"I said to him, 'Turn around. We can't make the trip. This baby is coming right now,'" Amber said, recalling that morning. "I could just feel he was there." After the couple arrived at LVMC, Amber was rushed to the Labor and Delivery department. She was given a stern warning not to push as her husband stood by nervously. A labor nurse was right with her, basically holding the baby in, she said.
"Dr. Huss came in, and he was wonderful," said Amber, whose first child was born by C-section. "They took me into the OR, and it went really quick. Bless Dr. Huss' heart. He told me to stay still, and he hugged me. He talked me through it."
She said she doesn't recall many of the details after the surgery, especially since her blood pressure dropped while she was in the OR and she experienced heavy bleeding. Amber's heart rate rose to 150 beats per minute, and she ended up needing four units of blood.
"It was terrifying for me," recalled Amber, a 1996 graduate of Lompoc High School. "I am so grateful. They were there and being calm and reassuring." As a Medical Assistant at Sansum Clinic, Amber knew some of the terminologies she heard in the operating room as the staff dealt with her blood loss, and said she was nervous. A nurse kept reassuring her everything was fine, she said.
"I told them, 'I'm sorry for making you work so hard,'" Amber said. Once she was back in the birthing room, Amber said the "staff was wonderful."
"They were always right there," she said. "(Pediatrician) Dr. Blifeld was awesome. She'd come in at the crack of dawn." When all the excitement died down, Amber said she was able to enjoy the arrival of her son, who weighed 6 pounds, 3 ounces. "I just stared at his face," she said. "He's so beautiful."
Now home with the baby, Amber calls her newborn a little "Butterball," because he likes to curl up in her arms.
She remains grateful to everyone from nurses to the anesthesiologist to the physicians that helped her during the unexpected Lompoc hospital delivery. "They basically saved my life," she said, cradling the infant. "My sons don't have to grow up without a mom."