A Routine Colonoscopy that Led to Life-Saving Surgery
Patient: Johnny Hudson
Date Submitted: Jan 4, 2023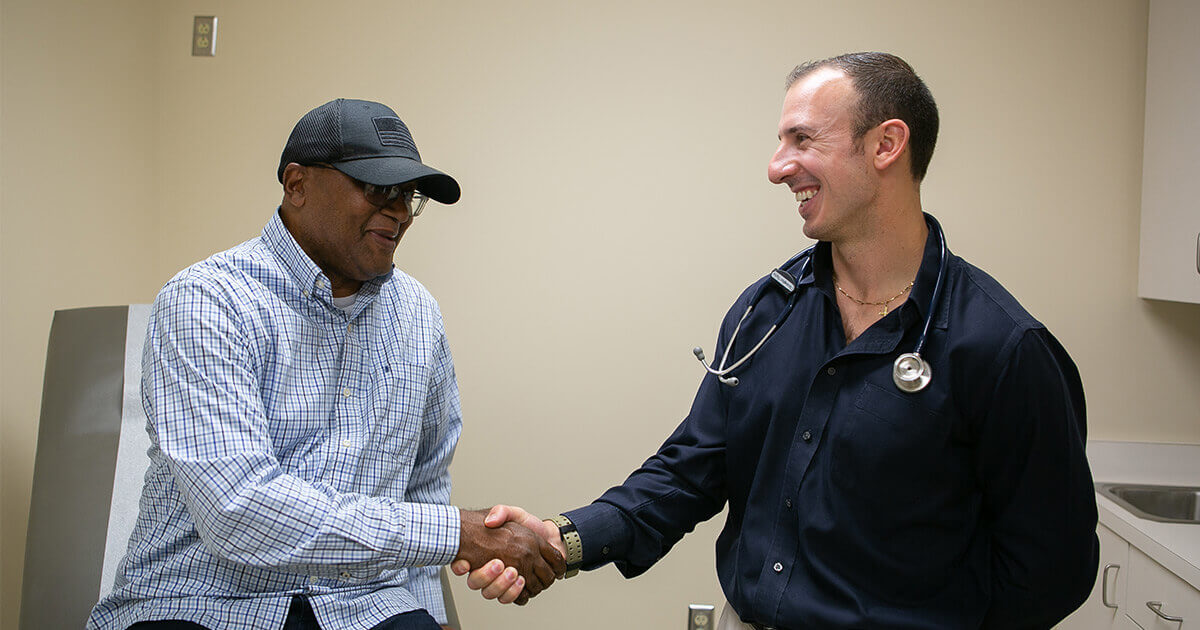 " Johnny Hudson is the kind of guy who prefers to avoid surgery or medical procedures. He didn't even want to have a recommended colonoscopy, despite being well past the suggested age for having the procedure."
Johnny Hudson is the kind of guy who prefers to avoid surgery or medical procedures. He didn't even want to have a recommended colonoscopy, despite being well past the suggested age for having the procedure.
His wife, Pamela Hudson, urged him to follow through with it, so the retired Bureau of Prisons counselor made an appointment with Dr. Christopher Taglia at Lompoc Health – North H Center. The decision ended up saving Johnny's life.
Like many people, Johnny was hesitant about having a colonoscopy or an exam where the physician looked for changes in the colon and rectum. This includes changes that could indicate the presence of cancer in the colon or large intestine. In some instances, a routine colonoscopy can lead to a life-saving surgery if cancer is detected.
A colonoscopy may also be used to:
Examine polyps in the rectum and colon
Remove objects from the colon
Explore possible causes of issues like rectal bleeding and diarrhea
During the colonoscopy, the doctor inserts a long, flexible tube, or colonoscope, into the rectum. It has a tiny video camera at the end, which provides the physician with a clear view of the inside of the colon.
The physician may also insert an instrument through the tube to extract a small tissue sample, or biopsy, it from the colon. In Johnny's case, there were more biopsies than typical.
When he scheduled the exam, Johnny, 65, thought the colonoscopy would be part of his routine check-up and he'd continue on with his retirement life. But when Dr. Taglia completed the procedure, he had some tough news based on the biopsies of his polyps from the colonoscopy.
"He told me they had found some cancer inside," Johnny recalled. "This was my first colonoscopy. I was avoiding it. The news shocked me. I was like, 'Well, now I'm going to have to have surgery.'"
The removal of his cancerous polyps was scheduled with Dr. Taglia at LVMC.
"I had a lot of confidence in him," Johnny said of the general surgeon. "He's a young guy. But there's something about him that also helped ease the tension. My family was more scared than I was."
Anyone can get colon cancer, but certain factors can increase the risk. The majority of people who have this cancer are over the age of 50, but according to the American Cancer Society, the risks of colon cancer are rising in younger people under 50.
Colon cancer doesn't always cause symptoms in its early stages. It usually starts to cause symptoms when it has grown or spread. This is why early screening, such as with colonoscopy, is essential.
The ACS reports that many of the symptoms of colon cancer are similar to those of other conditions. These conditions include hemorrhoids, irritable bowel syndrome, and inflammatory bowel disease.
According to Johnny, working with Dr. Taglia and having confidence in him helped ease much of the tension associated with surgery.
"I didn't think it was my time," he recalls. "I was calm. Dr. Taglia had the same demeanor no matter what … He was very confident everything was going to be all right. I just have a lot of confidence in him."
Dr. Taglia removed 18 polyps from Johnny's colon.
Luckily, because Johnny's cancerous growths were found early during the screening colonoscopy, his cancer had not reached a more serious stage that would require additional treatment, such as chemotherapy.
But Dr. Taglia had a vital piece of advice for the patient.
"He told me to get a colonoscopy every year," to avoid any recurrence," Johnny says. "I tell people that. I told my daughter when she turned 40, she had to go get a colonoscopy. Dr. Taglia always reminds me that my wife saved my life, but I believe that having a great doctor taking care of me played an important part. This is actually the first time that I have ever talked about my surgery and I can truly say that my belief in God and Dr. Taglia was the key to my successful surgery. Dr. Taglia is a great doctor and a great person."
Johnny's tale is not that unique, given that colorectal cancer (cancer of the colon and/or rectum) is the third most common cancer diagnosed in the U.S., excluding skin cancers, according to the American Cancer Society. In 2022, his case was among the estimated 106,180 new colon cancer cases in the U.S.
Dr. Taglia urges people to get a colonoscopy if they meet the risk factors for colon cancer or have symptoms of this disease. But regular screening for colon cancer is key to preventing it and finding it early. The Centers for Disease Control recommends being screened for colon cancer starting at the age of 45. It is also recommended to speak with your doctor to determine how often you should be screened based on your medical history and health status.
Colon cancer is usually treated using surgery, even if the patient has early-stage cancer.
If cancer remains after surgery, chemotherapy or radiation therapy may be required to destroy the remaining cancer cells.