Grace Handlen, Finding Comfort in Her Care
Patient: Grace Handlen
Date Submitted: Nov 3, 2020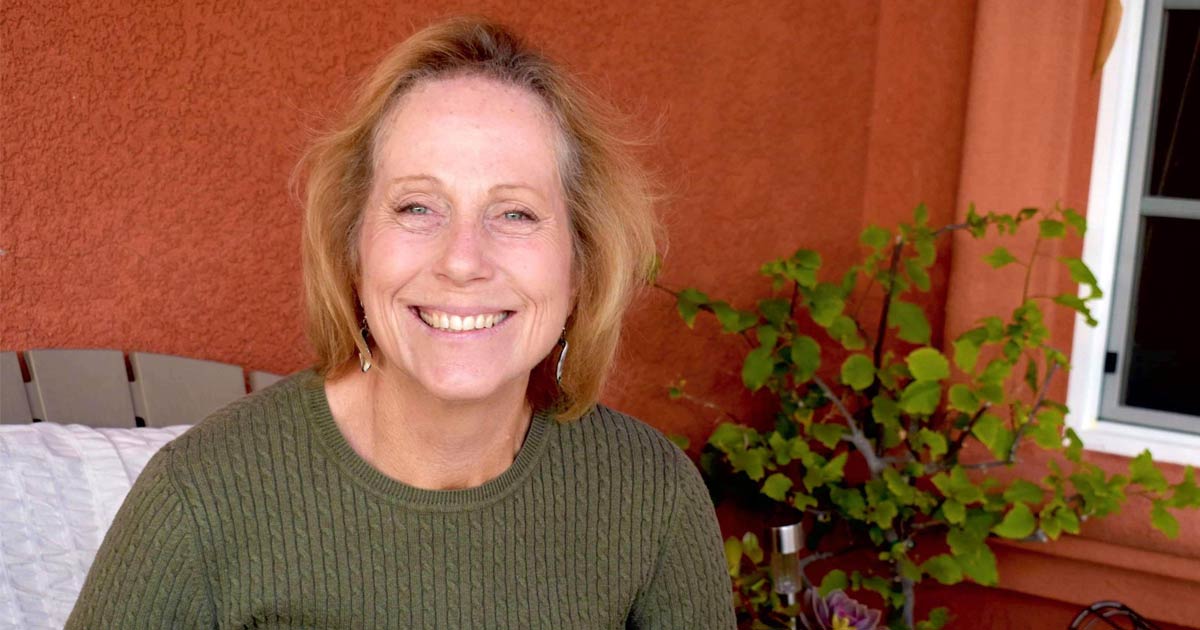 " For many of her 59 years, Lompoc resident Grace Handlen has had her health care managed by one medical organization. Born at Cottage Hospital, her family physician, throughout the years, practiced with Santa Barbara Medical Foundation, which eventually became Sansum Clinic."
More recently, insurance changes and the decision by Sansum to leave Lompoc made it necessary for Grace to transition to Lompoc Valley Medical Center and Lompoc Health. She admits to not being very happy with the change. Having lived in Lompoc since 1987, Grace said she was aware of some negative public opinion about the care at Lompoc Valley Medical Center. Even though she didn't have any personal experiences at the hospital, she believed what she heard.
As the caretaker of her 94-year-old mother, Grace put her own personal healthcare aside for many years. Until she learned that Sansum's local closure meant she needed to find a new physician associated with Lompoc Health, which took over the practice.
She set up her initial appointment with Dr. Sylvia Krzeminski and hoped for the best, she said. During her first appointment, Grace recalls telling her new physician all of her health-related concerns- from skin cancer to a tumor in her shoulder, to general tiredness and weight that came creeping back on after her previous bariatric surgery.
Dr. Krzeminski quickly set up a multitude of referrals, and Lompoc Health staff made appointments for her before she left the building.
"I got my referrals," Grace says. "I didn't have to wait six months. They got me in. I didn't feel like I was just another patient. These doctors have eye contact, they look at you (and say), 'This is what we can do.'"
With each follow-up appointment, Grace said she the doctor and staff treated her as if she were the top priority. "Every doctor so far has been exceptional," she said.
Her issues were addressed quickly and thoroughly, and follow-up appointments were set up as necessary.
She was given an appointment with Dr. John Baeke, a specialist in wound care and plastic surgery at Lompoc Health – North H Center. He removed a tumor from Grace's shoulder and conducted a biopsy of a spot on her forehead. Her insurance company denied referral to an out-of-town physician for follow-up care on her skin cancer, and she was then referred to Dr. Angie Song, ENT, at North H Center. Grace underwent a chemical peel during an inpatient treatment by Dr. Song at LVMC. She said, as a result, she looks younger, and her skin cancer is largely eradicated.
"I didn't have to leave Lompoc to be treated with exceptional care and precision," Grace says, noting Dr. Song will continue to monitor her skin.
Grace also found herself needing to see Dr. Farida Bounoua at North H Center. Dr. Bounoua and Dr. Christopher Taglia are leading Lompoc Health's new bariatric weight loss program. Grace said she had bariatric surgery six years ago, but the weight was creeping back on. She wasn't willing to accept that, especially with heart issues present in her maternal and paternal family members.
Dr. Bounoua, Grace says, was "a force for positive change" in her life. She was able to lose the weight she had regained, and worked with Dr. Taglia on the tools needed to maintain the weight loss.
Because Lompoc Health offers the program, Grace said it was a bonus that she didn't have to take a half-day of vacation time to see a specialist in Santa Barbra.
"I can go to my appointment in town on my lunch hour," she explains. "The care is as good, if not beptter, than the care I received in Santa Barbara. Until now, I thought all of the really good doctors practiced south of Lompoc. But I know differently now."
Grace also met with Dr. Iris Radler, OBGYN at Lompoc Health – North Third Center, for the well-woman visit, her least-favorite exam. She said she was pleasantly surprised at how quickly the appointment was conducted and how swiftly her 6-month follow-up appointment was scheduled.
"You get the feeling the doctors and staff are going to be there for you for the long haul, no matter how long that may be," she says. "It's like having a safety net under you. I thought I would never have that with Lompoc Valley Medical Center and Lompoc Health. There is a continuity of care in what they do in every single one of the doctors. When you leave, they've still 'got you.' There is value in that."
As a caregiver, Grace has also observed the LVMC Emergency Department work with her elderly mother during numerous visits.
"Not only are the nurses and CNAs genuinely kind, capable, and interested, but the doctors are top-notch," she says. "They work hard to make my mom as comfortable as possible, listen to her many stories and give her a thorough assessment, all at the same time."
Grace has been employed in Customer Service for most of her career, and it has become a passion, she said.
"Time and time again, I have been pleasantly surprised by the staff of Lompoc Valley Medical Center and Lompoc Health," Grace notes. "From the front desk personnel scheduling appointments and checking insurance to the doctors, nurses, and hospital support staff, I see something I like – competence, kindness, and care."
She hopes LVMC can develop a specialty or service that makes Lompoc a destination for specialized health care or training.
"Something has changed at Lompoc hospital," she says. "I don't know what it is, or who created the change I see, but it makes me very happy for our community. Good people live in Lompoc, very hard-working people, and families, and we deserve the best care available. I really think we have a jewel here, but not everyone is aware of it. We have passed around the idea for years that Lompoc hospital is a bad thing, and we perpetuate a perception that isn't deserved. It's time to share all the good that has come about, the changes in our hospital and the healthcare community. I like to give credit where it is due. We have something very special here, and for that I am grateful. Healthcare for my old age will be everything I need it to be."