Patient Story: Kate Griffith
Patient: Kate Griffith
Date Submitted: Dec 27, 2017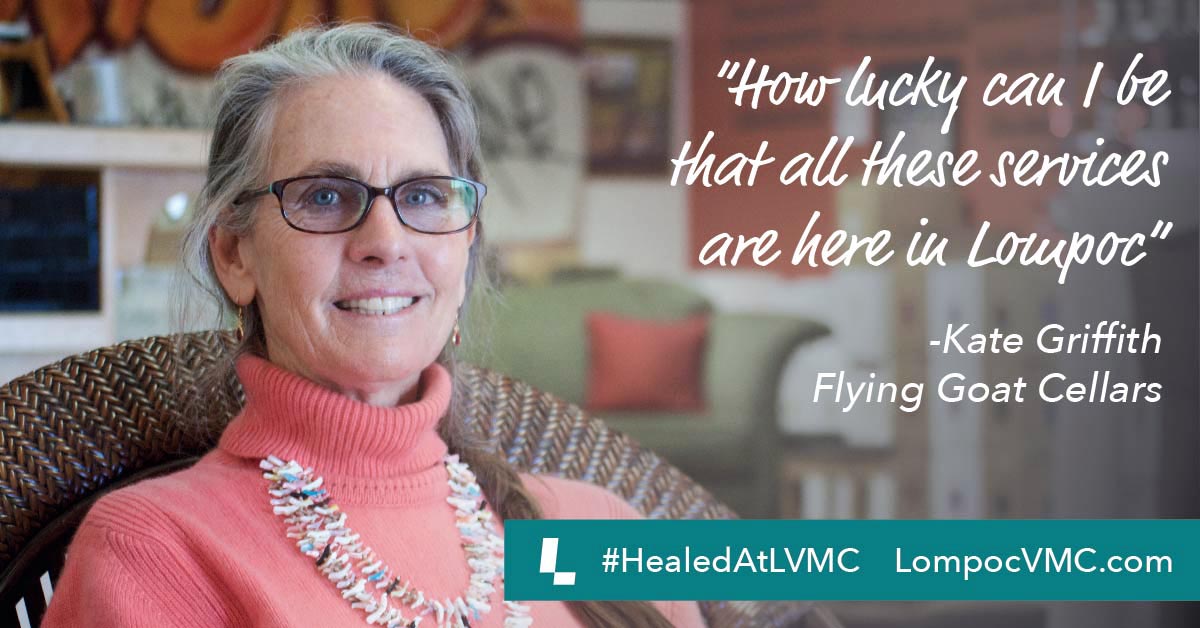 " "Every step of the way, people were amazingly kind and friendly," she recalled. "I get really nervous, and they talked me through it all. [...] They answered so many questions.""
At first, Kate Griffith didn't think anything of a small flesh-colored growth on her bicep. It had regular edges and was symmetrical – showing none of the typical indicators of potential skin cancer.
In November, the proprietor of Flying Goat Cellars in Lompoc went to see her primary care physician, Dr. Carl Schlosser. The mark on her arm had recently grown in size, and she was quickly referred to surgeon Dr. Bandhit Sinkaset for the removal of the growth, which was diagnosed as melanoma.
"At my age, you get growths, and they go away," she explained. "It was the size of a large pea. It was right on my bicep where I carry things. This is a reminder that if something is growing, question it."
From that visit came a whirlwind of appointments and a quickly scheduled outpatient surgery to remove the cancerous growth.
At age 60 and having lived a relatively healthy life, Kate was nervous about the procedure and wasn't sure what to expect.
She came away with a profound sense of gratitude for her medical care and the accessibility of treatment while at Lompoc Valley Medical Center.
"How lucky can I be that all these services are here in Lompoc," she said. "I go in, and it's clean, it's beautiful, there are beautiful photographs everywhere. Everyone was lovely. It wasn't mass chaos. I was so grateful. We have a small town hospital, but it's so sophisticated. I wanted everybody involved to know how much I appreciate the care."
She was also thankful that virtually every step of the process could be accomplished within miles of her home.
"The only thing I had to go out of town for was a dermatologist," she noted.
Kate's surgery was the day before Thanksgiving, so she needed to take care of some pre-registration paperwork.
"It was 4 pm on a Friday when I went in," she recalled. "They got me in, and everything was taken care of in less than an hour. I had an EKG and blood test. I was impressed. Everybody was sweet and kind."
She had great concerns about having to ingest a radioactive isotope prior to surgery. But those fears were alleviated with the calm care of Nuclear Medicine Technologist John Thacker.
"Every step of the way, people were amazingly kind and friendly," she recalled. "I get really nervous, and they talked me through it all. He told me what the experience would be like and how long the isotope would be in my body. They answered so many questions."
She was also referred to see Dr. Donna Walker at Lompoc Health — Hematology-Oncology. Dr. Walker, she said, helped her understand the full extent of having melanoma.
"We've got an amazing hospital and great people there," Kate said. "Nobody is ever going to say anything bad about the hospital in front of me."