A Chef's Sensibilities
As a young boy, Norman Skau grew up around a diverse elderly population at the Solvang Lutheran Home, where his mother Hanne was the on-staff nurse. The home, next door to the onetime Atterdag College, was full of residents who became quasi- grandparents to the youngster, giving him a lifelong appreciation for seniors.
It is with that background that Skau comes to the Comprehensive Care Center as its new Dietary Director, after a diverse career that included stints at a country club and other senior living facilities. "It's more of a community here at the CCC than I've been used to," says Skau, who for eight years worked at the Atterdag Village as the Food Service Director, and held the same job at Villa Santa Barbara for nine years.
He also meets monthly with his colleagues, LVMC's Dietary Director Michael Despres and the Champion Center's Dietary Director Christy Cioni. "It's three very smart and talented people all bringing something to the table," he explains.
Skau has a vision for the CCC's future culinary offerings, including ideas such as serving up a fresh and hot buffet service to residents, more fine dining with tablecloths, a Panini machine for sandwiches, a waffle breakfast bar and adding more special events like a birthday dinner of prime rib and salmon.
"I want to make it more home- style," says Skau, a graduate of Santa Barbara City College's Hotel Restaurant Management program. CCC Director Katie Ellis lauds his passion and vision, saying the chef "compliments the CCC's philosophy of providing individualized and dignified care for all residents."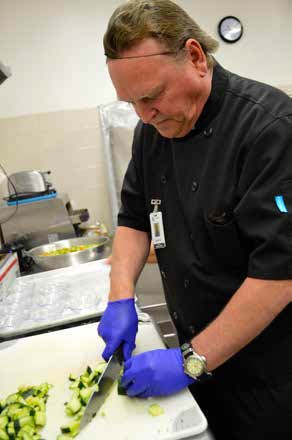 Among Skau's diverse past jobs were positions as executive chef at the Village Country Club, chef of the Hyatt Lake Tahoe and the Los Olivos Café and wine bar.
At the CCC, he manages a staff of 16 and has a pre-set four-week cycle menu, which he's hoping to eventually change while adhering to strict nutritional requirements for seniors at the skilled nursing facility. "If you make the food better and the atmosphere better, it'll go out into the community," he says. "We have a great reputation and it'll just get better. That's what we need to strive for – always moving the bar up. If you feed someone well, they'll thrive. If they thrive, they heal faster. It's all one circle."