Dr. Tomas Machin Named LVMC 2017 Physician of the Year
Dr. Tomas Machin has been named Lompoc Valley Medical Center (LVMC)'s 2017 Physician of the Year. An anatomic and clinical pathology physician, Dr. Machin was chosen by LVMC staff for exemplifying our values and for maintaining the trust of the community, patients, and residents; for continuously striving to improve services; for communicating openly and honestly and for working as a team member with hospital staff.
LVMC Chief Executive Officer Jim Raggio said Dr. Machin is a treasure to the healthcare district and the community.
"He is kind, considerate, compassionate, brilliant and extremely dedicated," Mr. Raggio said. "He has been a champion for achieving excellence in the clinical laboratory and anatomical pathology departments and instrumental in integrating those services into Lompoc Valley Medical Center. He is most deserving of receiving the 2017 Physician of the Year honor."
The award was announced during an annual physicians' dinner Tuesday evening.
"I was surprised," Dr. Machin said. "I am very happy, and humbled."
Dr. Machin began working at LVMC in September 1996 and will retire in February 2018. He is a former Chief of Staff at LVMC and is medical director of the Laboratory.
In the nomination forms filled out by staff members, Dr. Machin was acknowledged for being compassionate, knowledgeable, approachable, helpful and dedicated.
"Dr. Machin has been a tireless resource for the lab for 20-plus years," one nomination noted. "He is always available for consultation, however simple or complex the case may be. He comes into the lab at all hours, seven days a week to review problem slides and consult on Blood Bank cases. He has been our rock and dear friend. Dr. Machin is always available for any LVMC staff member with a question, whether a physician, RN, Tech, EVS worker or clerk. He 'flies under the radar' because he is one of the most modest people you will ever meet."
Another nomination said that the pathologist exemplifies the values of LVMC.
"He has been a pillar of strength and value in the Lab with his dedication to the staff and the patients," one nomination stated. "Even if he is out of the office, he still makes himself available when needed."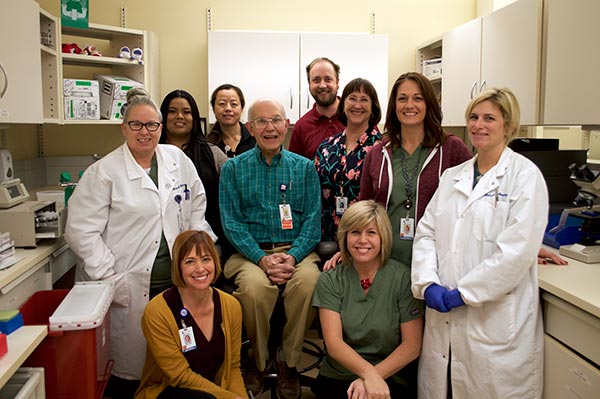 Dr. Machin with Laboratory staff
Dr. Machin earned his medical degree at Universidad Autonoma de Guadalajara in Mexico and completed a residency program in anatomic and clinical pathology St. Mary Medical Center in Long Beach as well as a fellowship in surgical pathology at UCLA.
He earned his undergraduate degree at UCSB in biochemistry and molecular biology. Born in Cuba, Dr. Machin immigrated to Santa Barbara with his family in 1962 and moved to Lompoc in the late 1990s.
Dr. Machin was also credited with improving the interaction between the lab and medical staff, and for participating in Quality Improvement projects. He has also had the difficult task of being part of the hospital's team handling the demise of unborn children and having to explain to grieving parents the pathological reasons behind an in-utero death.
"He is a great example of what we would expect, and want in a physician when it comes to interacting with staff and patients," a nomination form stated.
In his role as medical director at the lab, Dr. Machin serves as Blood Bank Director and consults on cases involving difficulties finding compatible blood units. He is also responsible for ensuring LVMC's blood supply is adequate for its needs.
One nomination recognizes Dr. Machin's "humble, encouraging attitude," which has allowed Lab staff to thrive and realize consistent success over his decades as the lab's Medical Director.