3D Mammography Offers Improved Imaging
Category: LVMC Updates
Posted On:
Written By:

Tim Stout, Diagnostic Imaging Director
Using low-dose, short X-ray sweeps around a compressed breast with only nine exposures, the FDA- approved technology uses a special method that removes motion from the imaging tube, helping to reduce blur and increase image sharpness.
This imaging technique is designed to separate the tissues and to reduce the overlapping of structures — something that's a limiting factor in standard 2D mammography.
In January, members of the radiology department underwent a week of training on the machine in preparation for seeing patients. LVMC conducts an average of about 4,500 mammograms each year.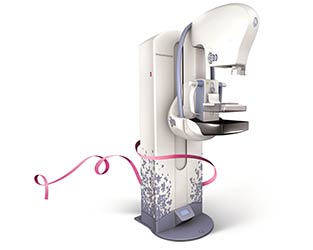 The new equipment provides LVMC with cutting edge screening technology to detect early breast cancer. Studies have shown that when cancer is identified and treatment is begun early, the rates of survival improve.
We are excited to offer our community 3D mammography. This new imaging device will help the Radiologist nd cancers even smaller than was possible with regular digital mammography alone.
According to GE, a key challenge when performing screening mammography is keeping the radiation levels as low as possible. With GE's SenoClaire, the company said, there is no increase in dose from a 2-D standard mammogram to a 3D view, which means there is no increased radiation to patients during a SenoClaire breast exam.
LVMC's machine is one of about 200 units installed in the U.S., Europe, Australia, Latin America, Southeast Asia and the Middle East.
During the approximately 10-minute breast exam, the machine's x-ray tube moves around the breast to produce digital images from various angles. In particular, the technology is helpful for women with dense breast tissue, enabling the detection of small cancers and creating more de ned images of larger tumors that previously might have been obscured using 2-D mammograms.
GE's Francesca Braga, who created the breakthrough mammography technology, told Forbes Magazine that the machine allows radiologists to see through the breast as if it were "cut" into slices and to identify subtle signs of cancer. "Think of it like a book with clear pages - the words blend in, one on top of the other, making it hard to read," she told Forbes. "With 3D mammography, radiologists see each page, so they can read what's on the mammogram more clearly."