Lompoc Neurologist Invited to Conduct Grand Rounds at UCSF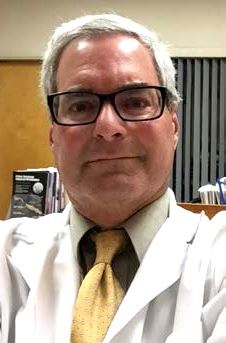 Lompoc neurologist Dr. Philip Ente was invited this month to conduct Memory and Aging Center Grand Rounds at the University of California at San Francisco's School of Medicine.
The school, which is accredited by the Accreditation Council for Continuing Medical Education to provide continuing medical education for physicians, invited Dr. Ente as its first speaker of 2017.
Some 60 physicians signed on to hear Dr. Ente – who has practiced in Lompoc for more than 30 years – to speak about "Clinical Oflaction."
Dr. Ente practices in Lompoc three weeks out of each month and in the fourth week, is a Clinical Professor of Neurology at the University of California at Los Angeles School of Medicine.
He also conducts research on the brain and brain function. "I am fascinated by diseases of the nervous system and disorders of the brain," he said. It was his first time speaking to physicians at UCSF.
"Grand Rounds is the honor lecture," he explained. "It's an honor to be invited by another medical school to lecture … It was received very well. The feedback was very positive."
Specifically, Dr. Ente spoke about disorders of taste and smell in relation to Alzheimer's and Parkinson's diseases. Alzheimer's is the most common form of dementia, a general term for memory loss and other intellectual abilities serious enough to interfere with daily life. Alzheimer's disease accounts for 60 to 80 percent of dementia cases.
Parkinson's disease is a chronic and progressive movement disorder, meaning that symptoms continue and worsen over time. Nearly one million people in the US are living with Parkinson's disease. The cause is unknown and there is presently no cure.
Parkinson's involves the malfunction and death of vital nerve cells in the brain, called neurons. Parkinson's primarily affects neurons in an area of the brain called the substantia nigra. Some of these dying neurons produce dopamine, a chemical that sends messages to the part of the brain that controls movement and coordination. As PD progresses, the amount of dopamine produced in the brain decreases, leaving a person unable to control movement normally.
Dr. Ente was able to provide UCSF physicians with his expertise in this area of medicine. The goals of the Grand Rounds lecture were to enable attendees to understand: the mechanisms of perception of flavor; providing a clinical approach to the diagnosis and treatment of olfactory disorders and to learn about the use of olfaction in pre-symptomatic screening for Alzheimer's and Parkinson's diseases.
"We can use smell or odor abnormality to detect Alzheimer's and Parkinson's," Dr. Ente said. "We're discussing new ways to develop a test. The goal is to pick it up (the disease) at the pre-symptomatic stage before it causes damage ... It's going to be a big thing." Typically, by the time Alzheimer's or Parkinson's is detected, "it's too late" in terms of damage to the brain, he noted.
Dr. Ente said he was impressed with the professors at the Memory and Aging Center. He was also able to view the art of Susan Schneider Williams, the widow of comedian Robin Williams. She has contributed artwork to the UCSF Memory and Aging Center and the American Brain Foundation in honor of her late husband. Williams committed suicide in 2014, a way of death attributed by his wife to his struggle with Lewy body dementia. Lewy body dementias are the second most common form of degenerative dementia.
"She's very involved with their Memory and Aging Clinic," Dr. Ente said. Dr. Ente's medical career began in 1978 when he graduated from Faculty de Medecine Pierre Et Marie Curie in Paris, France. He completed a residency at Medical College of Pennsylvania. Dr. Ente also specializes in Psychiatry.