Making Strides
Category: LVMC Updates
Posted On:
Written By:

Lompoc Valley Medical Center
In the halls of the Comprehensive Care Center, applause and cheers started breaking out as Sheila Holley cruised by with her walker. "Sheila! Look at you!" came the calls and recognition.
As the longtime CCC resident took a break and sat down, staff walked by to congratulate her.
Taking a stroll down the hallway might not seem like a big deal to most people. However, just a few months before, 73-year-old Sheila had been bedbound, and unable to feed herself, much less take a walk. She was diagnosed in 1996 with Multiple Sclerosis, or MS, with disabling heat complications. She hadn't lifted her legs off her bed for more than six months and had been relatively room-bound for 20 years. A severe bout with pneumonia during the winter was an enormous health setback. A strong will and steady dedication by the CCC Physical Therapy team enabled Sheila to take her celebratory walk. She calls it a miracle and gives thanks to lead therapist Aaron Poirier and Occupational Therapist Gina Devris.
"They told me at PT – get out and walk," she recalls. "I knew it would be much exertion. However, I promised I would do it, so I did.'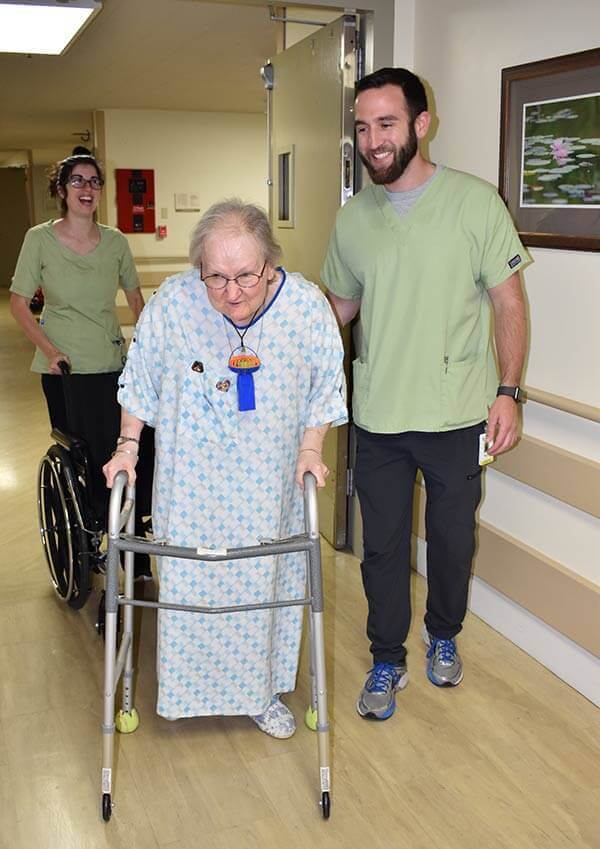 Moreover, it was worth it.
"I said 'Hi' to everyone. It's a miracle I'm moving my feet. It was amazing. All these people were cheering and clapping for me."
Sheila was 51 when she was diagnosed with MS, which causes damage to the myelin in the central nervous system, and to the nerve fibers themselves, interfering with the transmission of nerve signals between the brain and the spinal cord and other parts of the body.
Before her diagnosis, Sheila was a Clinical Lab Scientist specializing in microbiology at what was then-called Valley Medical Group. She moved to Lompoc in 1987, though she'd lived here in the 1960s when her father was the chief electrical engineer at Vandenberg Air Force Base.
When she became ill, and it seemed inevitable she'd need care; her sister put her on the list for CCC residency.
"We knew this was the best place," said Sheila, who is also diabetic and immunosuppressed.
 "I never could have dreamed for or thanked God more for the care that I have had here and the hospital. They bend over backward to help me."
Without the care of the CCC staff, Sheila doesn't think she'd still be alive.
"This place is amazing," she says. "They have compassion. They are professional. They have empathy and patience."