LVMC Community Update, August 28, 2020
Dear Lompoc Valley Community:
Now that we have gotten the DNC and RNC conventions out of the way, we can get some normalcy back in our lives by watching Wheel of Fortune. But seriously…no, I actually am serious.
COVID-19 Information
Hospitalized Covid Patients. The downward (good) trend in Santa Barbara County has continued this week. The number of Covid positive hospitalized patients decreased from 55 last Friday, to 39 as of yesterday. LVMC currently has 1 confirmed Covid positive inpatient. The remaining 38 are split roughly equally between North County and South County. That represents a significant decrease for both ends of the County, particularly for North County.
Positivity Rate. The Santa Barbara County Positivity Rate has been declining over the past few weeks. We believe that the "real" current rate dropped slightly again this week, and is in the 4.5% range. However, the State figure for Santa Barbara County, which uses other source data, and rolling averages, is in the 7% range.
County Monitoring List. Today, the State of California is expected to announce a total revamp of the County Monitoring List program, as well as the metrics that will be used going forward. The announcement will go first to the Counties before it is released to the public. Although I am aware of what is expected to be included in the new program, I will need to wait until the official communication occurs. So, please look for more discussion about this next week.
Hospital Types
Please indulge me as I provide a brief primer regarding the various types of General Acute Care Hospitals:
There are several "categories" of acute care hospitals. Some of them are officially designated by the State and/or Federal government, while some are simply terms used to describe certain types of hospitals.
The smallest hospitals (by bed-size) are Critical Access Hospitals. "Critical Access" is a designation given by CMS (Centers for Medicare and Medicaid Services) and is designed to reduce the financial vulnerability of rural hospitals and improve access to healthcare by keeping essential services in rural communities. To qualify for Critical Access designation, a hospital must have 25 or fewer beds, and be at least 35 miles from the nearest hospital (with some exceptions). LVMC is not a Critical Access Hospital.
Sole Community Hospital is a designation bestowed by the Federal Government (CMS). The designation is based on a hospital's distance in relation to other hospitals, indicating that the facility is the only hospital serving a community. Distance requirements vary depending on whether a facility is rural and how inaccessible a region is due to weather, topography, and other factors. Sole Community Hospitals receive additional financial and other resources. LVMC is not a Sole Community Hospital.
Community Hospital is not an official designation but refers to hospitals that provide primary hospital services for residents of its surrounding service area. LVMC is a Community Hospital. LVMC has 60 acute care beds but provides services comparable to some community hospitals that have two or three times as many beds. In addition to the typically expected primary services, LVMC, in conjunction with its medical staff, provides the following services: Bariatric Surgery; Plastic and Reconstructive Surgery; Critical Care Tele-Intensivists for the ICU/CCU; Tele-Neurologists for the Stroke Program; Hospitalist Medicine Service; MRI services; Obstetric and Pediatric services (which many community hospitals have ceased providing); and other services.
Tertiary Hospital, likewise, is not an official designation, but refers to hospitals that are typically larger, and provide a wide array of specialty services, and have a wide array of physician specialists on their medical staffs. They often have academic affiliations. Although patients may be admitted directly to tertiary hospitals, they typically receive a significant portion of their admissions by way of transfer from Community Hospitals, when certain unavailable specialty services are needed. In Santa Barbara County, Cottage Hospital would be considered a Tertiary Hospital. Marian Medical Center, in my opinion, would be somewhere between a Community Hospital and a Tertiary Hospital.
Quaternary Hospital, also not an official designation, refers to hospitals that provide the greatest breadth of specialty and sub-specialty services. There are certain sub-specialty services that even tertiary hospitals are not capable of providing, and when the patient need dictates, transfers will be made to quaternary hospitals. Quaternary Hospitals are typically academic facilities, such as UCLA Medical Center, and Stanford University Medical Center.
Hospital Quality
One reason I chose to define the various types of hospitals, above, was to set a backdrop for this statement: Quality is not defined by the breadth of services provided, but rather, by the appropriateness and effectiveness of the services that are provided.
LVMC works diligently to ensure that for the services it does offer, they are every bit as high quality as one would receive at any tertiary hospital. LVMC, like all hospitals, strives to continually improve. When there is a situation in which the process, outcome, or patient satisfaction is not what we intended, we do our best to learn from it and do better the next time.
I am pleased to report that we just received the Hospital Quality Institute Quality Transparency Dashboard, below. It compares LVMC to State and National averages in the areas of:
CLABSI-Central Line-Associated Blood Stream Infections
Colon Surgical Site Infections
NTSV- Primary C-Section Rate after 37 Weeks
30-day Readmission Rate
For number 4, above, LVMC was right at the State and National averages. For the other three metrics, LVMC was significantly better than the State and National averages. It also indicates that LVMC has implemented a Maternity Safety Program, Sepsis Protocol, and Respiratory Monitoring Program. I would like to thank our employees and physicians for their dedication towards providing the best possible care and outcomes.

Donations
To be listed every other week, starting again next week.
I continue to be impressed, grateful, and proud of our frontline healthcare workers, support staff, physicians, and allied health professionals; their dedication and selflessness are truly inspiring.
Thank you, Lompoc Valley Community, for your tremendous support of LVMC and our healthcare workers; it means a lot to all of us!
As always, please feel free to contact me at popkins@lompocvmc.com or (805) 737-3301. Until next time, be well and stay safe!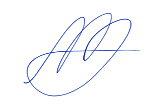 Steve Popkin
Chief Executive Officer