LVMC Community Update, December 18, 2020
This week our CEO Steve Popkin updates the Lompoc community about Covid Vaccines, New Covid Cases, and Covid Hospitalizations.
Dear Lompoc Valley Community:
What happened on this date in history?
1862– The first orthopedic Hospital was organized in New York City. It was called the Hospital for Ruptured and Crippled (not very woke).
1898–A new automobile speed record was set at 39 miles per hour(I didn't know they made the AMC Gremlin back then).
1966–Grinch That Stole Christmas! Made its TV debut, with narration by Boris Karloff, and the song You're a Mean One, Mr. Grinch, sung by Thurl Ravenscroft, who was also the voice of Tony the Tiger.
COVID-19 Information
Vaccines
I am happy to report that yesterday afternoon, LVMC received its first allocation of the Pfizer COVID-19 vaccine and began vaccinating LVMC healthcare workers in the "tier 1 category." Additional allocations of both the Pfizer and Moderna vaccines are expected very soon, which will enable us to complete the initial round of vaccinations, in accordance with the Public Health Department Guidelines.
As of early this afternoon, we had vaccinated approximately 200 individuals, with another 150 to go. After being vaccinated, individuals are required to remain in the observation area for 15 minutes in case a reaction occurs that requires intervention. If a reaction occurs after leaving LVMC, in most cases our vaccination team will be informed. So far, we are aware of only one individual who had a mild allergic reaction shortly after receiving the vaccination, and another individual with a headache overnight. In my discussion with another area hospital, it was similarly noted that they have not had reports of any significant number of reactions or side effects. Hopefully, when approximately 30% of LVMC healthcare workers who have declined the vaccination see that the side effects are minimal if at all, they will opt to receive the vaccine. That 30% declination figure is roughly consistent with other area hospitals.
When individuals are vaccinated, they are given a vaccination card, and they are assisted in electronically registering with the CDC V-Safe after vaccination health checker. This enables the CDC to gather data and then inform the public about the side effects and safety of the various vaccines.
I had previously reported that based upon the number of vaccine doses Santa Barbara County was expected to receive, approximately 20% of County residents would be vaccinated by the end of February. I have been informed that there is cautious optimism that Santa Barbara County will receive more vaccine doses than initially anticipated. Hopefully, that will be the case.
I have been impressed with the efficiency and effectiveness of the logistics plan for the vaccine distribution. One might expect that when you have the federal government, state government, county government, and private industry all having a hand in the distribution process, something would go awry. But, so far so good! I have also been very impressed with, and very thankful for, our LVMC team who put together a very complex vaccination plan, on very short notice, and executed it flawlessly.
New Covid Cases.
This week, Monday through Thursday, there were 114 new Covid cases in the Lompoc Valley. This compares to 186 in Santa Barbara and 336 in Santa Maria. Stated another way, during this four-day period, 1 out of 526 residents of the Lompoc Valley contracted Covid. This compares to 1 out of 491 for Santa Barbara, and 1 out of 319 for Santa Maria.
Covid Hospitalizations.
The number of Covid positive inpatients at hospitals within Santa Barbara County continues to rise. Last Friday there were 75, with 20 in ICU. Today, there are 111, with 23 in ICU. As of this morning, LVMC has 9 of the 111 inpatients, and 1 of the 23 patients receiving ICU care. As we have all been hearing in the media, ICU bed capacity is the number one Covid issue that needs to be mitigated. At this moment, the ICU bed capacity in Santa Barbara County is "okay," but we know how things can change quickly. One bit of good news, compared to early in the pandemic, the hospital length-of-stay for Covid patients has decreased significantly.
The "experts" believe that the hospital bed and ICU-bed capacity issue will continue to worsen through January, and then hopefully turn in the other direction.
The public is being reminded to continue the Covid prevention practices that we all know need to be done. And, there are lots of varying opinions on what the vaccines will and will not accomplish.
But, in my opinion, it is very clear that the initiation of vaccinations is a big game-changer, and that we will soon be turning the corner toward normalcy (even if it is a new normal).
HAPPY HOLIDAYS TO ALL, AND LET'S LOOK FORWARD TO A FANTASTIC 2021!!
As always, please feel free to contact me atpopkins@lompocvmc.comor (805) 737-3301. Until next time, be well and stay safe!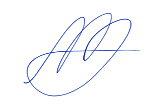 Steve Popkin
Chief Executive Officer