Lompoc Valley Medical Center Community Update, July 17, 2020
Dear Lompoc Valley Community:
Although I always enjoy communicating with all of you, I was not particularly looking forward to writing this week's letter, because there isn't much good to report on the COVID-19 ("Covid") front. I suppose "the good news is that the bad news isn't that bad" (that sounds like Yogi Berra!).
If you will indulge me, I will provide a stream of consciousness list of comments, which will hopefully provide some local context to our current Covid situation:
Visitation Policy
Several weeks ago the Santa Barbara County Public Health Officer issued an Order regarding patient visitation at hospitals and skilled nursing facilities. Like all other facilities in the County, LVMC abided by that Order. Subsequently, a few weeks ago the Public Health Officer lifted the visitation Order, leaving more discretion to each hospital (skilled nursing facility visitation restrictions remained in place). LVMC did ease hospital visitation restrictions to better accommodate patients and families. However, due to the rising incidence of Covid in the County, effective July 13, the Public Health Officer re-instituted the visitation Order. The new Order is very similar to the original Order. A copy of the Order and LVMC's visitation policy can be found on LVMC's website. We understand that it is frustrating to be prohibited from visiting or accompanying loved ones. There are certain situations that may be exempt from the Order. If you have a unique situation, please let us know.
Santa Barbara County Public Health Guidance for Employers.
From time to time, LVMC and the other hospitals get Covid related questions from local employers. Examples are: I have an employee who tested positive for Covid, do I need to shut down, or who do I need to notify, or how can I get other employees tested, etc. Because we wanted to provide accurate and consistent information, the area hospital CEOs asked the County to provide written guidance for employers. The County obliged. The guidance can be found on the LVMC website under the heading, "How Employers Can Help To Stop The Spread of Covid."
County Monitoring List
This week the State of California increased the number of Counties that are on the "County Monitoring List." The number of Counties grew from 19 to 32 and covers approximately 80% of the California population. If a County is on the Monitoring List, there are greater restrictions placed on what businesses and other entities in that County can do. Counties get on or off of the Monitoring List based upon whether they meet all of the benchmarks in the categories I delineated in the last Community Update Letter. Just briefly, the County of Santa Barbara is better than the benchmark in Availability of ICU Beds, Availability of Ventilators, and Average Tests Performed Per Day per 100,000 Population. SB County is hovering right about at benchmark for Covid Positivity Rate and is a little worse than the benchmark for Percent Change in Covid Hospitalized Patients. Lastly, SB County is worse than the benchmark for Covid Positive Case Rate Per 100,000 Population. Since the data is based upon rolling averages, which vary based on the particular benchmark, even as things improve, it takes some time to get off of the Monitoring List.
Covid Positivity Rate.
The County of Santa Barbara's cumulative Covid Positivity Rate is just under 8%. This rate has not fluctuated much recently. Five weeks ago it was 7.7% and this week it is 7.8%. For the three weeks in-between, it was 7.1%, 7.4%, and 7.9%. Of course, the greater the denominator of tests performed, the less fluctuation will be seen in the Positivity Rate from week to week. The LVMC Positivity Rate has increased over the past three weeks, after dropping very low for several weeks prior. Based on the low sample size, I don't read too much into LVMC's specific Positivity Rate, and LVMC's data is included in the County's overall data.
Covid Hospitalized Patients
In looking for some good news, it appears that, at least for now, the number of hospitalized Covid patients in Santa Barbara County has leveled off. From informal information I received very recently, the number of hospitalized patients in North County is down from its recent peak. In South County, it is up a little. And, specifically at LVMC, the number remains low. After going for more than two weeks with no confirmed Covid positive inpatients, we recently went up to a peak of four patients. We are now back to two. Over recents weeks, the FCC has not been an issue of concern at LVMC.
Covid Mortalities (Deaths).
Our condolences go out to all who have lost a loved one to Covid. For your information, the last mortality of a Lompoc Valley Resident was reported by the County on June 5. The last mortality of a Santa Barbara resident was reported on June 25. The last mortality of a Santa Maria resident was reported on July 10.
Comprehensive Care Center (CCC).
I am very happy to report that after three rounds of Covid testing for 100% of residents, there are no confirmed Covid positive cases. There are, however, a few residents, who are being isolated in accordance with established protocols. We know that other skilled nursing facilities in the area have not been as fortunate. It doesn't mean that they have not used their best efforts and used the proper PPE. Sometimes this virus doesn't care how hard you try. So, I would like to take this moment to tell our CCC staff how proud we are of them for this excellent outcome and then go right back to work to do our best so that it stays that way.
Next week we will get back to some non-Covid matters!
Donations
A huge thank you to the following businesses and individuals who have made donations of Personal Protective Equipment and supplies, food for our healthcare workers, and other acts of kindness. You are all very much appreciated!! Albertson's Store #3171--and those individuals who participated with Albertson's; Northrop Grumman; Southwest Carpenters Union; INTO THE AM CLOTHING LLC-Matt Marchione; Kathy Milham; Kimberly Todd; Vons Market; Celeste Dugré; Subway; Sleep Center; Doreen Ross; Lompoc Pizza Hut; Superior Home Health; Miguelito Elementary School; Cajun Kitchen; La Purisima Mission Mask Makers; Advanced Performance Physical Therapy; SONOS; Pickle & Peanut Restaurants Inc.; Jordano's; Lompoc Little Caesar's Pizza; Victoria Perez; Diana Coronado; Firework Foundation; The Daily Grind; Industrial Eats; Vivid Financial Management; Christine Collier; David Carey DDS; The Church of Jesus Christ of Latter-day Saints; Sue McIntyre; McDonalds; Hilton Garden Inn; Anita Macias; a collaboration of 18 wineries--Alma Rosa, Ampelos, Chanin, Fiddlehead, Flying Goat, Garcia, Kings Carey, Kita, Longoria, Loring, Pali, Piedrasassi, Sandhi, Santa Barbara Winery, Sea Smoke, Sweetzer, Temperance and Transcendence; CoastHills Credit Union; CenCal Health; Dunn School; American Host; Kateri and Chris Kingsley; Katherine Milham; Sweet Bliss Sugar Scrubs and Co.; Carol Kirkland; Dr. Iris Radler; Donna Bommersbach; Patricia Henry; Nancy Manes; Annamie Lafferty; Marilyn Romine; Courtney & Mitch Barnham; Ida Kreds; Ingrid Kaper; Judy Carpenter; Space X; Lompoc Oral and Maxillofacial Surgery; Santa Barbara Foundation; Lompoc Hospital District Foundation; Lompoc Unified School District; Lompoc YMCA; Floriano's Mexican Food; Circle K; Keller Williams Realty of Lompoc; Girl Scouts of Lompoc; Arbonne independent distributors; Orcutt Bakery; Northrop Grumman; L3Harris Technologies; Astrotech Corp.; Harbor Freight; Home Depot; Direct Relief; Heath Dental; CHC Dental; Mikowicz Dental; Kimberly Nails; Not Alone Plumbing; Artisan Uprising Winery/Azeo Distillery; Starbuck's Store 496; Tom's Burgers; Super Grill; Sign Gypsies Central Coast.
Our frontline healthcare workers, support staff, physicians, and allied health professionals have been doing an outstanding job, and we are very thankful and proud of them!! Thank you, Lompoc Valley Community, for your tremendous support of LVMC and our healthcare workers; it means a lot to all of us!
As always, please feel free to contact me at popkins@lompocvmc.com or (805) 737-3301. Until next time, be well and stay safe!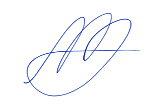 Steve Popkin
Chief Executive Officer